What Are the 5 Best Ways to Cram for LightFair 2022?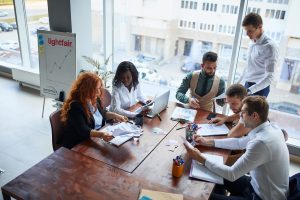 LightFair 2022 is days away.
Are you ready?
Whether you're checking out new trends and products, exhibiting like we are (at Booth #1727), earning more AIA/CES credit or looking to make new connections, we have put together resources to help prep you for the multiday event in Las Vegas.
Several topics will headline the conference. Themes include:
Building automation integration—how to do it and where to start.
Circadian lighting strategies for LEED, WELL and other human-centric certifications.
Simplifying network lighting controls—including new Bluetooth connectivity.
Recasting the nighttime sky with star-studded exterior lighting.
How to beat the lighting supply chain bottlenecks.
Below are some resources about the above topics that will help prepare you for the most prominent lighting tradeshow and educational forum of the year.
Why PoE, Bluetooth Gain Popularity for Lighting Control
Innovative lighting controls are surging in popularity. They balance visual environments, automate comfort and flexibility and improve user satisfaction.
Often, well-designed, implemented controls make architecture shine and help differentiate designers, contractors, salespeople and owners from each other at LightFair 2022.
Yet, clients frequently associate them with necessary evils.
Why?
Lighting controls can be complicated, expensive and a pain to install.
But emerging technologies—such as DALI digital control from LOYTEC and award-winning, open-protocol Bluetooth Mesh from Delta Electronics, Amerlux's sister and parent companies, respectively—offer welcome relief.
Simplicity.
Get a quick LightFair tutorial on wired and wireless lighting controls, including DALI, PoE and Bluetooth—all of which Amerlux will showcase at LightFair booth #1727—and when should you use one over the other with the following lighting control blogs:
Thinking Building Automation? First Step: Lighting.
Look at the world right now. Everyone is connected, and not just to each other.
To their devices.
Case in point: Homes are getting "smarter." Flipping the light switch, seeing what's happening outside, tweaking the thermostat on a frigid morning or a warm afternoon—it's all a command away. Alexa, do this. Alexa, do that.
People also expect that from their work, health care and hospitality settings.
That's where building automation and LightFair 2022 come in.
Before, all these essential building systems—lighting, HVAC, blinds, security, video monitoring—were disparate. Like colleagues in different departments, they roamed the same halls but rarely mingled.
The customer-centric building of the future makes them tango.
Your lighting, connected to a single controller from atop a space, can have that effect.
Lighting controls are now crucial entry points into human-centric building automation, allowing architects, facility managers and building owners to manage and integrate numerous applications. Everything from security and crowd-occupancy monitoring to temperature, humidity, shading and lighting is enabled and connected under a single platform, collecting and delivering the essential data facility operators need to make the quick, informed decisions they're paid to make.
And automating the building certifications—LEED, WELL, Title 24—designers and architects need to deliver on sustainability promise and future-proof their projects.
It used to take several calls, emails, voicemails and follow-up memos to various companies to make such a thing happen.
4 Best Human-Centric Lighting Approaches for WELL, LEED Certification
Americans spend a lot of time indoors, about 90%, according to the Environmental Protection Agency.
This lack of sunlight can contribute to disrupted sleep patterns and vitamin D deficiencies, among other health problems.
And the problem is widespread.
Research continually underscores how lightning plays a critical role in worker productivity at the office, student performance in the classroom, reviews and vacancies at hotels and patient outcomes at hospitals.
One technology is helping to improve these conditions. It's a buzzword circulating well around the lighting lexicon.
Human-centric lighting from Amerlux.
Tunable lighting not only improves occupant comfort and well-being but also fast-tracks the lighting requirements you need to obtain various sought-after certifications, including LEED, Title 24 and WELL building.
But while the label is new, the concept is as old as the sun, which changes over a day.
Learn the science behind circadian rhythms and human health and its required metrics and standards for various applications in our posts:
Also see which award-winning interior solutions offer the best human-centric lighting in commercial, health care and hospitality applications—and why.
7 Important Things to Look for to Reduce Lighting Supply Chain Delays
A recent LEDs Magazine headline reads quite clear, bold and large and oozing with uh-ohs.
"LED and lighting CEOs: No letup in sight for supply chain woes."
This development underscores the headline-making insight Amerlux leaders have shared for months: The best way to delight customers today isn't just with high-performing illumination, industry-leading controls and beautifully designed aesthetics.
They all matter, of course.
But they're the new distant second to the No. 1 must-have feature: "Shipping now."
How do you find that dependable LED lighting manufacturer, the performance-grade provider that can ship immediately without compromising quality?
Specifying from Amerlux is one way.
What is One Easy Way to Instantly Bring Back Starry Nights?
Analysts predict that about two-thirds of the world's population will reside in cities by 2050.
And life in these hustling-and-bustling, well-populated areas doesn't stop when the sun goes down.
Thanks to artificial lighting, residents, workers and visitors can see what they're doing and where they're going at all hours of the day. These same exterior lights, which turn night into day, also give skylines an identity and drive tourism.
But if the lighting isn't applied correctly, it can blanket the surrounding landscape with light pollution, which can be a big, even deadly, problem for animals and people.
What to do?
Learn how light impacts our planet's natural ecosystems and what you can do to reduce light pollution with one provider of architectural-grade post-top fixtures with vintage, time-honored aesthetics.
The four blogs below shed just the right amount of light:
Reach out to your sales rep to learn more about these topics and solutions in person at our LightFair booth or contact your sales rep to schedule a sit-down meeting at our suite at the neighboring Westgate Las Vegas.