How Upgrading Your Classroom Lights Could Help You Become Teacher of the Year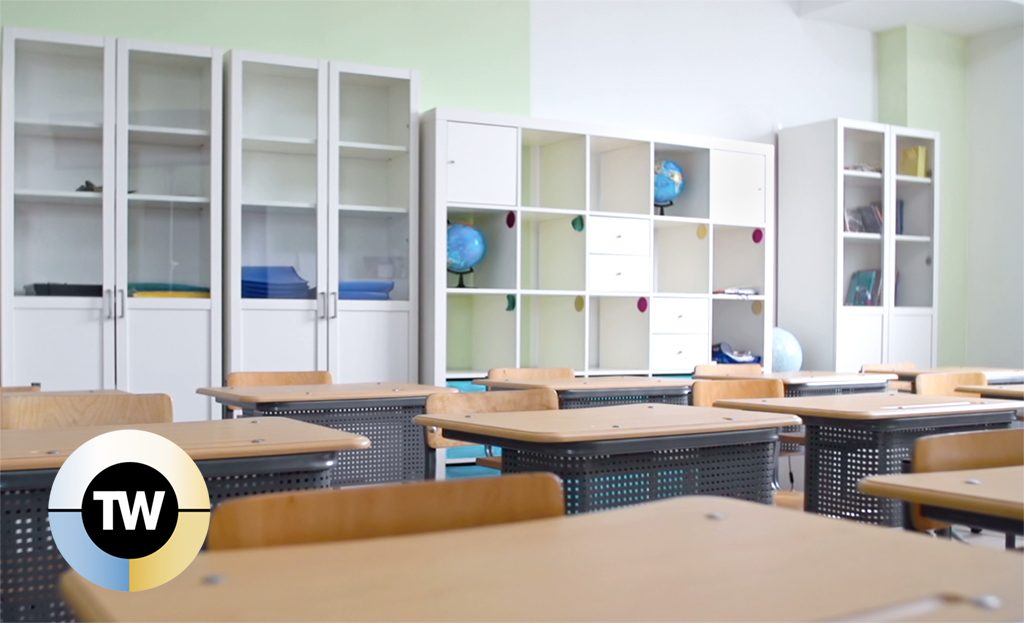 The connection between learning and daylight is deep-rooted—dating back nearly a century ago.
No, really.
Quick history lesson: According to the National Renewable Energy Laboratory (NREL), daylight was the primary light source in buildings, including schools, before the 1940s.
Artificial lighting caught up fast. Within 20 years, electric lighting provided adequate illumination for essential functions such as reading, having lunch or playing in a gymnasium.
However, daylight remains a must-have for classroom design, not just because of its unmatched energy savings but because of its well-documented psychological and physiological benefits.
Classroom lighting affects students' circadian rhythm and melatonin levels, influencing everything from students' attendance and behavior to their test scores and concentration levels.
Case in point: In 1999, daylighting research in a group of California schools found a link between increased daylight and higher test scores. The same study also found a connection between sunlight and more positive moods among teachers and students.
Multiple analyses have also found that students not exposed to daylight early in the day tend to fall asleep much later in the evening, increasing the likelihood of feeling tired at school the next day.
The takeaways are apparent: Daylighting and maximizing natural light exposure is crucial to any academic application's design.
Unfortunately, because of site constraints, many libraries, communal areas, student centers and classrooms receive little natural light, if any.
And the fluorescent lighting systems prevalent in most schools today are of little help.
Why?
They cannot automatically change its intensity and color correlated temperature throughout the day to match the earth's 24-hour cycle and our daily circadian rhythms.
But LED tunable white lighting—either manually or automatically via presets or sensors—can.
Educators and administrators in school districts, as well as colleges worldwide, have taken note—and they've made headline-making retrofits in response.
Here are four shining examples, starting overseas.
Fewer errors, 20% performance boost for Russian engineering school
Can different color temperatures and classroom lighting profoundly influence human performance and students' psycho-emotional performance?
That was the question experts at Kazan State Power Engineering University in Russia pondered when they reportedly conducted a human-centric lighting study using LEDs in 2015.
The University's Department of Lighting Fixtures and Medical Electronics (LME) performed the study between the end of April and the end of May.
The study used two neighboring classrooms of identical size and interior design. Both were used for lectures and laboratory work. More than 100 people participated in the study, male and female, aged 17 to 23.
The first classroom had its entire lighting system replaced with LED luminaires with adjustable color temperature and a lighting control system with pre-programmed lighting scenarios.
The second classroom kept its original lighting system—standard neutral-colored linear fluorescent luminaires without any advanced lighting controls.
Performance, well-being and mood were measured in both classrooms when the study began. These indicators were measured at color temperatures of 2800K, 4000K and 5800K in the classroom with LED lighting and at neutral color temperatures in the room with fluorescent lighting.
The results?
There were fewer errors and a 20% improvement in performance in the speed of task by students in the LED classroom, under 5800K lighting, compared to students in fluorescent lighting classroom.
Students also reported feeling more "alert, energetic and willing to work" under 5800K lighting, which mirrors the afternoon sunlight in a midsummer day.
Sweden Parents Association: Tunable lighting a must for all following retrofit
Malmo, a city in southern Sweden with a fast-growing population, sometimes doesn't see the sun during the dark winter months until nearly 9 a.m.
But for one school, the sun comes out a little earlier—thanks to an LED tunable lighting retrofit.
A review of the classroom lighting in the existing schools showed it to be old and inefficient. Administrators decided to test human-centric lighting in classrooms to see if it made the space more conducive to learning.
The first installation was at Lindeborg School in 2015. The new LED lights system changed the lighting's illumination level and its color temperature, shifting between warm and cool lighting temperatures.
The classroom's existing lighting—twin, 1200 mm T8 fluorescent lamps inside luminaires fitted with aluminum cross-blade louvre, set at 2700K—were swapped with recessed 600 mm x 600 mm panels equipped with LEDs. The 40W panels could change color temperature from 2700K to 6500K.
The change in intensity and color temperature was automatic, but the fixtures dimmed using a DALI lighting control system from a wall switch in the classroom. An automatic light variation pattern gradually changed the intensity and color temperature.
Morning hours produced the maximum illumination levels and color temperature. The lighting then dimmed warmed with a lower illumination level around midday. Both then increased just after noon before dipping by the end of the school day.
The results?
"I thought we had skylights. I want to be in that classroom as much as I can," one teacher commented.
Students also marveled at the upgrades, with one saying: "When the sun comes up, we naturally get happier. Now, with the lights, those positive feelings come a bit earlier."
Another student said that the classroom lighting improved their focus on exams and their quality of sleep.
They weren't alone.
Surveyors said these students' classmates slept better than students in another classroom lit by the school's preexisting fluorescent lights. This remained the case even when accounting for differences in age, exercise, screen exposure and classroom windows, among other variables.
The overall opinion among the children in the classroom with new LED human-centric lighting was that it helped them stay focused and concentrate better.
The Sweden Parents Association has since advocated for installing tunable white lighting in other city schools.
Texas school district cues student behavior with a flick of a light
Next, let's move to the United States—starting in Texas. There, a trial installation of tunable-white LED lighting systems inside a trio of classrooms in the Carrollton Farmers Branch Independent School District provides more insight into the benefits of tunable white lighting technology for classrooms.
In 2016, the school district invited the U.S. Department of Energy's (DOE) GATEWAY program to perform a trial installation of tunable-white LED lighting in the following spaces:
A fifth-grade math and science classroom
A fourth-grade reading and language arts classroom
An eighth-grade science laboratory
Officials substituted recessed fluorescent luminaires with 2′ x 4′ tunable white LED lighting fixtures with a CCT range between 3000K and 5000K before starting the new year.
The new lighting control system provided the ability to vary the spectral power distribution across four preset conditions associated with nominal CCTs: 3000K, 3500K, 4200K and 5000K.
There were also preset scene controls to vary the on/off status and dimming level of different luminaire zones within the room, to better support classroom functions such as audiovisual presentations and student speeches.
The results?
The teachers interviewed by DOE appreciated the ability to tailor the lighting to different classroom needs and activities. In short, it improved the overall learning environment.
The most beneficial aspect, they said, was how it provided much-needed behavioral cues to the students.
For example, one fifth-grade teacher reported using a lighting scene with low CCT and intensity after lunch or recess to signal to the students that it was time to settle down and get back to work.
Remember in school when the teacher wheeled in a TV cart? It instinctively changed our behaviors. The new LED tunable lighting system—tuning to an energetic 5000K and then dimming them a warmer, easygoing 3000K—generated the same automatic, subconscious response.
California ASD teacher: Students "ready to learn" following tunable lighting upgrade
Finally, let's go west, to California, where children with autism spectrum disorder (ASD) benefitted from a tunable white lighting trial installation.
Like the previous application in Texas, the DOE's GATEWAY program orchestrated this project. Tunable-white LED lighting was installed inside three classrooms at an elementary school in Folsom with the Sacramento Municipal Utility District's help.
The goal was to understand how LED tunable lighting improves student health and academic performance, particularly in ASD students.
The new lighting system was just before the school year began. Of the three classrooms, one was for general-education fifth graders; the other two were for ASD students.
Recessed white-tunable LED luminaires were installed, as was a tunable-white LED wall wash surface-mounted luminaire, just above the whiteboard.
A wall-mounted, touch-sensitive controller was installed next to the whiteboard. The controlled offered five preset scenes with dimming (0%-100%) and color-tuning (2700 K to 6500K) slider bars.
They also featured on/off power buttons for the entire system and the general and whiteboard luminaires separately.
The system's preset "scenes" were:
Calm mode: All general lighting on at its warmest color temperature (2800K) and its lowest intensity. The whiteboard luminaire was turned off.
AV mode: All general lighting on, tuned to 3000K and intensity up to 50-100 lx. The whiteboard luminaire stayed off.
Screens mode: All general lighting on, up to 150-200 lx and 4000K. The whiteboard luminaire this time was on with reduced output.
General mode (used for classroom lectures: All general and whiteboard lighting on, turned to 4000K and 450-500 lx.
Energize mode: All general lighting up to its coolest color temperature—5000K—and highest intensity, with the whiteboard luminaire off.
Whenever the LED system was turned on, it reverted to one of two default lighting conditions until further input to the controller's touchpad.
These default settings were:
Morning, when general lighting and whiteboard lighting were tuned to 5000K
Afternoon, when general lighting and whiteboard lighting were turned to 4000K.
The results?
Instructors said the LED lighting system offered an improved working and learning environment for themselves and their students.
They added that being able to dim the lighting system was especially advantageous. Changing the color of the lighting was considered another benefit.
Two additional takeaways: First, the teachers said the "calm" setting (low light levels with warm color temperature) was a go-to behavioral cue for their students.
Second, the teachers considered the preset lighting options particularly beneficial because it allowed for quick interaction with the system.
Each teacher commented on using the presets to get students' attention or as a transitional cue between classroom activities. They added that the lighting system was more effective in getting their students' attention than previously used methods like ringing a bell or speaking loudly.
How about the lighting's impact specifically on ASD students?
The ASD instructors said they used the system's color-tuning functionality almost daily, at 8:30 a.m. and 1:30 p.m. The lighting acted as a cue for students to redirect their attention and focus on another activity.
"I absolutely love the lighting. I feel like lighting is something that we might not think about, but I feel like it can have such a huge impact on [the students'] behavior or their academics," an ASD teacher reportedly said. "If the calm setting helps them calm down and be more regulated, then they're ready to learn and much more willing to learn."
That quote, mixed with LEDs' unequaled energy-saving potential, underscores what designers, architects, and educators have learned about LED tunable lighting: It's an asset and investment for future teachers of the year.
Want to learn more?
To learn more about how LED tunable white lighting benefits grade schools and universities, read: "5 Proven Ways LED Lighting Saves Schools A Ton of Money."