9 Reasons Why Cities Choose Amerlux for Streetlighting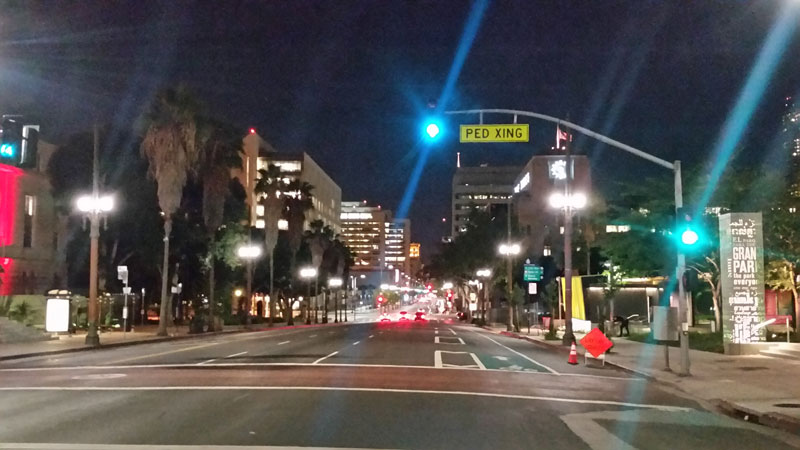 Light-emitting diode (LED) technology has created a great opportunity for city managers to dramatically reduce the energy bill for their municipalities.
But not all lighting solutions are created equally in terms of value and performance.
As a result, more cities are turning to Amerlux to help with pedestrian streetlighting. Designed to bring an ease and seamlessness to city streetlighting, Amerlux's Avista LED fixture is a simple-to-use yet advanced LED light engine ideal for retrofitting traditional and post-top luminaires, as well as use in new construction applications.
Featuring a completely-sealed LED optical chamber, the highly-efficient Avista delivers cutting-edge optics and extraordinary output to meet the most demanding streetlighting needs within today's cities and municipalities, while its simple-to-install design incorporating adjustable height levels allows users to position the light exactly where it's needed for optimal application and maximum performance, taking LED streetlighting to the next level.
Two industry experts—Lisa Elbert, P.E., signals and lighting engineer with the City of Portland at Oregon's Bureau of Transportation (which recently oversaw the upgrade of Portland's 6,100 century-old single and twin ornamental decorative fixtures to Amerlux's Avista LED light engine), and Jason Strano, C.E.M., energy sales manager at leading lighting agency Reflex Lighting in Wethersfield, Connecticut—discuss the many reasons why cities are wise to invest in Amerlux's Avista fixtures for their streetlighting needs.
Quality – Strano said that the difference between an Amerlux fixture and competitive products is clear. "When you hold an Avista fixture in your hand, you can see that it's a substantial, well-made piece with strong set screw, durable materials, and great build quality," he said. "While it's customizable, it's well-designed up front."
Flexibility – "Amerlux created four different styles of the Avista retrofit kit for us—all were the same basic product but incorporated different adaptor plates to mount onto our different streetlighting fixtures," Elbert said. "The system's adjustable height levels gave us additional flexibility as well."
Customized Options – While many manufacturers can be resistant to customization, "the Amerlux team is so open and adaptable to customer requests for changes that users don't have to jump through hoops to make the changes they require," Strano said. "Amerlux can do everything from meeting a specific Kelvin temperature standard to providing product in customized colors and more." Based on her experience in Portland, Elbert agreed. "Amerlux met all of our needs, from fine-tuning the fixture design to ensure Type III street optics with the optimal amount of lighting both in front of and behind each pole to matching the exact floral design of our fixture's filigree ring, placing bar codes in a specific spot to support our asset management requirements, and securing a manufacturer to create a specialized acrylic version of the original globe, based on detailed drawings of the vintage product," Elbert said.
Responsiveness – "Customers can always call and get Amerlux team members on the phone," Strano said. "They're extremely responsive, accommodating and happy to help."
Aesthetically-Pleasing – "The appearance of our Avista LEDs is amazing, and I was absolutely stunned the first time I saw the new lighting on our streets," Elbert said. "I'd gotten used to seeing hot spots and lamps burning inside the globe with our old technology, but Amerlux's fixture uses a top-down LED system that makes the entire globe appear to glow without seeing the lights. I love the experience and it's soft on the eyes."
Dark Sky-Friendly – While Elbert conceded that her team in Portland had worked for years to minimize the uplight component of their streetlights with various designs, other lights always looked like they had a hood over them. "By contrast, Amerlux's dark sky-friendly fixtures allow us to see the entire silhouette of the acorn globes, while minimizing light pollution," she said.
DLC-Listed – Amerlux's Avista LEDs are listed by the DesignLights Consortium (DLC), a renowned organization that establishes product quality specifications, facilitates thought leadership, and provides technical expertise in an effort to promote high-quality, energy-efficient lighting products in collaboration with utilities, energy efficiency program members and government entities. As a result of their efficiency, dark sky-friendly properties, and subsequent DLC listing, Avista fixtures are eligible for rebate by a host of utility companies nationwide, introducing the potential for an attractive financial incentive that can boost a project's ROI and reduce its payback period.
Ease of Installation – In addition to designing a customized compression screw plate for the fixtures in Portland to further simplify their installation, "Amerlux was willing to provide us with a tool-less installation," Elbert said. "The mechanism they devised—thumb screws that simply lock onto the casting—was huge for us in terms of the time and money it saved our installers/maintenance crew."
Vested in Customers' Success – "The Amerlux reps and team members we worked with were extremely responsive and great on follow-up, getting us samples, drawings, and any other information and support we requested," Elbert said. "They were passionate about looking out for our interests and sincerely wanted to see our project be successful. Amerlux truly met all of our needs and we couldn't possibly ask for more."
For more information on Amerlux's Avista LED Light engine, visit http://avista.amerlux.com/.