How Does Lighting Fit with WELL Building Standard?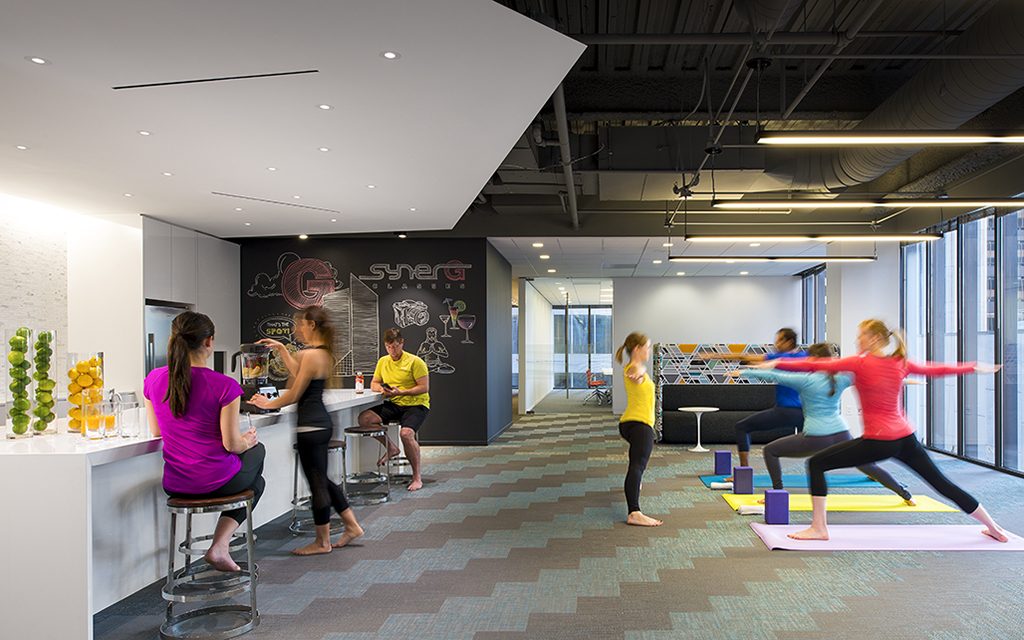 Americans spend a lot of time indoors. How much? About 90 percent, according to the Environmental Protection Agency.
This lack of sunlight can contribute to disrupted sleep patterns and vitamin D deficiencies, among other health complications. Buildings also require vast resources and a lot of energy to construct and operate, hurting the environment.
Fortunately, innovative solutions in LED lighting—from tunable white lighting to glare and occupant control—are giving architects, operators and designers more of the tools they need to create structures that make us, and the environment, look and feel better.
Two building standards are helping drive this change. One is the Leadership in Energy and Environmental Design (LEED) standard. The other is the WELL standard.
Both are different but complementary in-demand certifications. They are also becoming easier to attain for planners and contractors with long-lasting, best-in-class LED technologies.
What is the WELL building standard?
To understand the WELL building standard, it's important to first understand the Leadership in Energy and Environmental Design (LEED) standard, and how the former builds off the latter.
The LEED standard, set in 1993, is a commonly used rating system for judging a building's environmental footprint—and in turn, its value. It's a measurable set of parameters that show how a building has taken steps to protect natural resources by reducing water, waste, energy usage and fuel consumption.
The certification can be applied to all types of buildings and sizes and covers all phases of development, design and construction. It also applies to how a building is operated, maintained and retrofitted.
Buildings with LEED certification tend to have:
Higher lease rates
More tenants
Lower energy and operating costs
Greater resale values
Healthier indoor spaces
Greater levels of productivity by workers inside
But while the LEED standard focuses on components of the building itself, the WELL standard takes LEED a step further by zeroing in on how elements of the structure make its inside occupants feel.
It encourages architects to construct buildings that make its occupants feel good and ensure it has the management needed to keep them feeling that way.
Originally, seven elements in and around the building were studied for certification. The latest iteration of the standard, called WELL v2, bumps that to 10. They are:
Air
Water
Nourishment
Light
Movement
Thermal Comfort
Sound
Materials
Mind
Community
Ensuring a healthy exposure to light by creating an environment that's optimal for visual, mental and biological health tops WELL's list of lighting requirements.
Why lighting is important to WELL
We need light for more than being able to see. It's also a necessity for feeling good and being healthy and productive.
Lighting can improve our health, drive efficiency, impact our mood, reduce systems of stress and depression and help us heal faster from illnesses and injuries.
Studies also show strong links between brighter lighting and better performance in the office and other work environments.
That's because the lightness and darkness of our immediate surroundings are the main levers to our body's circadian system and the daily functions it controls, like our sleep schedules and our levels of concentration.
Different types and quantities of light impact us differently. Blue and cool white light, for instance, suppress melatonin secretion, the hormone that makes us sleepy. Warmer light does the opposite.
This explains why WELL's light concept is broken down into eight sub-categories. They are:
Making sure occupants have proper—and know the importance of—exposure to light
Providing visual comfort and enhanced acuity for all age groups
Providing the right levels of light to maintain circadian health
Minimalizing light glare
Supplying more daylight-quality light in indoor spaces
Ensuring contrast levels between rooms and spaces do not vary too greatly
Reducing flickering lights
Occupant-controlled lighting
WELL certification has three levels: silver, gold and platinum. So, the more boxes you check off, the higher the certification level you get it.
Tunable lighting is the only way to go eight-for-eight.
Why tunable light is a necessity for WELL certification
Tunable lighting gives occupants the unique ability to control an interior light source's color temperature and intensity by emulating natural patterns of sunlight, which benefits our circadian system, healthiness and productivity.
The adjustable color temperature of these lights can be used to accentuate mood and energize staff. Their higher color quality also improves visual acuity and makes objects look clearer and sharper.
Additionally, the best way to reduce and avoid electric light flicker is with quality drivers and dimming controls designed for LEDs, like DALI and 0-10 volt dimming.
Tunable white LED lighting literally checks off every WELL lighting requirement. This is why the technology is a key tenet of WELL's philosophy toward lighting and occupant health and wellness.
All kinds of companies and organizations, in various industries, are now using it in their facilities, including commercial spaces, schools, offices and hospitals.
And the ROI on WELL certification is oftentimes quick. Research shows that giving employees control over their lighting can dramatically increase their loyalty and retention. Absenteeism improves, as do employees' sleep and health quality. Energy use and expenditures also decrease.
Tunable white lighting systems give current or new structures wishing to capitalize on the vast environmental, operational and financial advantages of WELL certification an upper hand.
Want More?
If you have more questions, we have more answers: