Four Examples: How Tunable Lighting Improved Workspace Productivity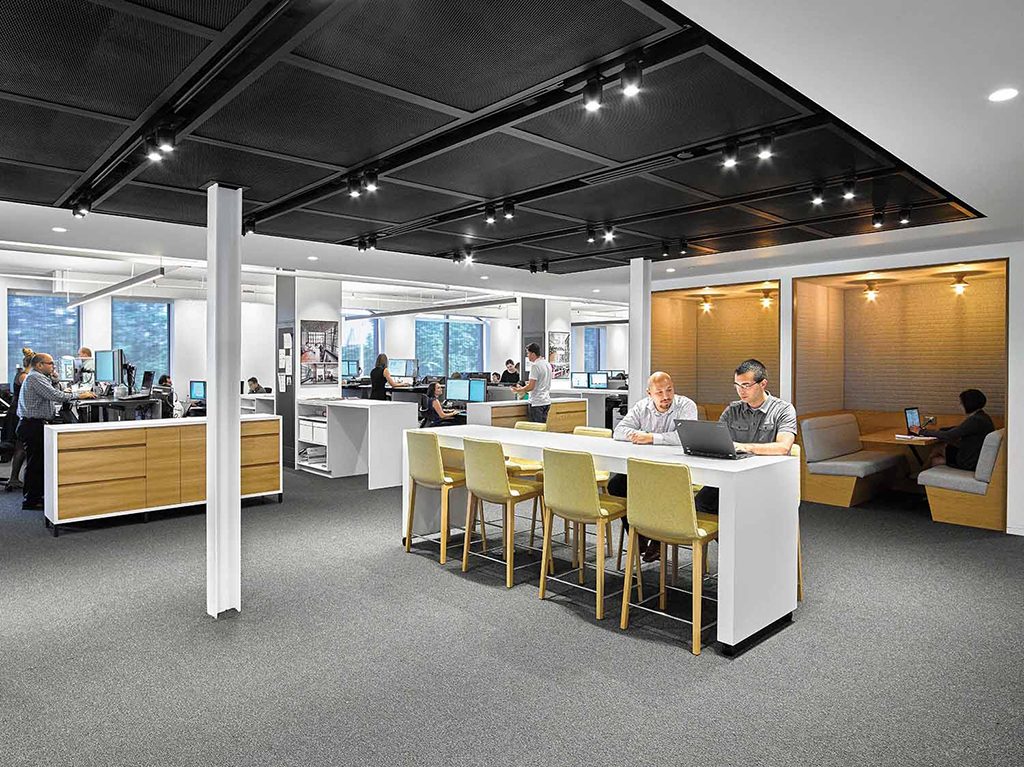 It's important to get the light just right in an office to maximize productivity. Too little light, too much light or poor-quality light can all cause physical, emotional and cognitive health problems.
Alternatively, a good-quality light has the opposite impact.
Consider this: Researchers at the Interdepartmental Neuroscience program at Northwestern University in Chicago say that workers with windows in the workplace received 173 percent more white light exposure during work hours and slept an average of 46 minutes more per night compared to workers in offices without windows.
Workers without windows also "reported lower scores than their counterparts on quality of life measures related to physical problems and vitality." They also had poorer outcomes in measures of overall sleep quality, sleep efficiency, sleep disturbances and daytime dysfunction.
This suggests that the definition of better-quality light means providing the kind of illumination indoors that mimics the sun—something electric light used to be unable to do.
Today, thanks to advancements in LED tunable lighting solutions, it can, as those who have experimented with it can attest to.
Lighting Research Center Finds Fewer Levels of Stress
The Rensselaer Polytechnic Institute's Lighting Research Center, for instance, conducted a study of human-centric lighting in five government office buildings across the United States.
The study found that employees working under human-centric tunable lighting "experienced better sleep and lower levels of depression and stress" than those who didn't. They were also able to fall asleep more quickly at bedtime.
Government offices report more vitality
Here's another example: A field study was done at two U.S. federal government office sites and two U.S. embassies to see whether circadian-effective lighting could cut sleepiness and increase alertness, vitality and energy among office workers over two days.
The result? Self-reported sleepiness scores significantly decreased, and participants reported feeling significantly more vital, energetic and alert.
American Society of Interior Designers (ASID) increases productivity by 16%
One last item for thought: When the American Society of Interior Designers (ASID) moved into their new corporate headquarters in Washington, D.C., the 8,500-square-foot space included lighting in two lighting temperatures:
5000K for the day, which resembles daylight-quality illumination, like sitting next to a window on a cloudless day.
2700K for the early evening, which parallels the lighting quality of the setting sun.
The lights were programmed to a customized wellness protocol designed to promote optimal circadian response, based on the offices' geographic location and yearly cloud cover.
The effects on ASID's workforce were dramatic. Here are the results:
Productivity increased by 16 percent
25 percent of employees attributed circadian lighting for their enhanced sleep
Overall physical health scores improved
Absenteeism improved by 19 percent
Presenteeism improved by 16 percent, which means employees are working 16 percent more than expected by their employer
The combination of productivity increases with energy savings will help ASID recoup its investment in the first five years of its 10-year lease
CBRE's lighting makes 76% of employees feel happier
Additional evidence that investment in tunable lighting gives quantifiable returns occurred in Amsterdam.
There, property company CBRE installed time-controlled, circadian-friendly lighting at its offices, where:
High illuminance levels and cool, indirect white light were used in the morning and early afternoon hours.
Warmer, lower levels were used at midday and in the late afternoon hours.
Also, several light sources were aligned onto the walls to create high vertical illuminance levels, and luminaires suspended from the ceiling in the open office area generated a pleasant indirect light component that avoided glare.
In all, 124 employees at the company's headquarters were surveyed over a 7-month period via questionnaires, biological data and interviews. The results?
Productivity increased 18%.
Work accuracy improved 12%.
76% of employees felt happier.
71% of employees felt they had more energy.
50% of employees felt healthier.
This example, like research before and after it, underscores how LED technologies and controls, with a little know-how on how to properly design, make it easier than ever for offices to deliver a working experience that helps employees be happier, healthier and more productive.
What is tunable white lighting?
The typical incandescent or fluorescent bulb, and even a standard non-tunable LED, give us the basic lighting we need to see where we are walking and see what we are doing. But they regularly come up short when it comes to informing our physiological pacemaker that it's daytime.
Tunable white lighting, on the other hand, adjusts to our daily rhythms by automatically changing its intensity and color temperature throughout the day, mimicking the sun in interior spaces.
As the above examples illustrate, light tuning has proven effective in helping office staff:
Improve their concentration and cognitive functions
Elevate their moods
Enhance their health and well-being
Reduce disruptions to their circadian rhythms and sleep cycles, helping them feel more refreshed the next day
The above examples underscore how LED technologies, tunable lightings and controls make all it easier than ever for offices to deliver a working experience that helps employees be happier, healthier and more productive.
Want to learn more?
To learn more about how the wrong type of lighting design can hinder your workspace's occupants, read "How Poor Office Space Lighting Hurts Productivity."