6 Different Environments Where Antimicrobial Lighting Saved The Day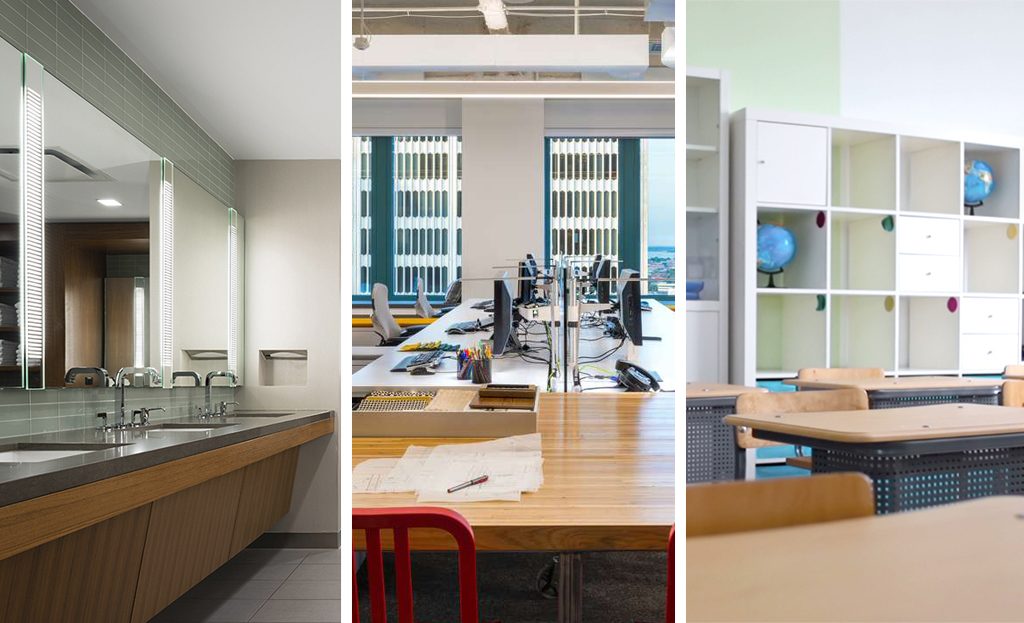 When a large corporate office installed a new, around-the-clock germ-zapping LED technology called antimicrobial lighting inside their always-busy breakroom, researchers anticipated seeing reductions in surface contamination.
But they were astonished by how much they saw.
The room experienced a 92.4% reduction on five of its most germ-infested surfaces—toaster, refrigerator, sink, water cooler and trash can—just a few days after installation.
Say hello to germ warfare's next-generation weapon of choice: clean, antimicrobial lighting, which research shows is 99% effective against viruses and 90% or more effective in wiping out bacteria, fungi, yeast, mold and other pathogens in a variety of settings. Examples include offices (where bacteria can spread to 60% percent of workers within hours, decreasing productivity and increasing unneeded sick days_ as well as hospitality environments such as resorts and hotels, an industry where 86% of guests cite cleanliness as their No. 1 factor for booking stays.
Per Electrical Contractor magazine, the "trick" is tuning your lighting intensity between 400 and 420 nanometers (nm), with 405nm being the scientific "sweet spot" for shining a winning glow on decontamination. Research from NASA, Harvard Medical School and the Department of Defense Infectious Diseases Service at San Antonio Military Medical in Houston report similar findings.
The best part? Unlike traditional UV lighting, which is detrimental to the eyes and skin and necessitates a vacant space, LED antimicrobial lighting is approved internationally for continuous use with people, pets and plants present.
It provides a continuous clean sweep on anything your light can touch in any application, Bill Plageman, Amerlux's VP of Marketing, says. The office case study above is one example.
Below are five more.
Protect, Decontaminate Your Production Line in One Step
HP Hood, a prominent dairy company based in Lynnfield, Massachusetts, experimented with comparing how 11 dairy, spoilage and pathogenic microbial strains in liquid conditions fared under two lighting systems: antimicrobial lighting and conventional fluorescent lighting.
Testing included taking small samples at several time points and placing them on lab plates for observation over seven days.
The results? A dramatic reduction in bacterial microbes, up to 99% in some instances and no lower than 90% in others, compared to the legacy lighting system—proof that antimicrobial lighting can lead to reducing pathogens and spoilage in food and food dairy processing.
Equally important, the new clean LED lighting did not degrade the manufacturing or processing equipment and materials used—something UV lighting can do by breaking down the chemical bonds in plastics, rubber and other items.
One Easy Way To Always Keep Your Nursing Station Clean
At Stony Brook University Hospital in New York, LED antimicrobial lighting was installed in and around a nursing station, including hallways and waiting rooms, adjacent to an intensive care unit.
For 24 weeks, samples were taken from the surfaces of various office equipment around the station, such as:
Phones
Keyboards
Computer mice
Countertops
Copy machines
After installation, 20 surfaces were tested, and the impact of the facility's new illumination was immediately evident.
Each surface showed sharp decreases in colony-forming units (CFU), a microbiology term used to quantify bacteria levels. Before installation, each surface averaged 55 CFUs. After installation, they averaged just 30—a remarkable decrease considering the nursing station was occupied around the clock.
The Simple Secret to an Instantly Cleaner Trauma Room? Hit The Light
A nurse's station is one thing. Any operating or trauma room is another. Would the same lighting technology work in a more intense healthcare setting?
Good question.
The Emergency Department of Samaritan Hospital, a member of St. Peter's Health Partners in Troy, N.Y., put the technology to the test, adding eight antimicrobial lighting fixtures above a trauma room bed.
This experiment differed from the above example in one way: Unlike nursing stations, which are never unoccupied, trauma rooms on occasion are—which allowed the room's antimicrobial lighting system to have an occupancy mechanism that switched from a cooler white-lighting to a second, deeper-cleaning mode that utilized a violet hue when the space was empty. (Though approved for continuous use when people are present, this second mode emitted colored lighting that some find visually uncomfortable, which is why a vacant space is recommended.)
Medical researchers expressed enthusiasm with the light's cleaning capabilities, which showed significant decreases in average colony count compared to pre-installation averages just weeks after installation.
Good Lesson to Learn: How to Quickly Cut Classroom Germs
Despite rigorous cleaning efforts, schools continue to be breeding grounds for germs. The Centers for Disease Control (CDC) estimates that school-aged children contract a cold or the flu an average of eight to 12 times per school year.
Knowing this, one classroom at the Taconic Hills Central School District in Craryville, N.Y., devised a plan: Let's see how well clean, antimicrobial LED lighting diminishes surface contamination in a special education/kindergarten classroom.
The experiment results, which included taking surface samples from five separate locations before and after installation, revealed a drastically lower bacterial colony count compared to pre-installation, with a 99.6% reduction in surface bacteria.
The Best Way to Quickly Flush 99% of Bathroom Yuck
Classrooms aren't the only places inside schools where exponential quantities of bacteria and other microorganisms multiply.
Another location? Bathrooms—something the Capitol Region Education Council in Hartford, Connecticut, reportedly discovered after it installed antimicrobial lighting fixtures inside an actively used pre-kindergarten bathroom to reduce germs and surface bioburden.
After taking samples from three different surfaces—an upper sink, a lower sink and a toilet—for 10 days before installation, researchers took samples from the same locations for four days during the fourth week after installation and six days during the fifth week after installation.
The results? Post-install sampling showed an average reduction of 2.4 logs compared to the pre-installation baseline values, resulting in a 99.6% reduction in surface bioburden.
A Simple Guide on Where to Start on Cleaner Lighting
The average person encounters more than 60,000 types of bacteria daily, a tally that reportedly includes antibiotic-resistant bacteria that kill about 700,000 people annually and will, according to forecasts, contribute to more than 10 million deaths by 2050.
No wonder workplaces, including commercial offices, hospitality settings and health care environments, are seeking fresh, creative ways and insight on how to get started on their sterilization efforts before the cleaning crew arrives.
Clean, antimicrobial LED lighting flashes a revolutionary, high-tech way to do that—morning, noon and night.
Want to Learn More?
To learn more about how antimicrobial LED lighting is at the front lines in the fight to combat illness, read: "How Antimicrobial Lighting Technology Helps Create a Cleaner Hotel Environment."