Pedestrian Lighting: City Managers Consider 7 Factors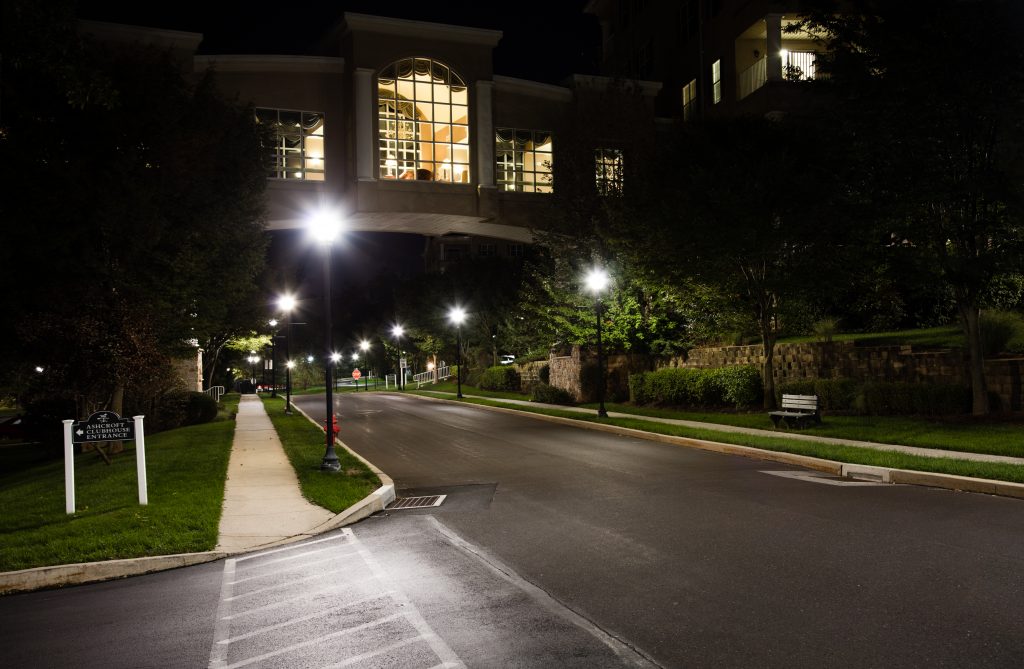 Thanks to the benefits of light-emitting diode (LED) technology, more than 600 cities from New York to Los Angeles are in the process of upgrading less-efficient lighting sources.
LEDs provide a longer useful life, minimal maintenance, appealing color rendering and increasingly attractive price points. In short, LEDs can deliver decades of reliable and attractive illumination to the nation's estimated 26-44 million streetlamps—the average of which is reportedly older than 25 years old and in need of modernization, according to the U.S. Department of Energy's Municipal Solid-State Streetlighting Consortium.
However, pedestrian streetlighting upgrade projects in cities and municipalities are complex endeavors that require thoughtful consideration and careful collaboration between city managers and lighting providers to ensure the most successful outcome.
Two industry experts—Lisa Elbert, P.E., signals and lighting engineer with the City of Portland at Oregon's Bureau of Transportation (which recently oversaw the upgrade of Portland's 6,100 century-old single and twin ornamental decorative fixtures to Amerlux's Avista LED light engine), and Jason Strano, C.E.M., energy sales manager at leading lighting agency Reflex Lighting in Wethersfield, Connecticut—recommend several key factors city managers should consider when upgrading the pedestrian streetlighting in municipalities.
Evaluate Performance. When evaluating between different lighting options, "a fixture's performance is critical – color temperature, brightness, etc.," Elbert said. "In Portland, we were constantly running numbers, looking at how the lighting performed using AGI, a simulation tool used for designing lighting projects, and assessing the visual effect of that light on our streets and sidewalks, compared to our previous high pressure sodium technology." Elbert and her team ultimately settled on LEDs with a 3000K color temperature, "which is a very comfortable and palatable color that's gained increasing acceptance in streetlighting nationwide," she said.
Ensure Uniformity. As part of a comprehensive assessment of various fixtures, Strano confirms that the lighting needs to be uniform throughout the space and free of any hot-spotting, shadows or gaps that both detract from its aesthetics, as well as enable criminal behavior. If the skills aren't resident in-house, "it's important to take advantage of the services of a lighting specialist with expertise in preparing photometric layouts so that you can see exactly how your space will be lit by the fixtures, including light and dark areas," Strano said. "You also want to ensure that you're providing equal lighting without over-lighting the space."
Go LED. With their exceptional performance, high efficiency, long life, and affordability, Strano confirms that there's no reason not to pursue LEDs for city streetlight upgrades. "You want to emulate a nice, natural moonlit effect when lighting city streets and LEDs are able to do that," he said. "City managers are lucky to have so many LED options today. Though high-pressure sodium and metal halide have been around for a long time, price points for LEDs are now nearly equivalent to those older technologies, and the tremendous energy and maintenance savings that LEDs deliver over their extended lifespan makes them a no-brainer."
Pursue Rebates. Whether you're in a part of the country with a high or low kWh utility rate, "the availability of utility rebates and incentives on specific LED fixtures can make a streetlighting upgrade project more palatable," said Strano of the subsidies that can help to offset up-front project costs, as well as enhance its economics overall—all of which are critical factors for city managers, especially when projects are funded by taxpayer dollars. (According to the U.S. Department of Energy, streetlighting nationwide accounts for $2-3 billion in annual energy costs alone.) To get access to such utility rebates, Strano recommends opting for an LED fixture that's listed by the DesignLights Consortium (DLC), a renowned organization that establishes product quality specifications, facilitates thought leadership, and provides information, education, tools, and technical expertise in an effort to promote high-quality, energy-efficient lighting products in collaboration with utilities and energy efficiency program members and government entities. Elbert agreed, noting that a rebate which the City of Portland successfully secured on the purchase of its Avista LEDs from the local Energy Trust of Oregon and the Oregon Department of Energy positively impacted its project's ROI and reduced the payback period.
Preserve the Dark Sky. Strano recommends choosing a fixture that's dark sky-compliant, which means it supports the global movement to help reduce the amount of light pollution emitted into the sky by outdoor lighting fixtures. As opposed to older technologies like high-pressure sodium that often distributed light upwards, disturbing the night sky along with local residents and wildlife, "LEDs allow us to put light and energy exactly where it needs to be," he said. "They enable us to better control the distribution and color temperature of light so that we're not just throwing light out there and creating all of that light pollution."
Consider the Impact of Trees. "We love trees and they're a major part of our streetscape here, but they can also block light," said Elbert of the leafy, tree-lined streets of Portland. "If obstacles like trees are in the way, you won't get the performance you need out of your lighting. We're constantly battling this issue and there's no easy answer, but we came to the realization that trees can often wreak havoc on lighting systems." As a result, Elbert recommends that a plan for managing trees should be part of a city's overall streetlighting strategy. "Developers who reconstruct property frontages need to space trees properly, and we also look carefully at different tree species and do our best to prune our trees so that they rise above the lighting, as a tree canopy over the top of the lighting can add ambiance," she said.
Go with a Trusted Manufacturer. Strano recommends that city managers avoid making lighting decisions based solely on first cost. "There are a lot of less-expensive fixtures out there made by less-experienced manufacturers, but for cities, towns, and institutions that plan to be there for the long haul, it's important to make a good investment that will last and go with a manufacturer who's vested in the industry and will stand by their product," he said.
For more information on Amerlux's Avista LED Light engine, visit http://avista.amerlux.com/.