Simplify the Install: 5 Lighting Features Electrical Contractors Need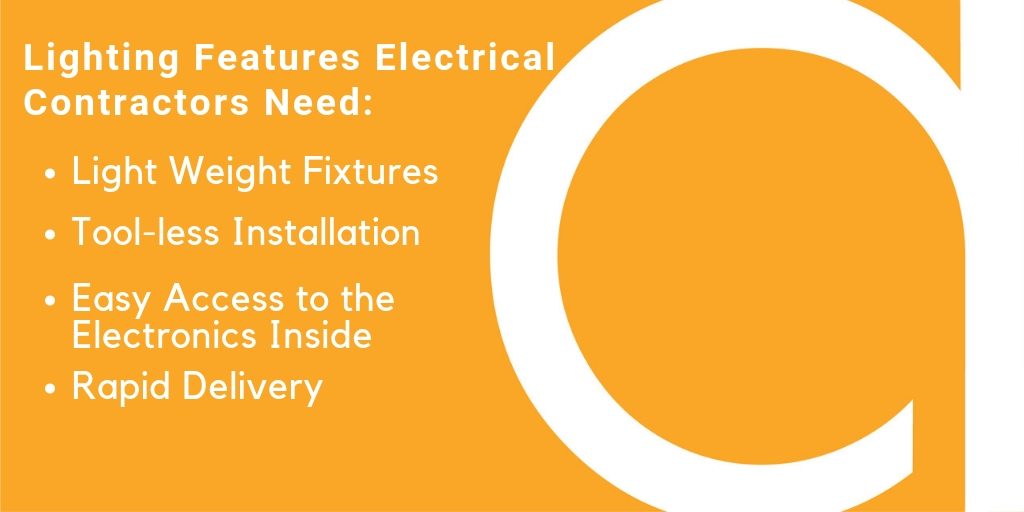 Installation—it's where a job's profit is made or lost. A quick and easy installation means you can move onto the next job and the next check, without worrying about costly callbacks or extra labor time chewing into your profit margins.
You understand the importance of the installation process—and if you've ever substituted specified lighting products in favor of easier-to-install solutions, you're not alone. The 2018 edition of Electrical Contractor magazine's biennial "Profile of the Electrical Contractor" survey found "ease of installation" was one of the top reported reasons for product substitution.
All kinds of things can go wrong during the installation—from drawings that don't match the jobsite realities (it's always perfect on paper!), to long delays in getting lighting products delivered. Add in the imperfections of other people's work (e.g. a sloppy carpenter makes a wall out of square) and you need lighting solutions that are designed for optimal performance and effortless installation.
Here are five design features to look for that will make your installations easier and faster:
Light Weight Fixtures
If you've ever found yourself balancing on a ladder while installing interior ceiling lights or exterior post-top fixtures, you know how difficult it is to work with heavy fixtures. You're trying not to fall off the ladder while holding a heavy light and your tools at the same time.
Post-top luminaires can be especially heavy and routinely tip the scales at 30-60 pounds. Holding that in one hand while you install it with the other hand all while trying not to fall off the ladder is a real work-out. Light-weight post-top luminaires don't have to be heavy. Some LED fixtures are designed for easy installation and they weigh just 16 pounds, which makes it easy to multitask.
Tool-less Installation
You have a lot of tools to carry around for each job. The lighting part of your installation work shouldn't add to your tool load. Whether retrofitting existing fixtures with LEDs or installing new luminaires, look for solutions that offer tool-less installations, or feature fasteners that you can manipulate with your work gloves on. Little details like this will go a long way towards keeping your pedestrian lighting installs smooth and on track.
Installation Shouldn't Require A Perfect Site
Save perfection for the architectural drawings. Things are always perfect on paper, but never quite so perfect in reality—this corner is out of square, that wall was built an inch off the mark, and so on.
Lighting solutions should be flexible and account for the typical imperfections in construction. For example, step lights are notorious for going out when water or dirt gets inside the fixture. They get in the fixture because most step lights are poorly designed and feature rigid backboxes behind the faceplates for the LEDs and drivers.
If the mason puts too much mortar inside the cavity for the backbox, then the rigid box will break the seal and water seeps in. A better design is a step light with a plastic backbox that can flex and accommodate its less-than-perfect surroundings while maintaining the seal.
Easy Access to the Electronics Inside
If you have to dismantle a luminaire to wire it and install it, the light manufacturer just added hours to your installation time. Instead, the electronics should be easily accessible.
For example, many post-top luminaires have their drivers and controls buried in the neck of the fixture, which is difficult to access. A better design is to have the electronics under a hinged lid at the top of the fixture.
Linear pendant lighting is also known for being difficult to install. Usually, contractors have to disassemble the fixtures to wire emergency lights and add power. That's a waste of time when you could use a linear solution that comes pre-wired with quick-connects so you never have to open the fixtures, ever.
Rapid Delivery
Time is money and you can't afford to wait weeks or months for lighting to be delivered when you've got other jobs to get to. Look for manufacturers that can ship lights in 10 days or less—72 hours even—to quickly advance your retrofit or new construction projects.
When contractors want the best long-term solutions, they opt for quality products from trusted manufacturers. As a leader in application-driven lighting innovation for more than 30 years, Amerlux has you covered! Learn more about Amerlux's Value Line of lighting solutions for design-build construction.