How to Shine a Colorful Light on Must-See Retail Destination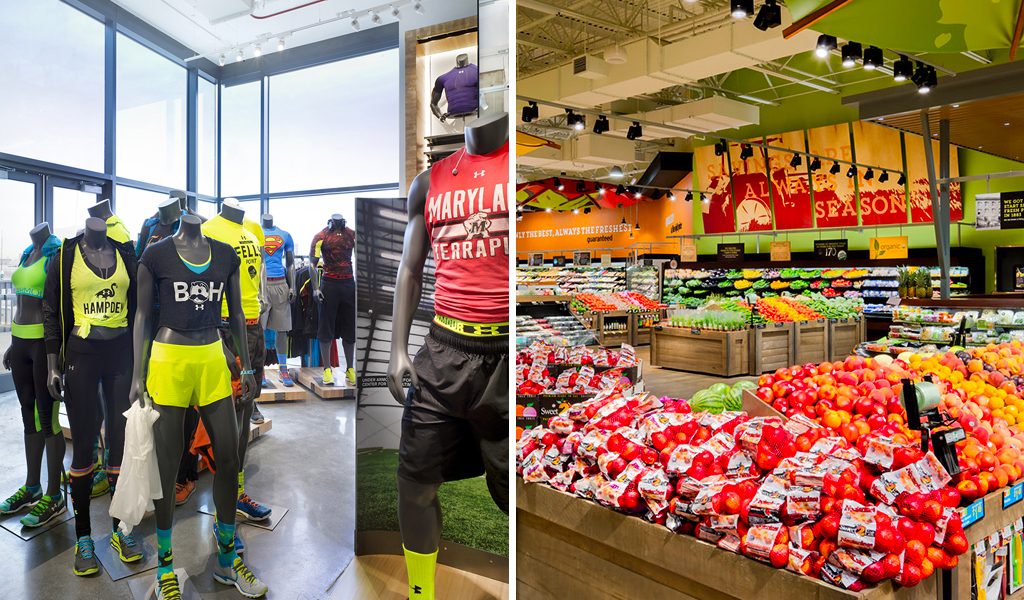 Before the Amazons of the world came around, and the mounds of fast deliveries that came with them, why did people shop in stores, besides obviously needing something?
The answer? Instant gratification. They needed what they needed today or for the weekend. There was no time to waste.
Today, online purchases are delivered within a few days. In some cases, they're delivered the same day they're bought.
No doubt, brick-and-mortar retailers need help.
Retail lighting can help.
One trend unfolding throughout malls—especially with flagship stores and high-end retailers—is that while these brick-and-mortar stores are staying open, the shopping experience they are offering is different.
They're more destination experiences today enabled by retail lighting.
This is especially true for stores with products that cost more and need more hands-on demonstration or observation—such as those inside bridal and jewelry stores, art galleries and the fresh, high-end supermarket perimeter aisles.
Shifting from selling items to inspiring experiences is the next wave of retail innovation.
Supermarkets offer an ideal blueprint. They take the everyday necessities they know people must come in for—milk, cheese and prepackaged bread—and stick them in the back corner of the store, forcing shoppers to stroll the entire store and past endless displays of items before reaching that destination.
And what was the first thing shoppers saw when they walked into these supermarkets? They saw a painter's color board. Bold-red tomatoes. Crispy, garden-fresh leafy greens. Marbled meats. Warm, fluffy brown bread. Fish like it was just yanked from the waters, over crystal-clear ice. You saw—and continue to see today—just tremendous color and freshness.
It's all about enticing the shopper to buy something else along with the real reason why they went into the store.
What does this mean for other retail applications?
Consider this: You go online, pick out a sweater, and the retailer says the item is in stock at one of our close-by locations. Come pick it up. It's ready for you.
You do.
But when you go in, the pickup location is in the back of the store. Like a supermarket, you are guided through an extremely clean, appealing experience that entices your senses with beautiful colors and textures that make you want to touch the garments on display. Yes, the shopper is picking up their online purchases, but they're also noticing something else–a lot more, walking throughout the store.
This drives impulse, in-store purchases.
Color rendering is particularly crucial for women, who, according to household research, shop more than men do—and see color variations more vividly than men do, including color saturation and color separation. There are countless reasons why you need the colors of your merchandise to pop under the proper illumination.
Here is another: It's all about lighting the most natural colors possible. Just make sure you're illuminating other sections of the store to compliment the shopper.
For instance, skin tones look better under standard LEDs with a 90 or 100 CRI than they do under full gamut lighting, which saturates color and tends to make the shopper's skin tone look unnaturally red. Let's face it: If someone's hand looks weirdly red at the jewelry store, there's no way they are going to buy that ring.
Same with changing rooms. It's not about the garment being tried on in the dressing room—now, it's about the individual trying it on. It doesn't matter how nice the clothes' colors are, or how crisp white that wedding dress is. The shopper will attribute their lousy look to the clothes, not the retail lighting.
For applications where skin complexions aren't a factor, such as the fresh-food perimeter departments, full gamut retail LEDs showcase merchandise's natural colors in a way that screams fresh without looking fake or phony. It gives the allure that what you are seeing is brand new, that you're the first to check it out.
Retail lighting can be a potent weapon in the competition between brick-and-mortar stores and online competition.
Online, a customer has just a photo or two of the products to see. Color subtleties and textures are easily lost in translation when viewed on screens.
On the other hand, when customers see the actual clothing articles, food or jewelry in person under the right LED retail lighting, they better appreciate the nuanced differences in color shades and pair items better.
Foods look fresher. Clothes pop—jewelry sparkles. Customers feel good and look good. They want to be there.
The retailer becomes a destination.
Want to learn more?
To learn about how lighting can influence shoppers' perception of a brand, its quality and its colors, read "What Are 8 Common Retail Lighting Mistakes?"