10 Interior and Exterior Architectural Projects Perfected by Lighting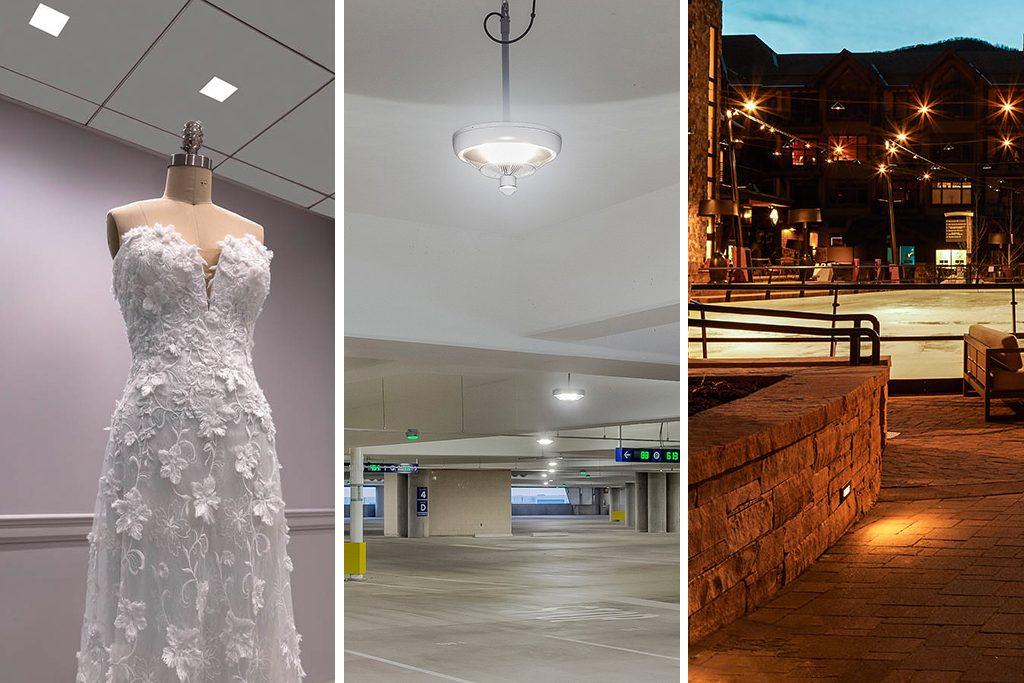 Light is more than just something you see.
With the right strategy and proper set of fixtures and controls, it tells a story, a timeline, a series of what-ifs. It's the centerpiece of the perfect wedding day, gives a village character, reduces light pollution and makes the office, an overnight hotel stay and a layover feel like home. Lighting can make patients and nurses think better and employees feel well. Productivity increases, as does safety and energy savings.
Here are 10 lighting design projects in 10 different applications that prove lighting can elevate any space—regardless of size or shape—inside and outside.
Making the Office Feel Like Home
Years after a private hedge fund moved into an entire floor inside the iconic General Motors Building in New York, it needed to revamp its offices into a space that fostered greater collaboration among employees and symbolized its connection to the city.
Abandoning the traditional private office model, the company hired an architectural firm to deliver a unified, modern and open office space, complete with a trading floor, a board room, reception areas, lounge spaces, a fitness center, meeting rooms and large open office areas.
"The client wanted the space to feel like a luxury condo or private club," says Quentin Thomas, president of Quentin Thomas Associates. "It needed to feel like home, so employees don't feel the urge to leave."
To achieve the right environment for the different areas, the 39,000-square-foot space was lit with more than 200 standard-sized four-foot lengths of recessed linear light fixtures and more than 160 lensed downlight fixtures, all 3500K, 16W LEDs. The fixtures' high-caliber design permeated the space with grace and sophistication and minimized glare.
"The glare control, the optics, the lensing are very important. The detailing—how the lens snaps in, how the light is accessed to clean it are critical," Thomas says. "For example, in a beautiful ceiling, you don't want someone having to pry the fixture. The lighting manufacturer worked out those details and used magnets, so everything aligns well."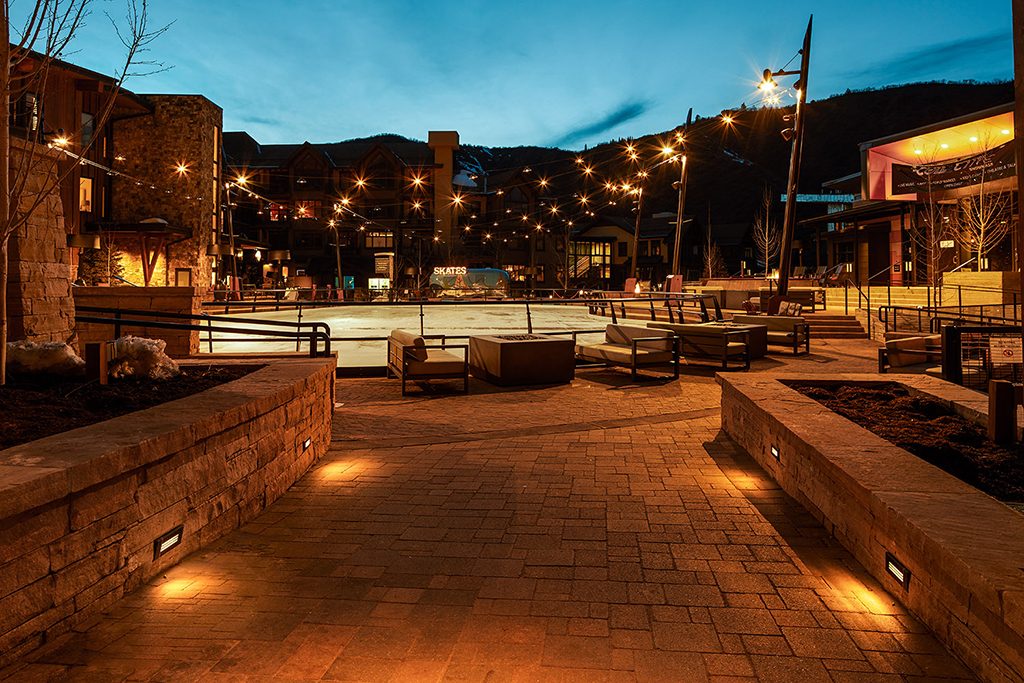 Shredding Slopes, Lighting Steps and Protecting Dark Skies
Snowmass Village, a picturesque ski town nestled in the Rocky Mountains near Aspen, Colorado, wanted to redevelop its town center with new buildings for a hotel, condos, town hall and an outdoor ice rink.
The challenge? Built around a 35,000 square foot plaza, the town needed a way to illuminate the space while still preserving the area's iconic night skies.
"There are beautiful night skies in the mountains and the town officials and developers wanted to minimize light pollution," says Mike Kershner, founder of Innovative Lighting Consultants (ILC). "There is some pedestrian lighting in the area, but the lights are very spread out. To maintain the natural darkness, we used step lights along the paths between buildings and in the plaza area."
How many step lights? By the project's completion, about 625. Using a combination of 8-inch and 12-inch models, all high-finish, Kershner deployed the smaller lights throughout the plaza and placed the larger fixtures near the buildings where they needed more light.
The fixtures preserved natural night skies with louvers that reduced glare, and since the fixtures were not scoop step lights, there was no upward reflectance, allowing people to walk around Snowmass at night without intrusive lighting.
Given that the step lights were being installed in the snow-capped Rockies, the step lights' construction needed to be rugged construction.
Built to last, the fixtures selected used a sealed optical chamber to keep snow, salt and water away from the LED optics, preventing the most common reason for failure in other step lights.
The Healing Power of Light
The ACC Care Center in Sacramento, California, provides rehabilitation and nursing care services, largely to wheelchair-bound patients who average 87 years of age and experience various forms of dementia.
The facility's lighting did not help. Patient rooms had overhead fluorescent lighting that forced nurses to use flashlights or tablet screens to illuminate patients or leave the door open to allow hallway light to seep in.
There laid another problem: The hallways delivered more than 5,000 candelas per square meter of 4,100K light, far more than the 1,000 candelas per square meter that the Illuminating Engineering Society recommends for 80-year-olds.
Working with a local utility company, the facility worked to fix this by experimenting with tunable lighting systems inside a hallway and three patient rooms that automatically adjusted temperature and brightness throughout the day.
The new tunable cove lighting tripled the amount of light in the room, changing from 6,000K in the early morning through the early afternoon, 4,100K in the mid-to-late afternoon and 2,700K in the early evening. Hallway lighting followed a similar schedule, normally with a slightly higher temperature.
These lighting upgrades, paired with motion-censored amber robe lights installed around the beds, resulted in fewer patient falls, reduced reliance on medications, decreases in dementia behavior and better sleep and health. Nurses also had more comfortable lighting in their nursing stations and hallways. The thumbs-up approval from staff and patients convinced facility to change the lighting throughout the building.
Seeing an Alternate New York in the Best Light
What might New York City's iconic skyline look like if certain canceled projects had been built?
It's a topic the "Never Built New York" exhibit at the Queens Museum in Flushing Meadows, New York, explored. Held inside the Rubin Gallery, visitors saw 230 monuments, residential towers and office buildings that were not built for various reasons.
"In celebration of this inspiring exhibit, it was important for us to work with the right quality and balance of lighting," says Bevin Savage Yamazaki, Senior associate at Gensler, an architecture firm and sponsor of the exhibit. "We wanted visitors to experience these never-before-seen drawings and models from a new perspective."
But the space, which mirrors the shape of Manhattan, presented several lighting challenges: It was long and narrow, had black, curved walls, and dark grey carpeting covered the floor. The room also had a high barrel-vaulted ceiling, extending 30-feet above the floor on the low end and reaching to a height of 40-feet on the other end of the room.
In response, large, 48-watt high-end LED track heads were installed, providing a system that balanced a clean, minimal aesthetic design with industry-leading optical performance. All fixtures offered a full gamut chip as an alternative to a standard high CRI chip, delivering full saturation of color and clean, crisp whites. The fixtures' sleek, slim cylinder design with high beam control used less than 10 percent of the energy consumed by the previous 500-watt quartz lamps.
The fixtures gave the curatorial staff the freedom to organize the exhibit in a way that made sense artistically, rather than being forced to group works together by lighting needs.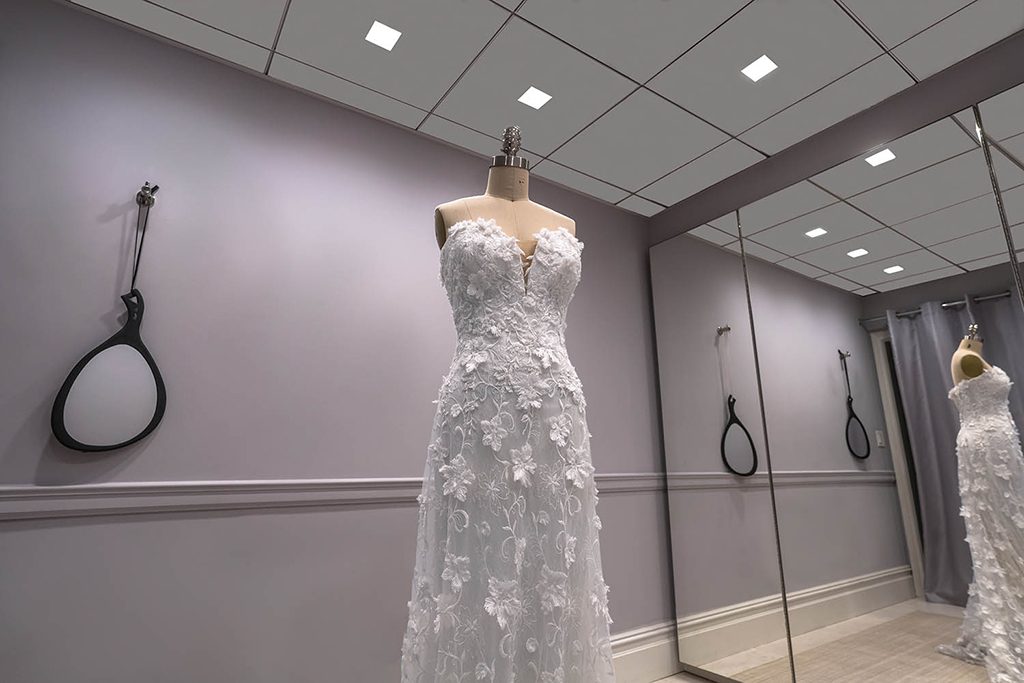 "Say Yes to The Dress" Under the Right Light
New York City-based Kleinfeld Bridal, a bridal retail legend and home to TLC's "Say Yes to The Dress," had a dilemma: Brides-to-be could not see the true color of the gown they had bought during the fitting. Sometimes staff walked their customers outside, gown in hand, to reassure them they were looking at the same dress they purchased.
To address any inkling of "cold feet", Kleinfeld Bridal swapped its outdated lights with an LED tuning system that brought outside-quality light inside and allowed the store's merchandise to be showcased in their truest colors. It also allowed brides to try on dresses in the same lighting conditions as their wedding day.
"We needed lighting that was very accurate to the right color," says Jacques Vigneault, vice president and creative director at Kleinfeld. "We can't be having discussions with customers about color at this point."
Controls also were installed with the new fixtures so Kleinfeld's sales staff could present the wedding dress in a variety of lighting scenarios, and the fixture count was reduced to deliver better quality light more evenly.
Design WELL, Work Well
When the American Society of Interior Designers (ASID) moved into its new corporate headquarters in Washington, D.C., the 8,500-square-foot space became the first facility in the world to achieve Platinum level certification in two key building standards: WELL and LEED.
Both are different but complementary in-demand certifications that are becoming easier to attain with long-lasting LEDs.
While the LEED standard focuses on a building's environmental footprint, the WELL standard takes LEED a step further by zeroing in on how the building makes its inside occupants feel. The latest iteration of the standard, called WELL v2, studies 10 elements in and around the building for certification, lighting included.
ASID's space include lighting in two temperatures: 5,000K for the day and 2,700K for the early evening. Lights were also programmed to a customized protocol that promoted optimal circadian response, based on the office's geographic location and yearly cloud cover.
The effects on ASID's workforce were dramatic. About 25% of employees attributed circadian lighting for their enhanced sleep quality, and overall health scores improved. Absenteeism improved by 19 percent and presenteeism by 16%, meaning employees were working 16% more than expected. Their performance improved by the same percentage. This increased productivity, paired with energy savings, will allow ASID to recoup its investment in the first five years of its 10-year lease.
Shining a Light on Jetlag Relief
Knowing that the average business traveler reportedly loses nearly an hour of sleep every night they're on the road, and that jet lag regularly ails guests, InterContinental Hotels Group installed tunable white lighting systems inside the guestrooms of their Crowne Plaza Atlanta Airport location.
Consisting of mobile bedside light fixtures that double as task lighting, guests can automatically reinforce the local sunrise and sundown patterns with blue-enriched light in the day and relaxing amber light in the evening. If needed, they can also override and adjust these presets.
Light is the primary time-giver of the circadian system, and disruptions – like getting the wrong light at the wrong time – adversely affects mental and physical health, impairing a hotel's chief mission: giving guests a good night's sleep.
The installation of such systems has proven to reduce jet lag, improve alertness and moods, and ease travelers' adjustments to new time zones. Equally important, it demonstrates that the hotels and their designers have guest satisfaction and brand perception front of mind.
Layover and Relax Under the Right Light
Gardermoen Airport, located in Oslo, Norway, is home to tunable white lightning installations to improve traveler comfort. The effort was led by Scandinavian Airlines, which took some of the stress out of air travel by outfitting the premium lounge with an assortment of tunable LED lights.
Blending circadian entrainment with ambience and aesthetic experience, the lounge was divided into nine separately lit areas, ranging from a yellow, pink and green "party" color scheme to a bright, 6,500K "daylight booster" section.
There are also three "hue" rooms, which are small private areas where travelers can adjust the lighting settings from relaxing – there were a "night" setting and a sunrise setting called "Savannah" – to stimulating, with a cold white-and-blue light setting called "energize." There are also settings called "read" and "concentrate" that help boost cognitive function.
Furthermore, the Oslo airport features a large-scale installation of tunable lighting in one of the terminals. Consisting of 21,000 luminaries, the lighting was designed to change brightness and color temperature in response to natural light conditions, helping travelers adjust to the local time zone and a more relaxing experience.
The City of Roses—and Safe, Energy-Efficient Street Lighting
Portland, Oregon, is renowned for its thriving eco-friendly scene and focus on sustainability, a proud legacy that the Bureau of Transportation kept in mind when it planned to upgrade the city's 52,000 streetlamps to energy-efficient LEDs.
They also had to keep another bequest in mind: maintaining the vintage, 21-foot-high single and twin ornamental decorative fixtures that dot the city.
"Our poles and ornamental castings go back as much as 100 years and are attractive, but finding LEDs to adapt to them was difficult," Lisa Elbert, Signals and Lighting Engineer at the city's Bureau of Transportation, says. "Portland's castings are historic, and we wanted to use them."
"The challenge was the shape of the globe and adapting LED technology to the city's exact specifications," says Kenny Hettrich, Principal of Hillsboro, Ore.-based manufacturer's rep agency Hy-Light Group, Inc.
The city addressed these pain points by using 42-watt, 3,000K LED light engines ideal for retrofitting traditional and post-top luminaires. Hettrich says the design was finetuned to ensure the Type III street optics gave the optimal amount of lighting in front of and behind each pole. It also matched the exact floral design of the fixture's filigree ring, placing bar codes in a specific spot to support the city's asset management requirements. A customized compression screw plate was also designed, simplifying installation.
"(The lighting manufacturer) even made the process toolless for our installers, such that once the contractors got comfortable with the process, they were able to install 80 fixtures a night with two crews," Elbert says.
Portland reduced its power consumption from street lighting by 60 percent while improving visibility, minimizing glare and making neighborhoods feel brighter and more secure.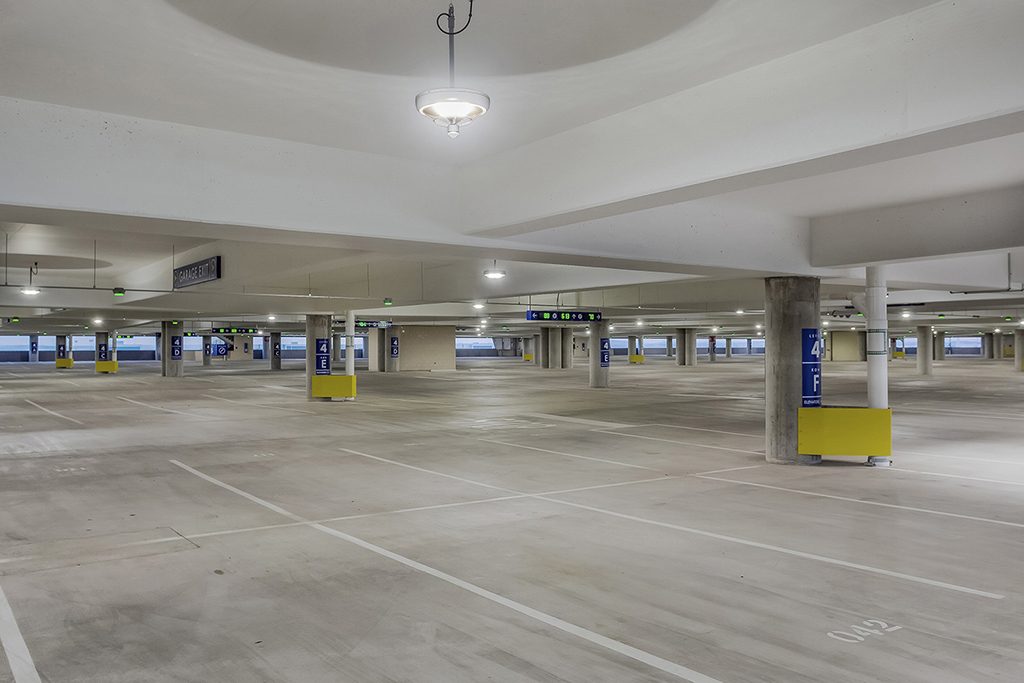 Indirect Lighting Helps Austin Airport Garage Take Off
Austin-Bergstrom International Airport newest parking garage, called the Blue Garage, offered nearly 2 million-square-feet and six levels of parking "strategically placed for the current and expected needs of the airport and terminal," Charles Meyer, the project architect at PGAL in Austin, says.
It also required lighting that avoided glare, an issue that plagued older parking facilities at the airport. The solution was installing indirect light technology that cut glare, improved lighting quality and trimmed energy savings in five of the six decks. In all, 1,340 of these fixtures were used.
"The (fixtures') indirect lighting feature was the most important," Kirke Coney, specification sales rep at Hossley Lighting Associates in Austin, says. "Also, the airport people really liked the aesthetics of the occupancy control sensors. They liked the way it sat on the bottom of the fixture and was very symmetrical."
The fixtures were also DLC-listed, wet-location rated, durable and controls agnostic, and the airport leveraged sensors for occupancy and daylight harvesting on half of the fixtures.
To accompany the new garage, a walkway was needed to link the surface parking, garages and terminal together.
The walkway "needed to be a professional space," says Brendan Wittstruck, principal and director of urban design at Asakura Robinson, a landscape architect firm, which selected "breadcrumb elements" lighting strategy that included lamp poles. "We wanted the lighting to be a place-making device, rather than just fixtures on a pole," Wittstruck says.
The firm selected post-mounted area lights that merge the luminaire and pole into one. Consisting of a straight round aluminum pole, light flairs toward the fixture's funnel-shaped top with recessed lighting at the summit. The LEDs graze light down the face of the luminaire and post, creating a distinctive lighting experience that drastically remade the airport's parking experience.