Amerlux Shines Light on 'Never Built New York' Exhibit in NYC
People are intimately familiar with the New York City the world has come to know and love—bright lights, masses of people, a rush of traffic and an interconnected symphony of more than one million buildings of all ages, sizes, and architectural styles that contribute to the city's iconic skyline.  But what about the city that might have been—the "never built" dimension of New York that would have transformed both the dynamics of the city, as well as the lives of past and future generations of residents and visitors?
Well, the very question is being explored in "Never Built New York," a unique exhibit on display at the Queens Museum in Flushing Meadows, New York until Feb. 18th, 2018.  Considered a "parallel metropolis" that offers profound insights into the changing times, goals, and values of the city's top architects, designers and planners during the past 175 years, the exhibit—co-curated by architecture experts/critics Sam Lubell and Greg Goldin, designed by Christian Wassmann, and illuminated throughout its main gallery by leading lighting fixture manufacturer Amerlux—invites visitors to discover the alternative paths New York City might have taken as reflected by original prints, drawings, models, installations and animations.
"The exhibit features never-built projects in New York City from 1843 to the present," shared Larissa Harris, curator for the Queens Museum, a 100,000 square-foot space that was founded in 1972 in a historic building that was originally constructed for the 1939 World's Fair and later re-used for the 1964 World's Fair.  Within the exhibit's 15,000-square-feet of space, "we're featuring approximately 230 unique objects, including original architectural models, plans, drawings, and even a Frank Lloyd Wright sketch on a napkin," she said of the exhibition, which the team worked for more than two years to identify, select, secure and present to the public.
According to Harris, proposals in this "alternative city" during the years included several airports clustered around Manhattan (one being a "rotary" airport that could turn as needed), freeways running through lower Manhattan, a series of skyscrapers buttressing those freeways that could enable residents to live right off the roadway, and a variety of monuments, residential towers, and office buildings that didn't get constructed for various reasons.  "One of our galleries is a long, narrow space which happens to be the same shape as Manhattan, and our designer therefore decided to organize the objects geographically by location, from the Battery through uptown Manhattan, with the other boroughs represented to the north and east as needed," Harris noted.  The unique three-part exhibit also uses Queens Museum's 9,000-square-foot panoramic scale model of New York City, originally built for the 1964 World's Fair, which features every building in the city.  Never-built projects have been built to its 1:1200 scale and placed upon it, using the existing landscape for reference.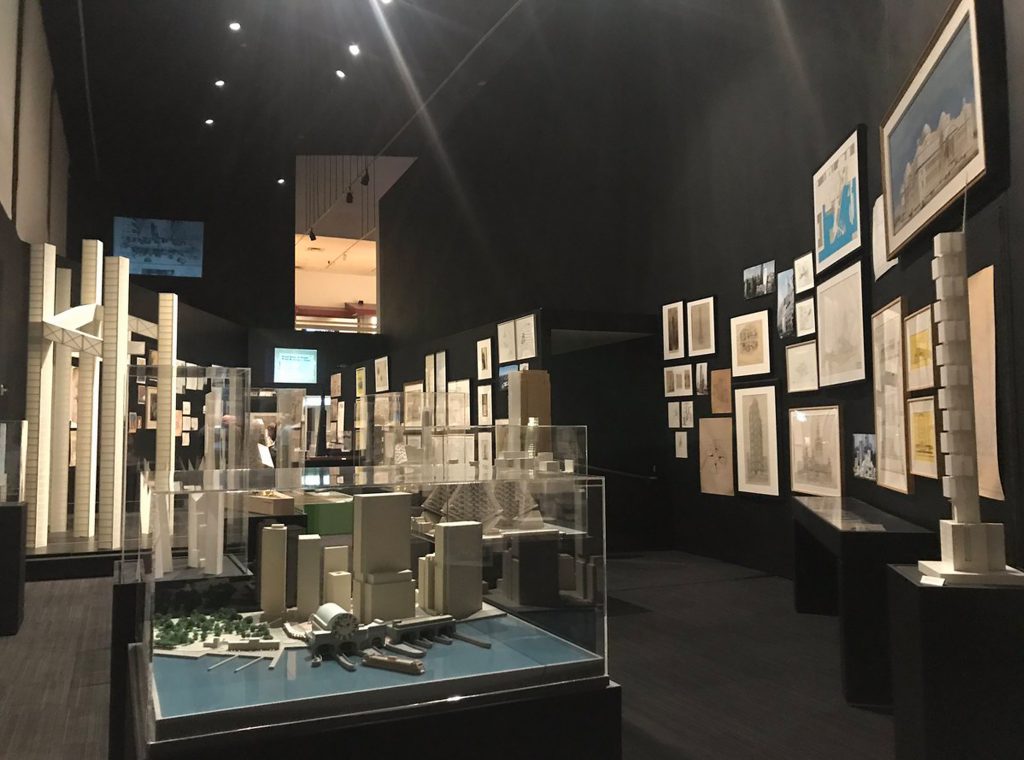 A Lighting Challenge
Given the museum's 40 foot-high ceilings, the unique properties of the artifacts on display, and their creative layout across the floors and walls of the museum's main Never Built gallery, the exhibit designers and museum staff needed to leverage lighting fixtures that could meet the demanding performance needs and exacting requirements of such high-end gallery displays.  Happily, Amerlux answered the call by donating $20,000 of lighting to the initiative, including dozens of its exclusive SPEQ LED track heads and 600 feet of accompanying track, ultimately providing a system that balances clean, minimal aesthetic design with industry-leading optical performance to deliver architecturally clean accents to commercial, retail, and gallery spaces and ensure that they're perfectly and efficiently lit.
With so many interesting things to see and experience, Harris confirmed that the layout of the exhibit is anything but standard fare.  "The walls of the gallery have been painted black, the carpeting is dark gray, and the items on the walls come in a great variety of sizes and frames and also extend high up on the walls. It's a wonderful jumble of items that aren't laid out in neat rows," she shared about the need for high-performing illumination.  "The Queens Museum was expanded in 2013 and the new wing contains updated lighting and controls, but our old wing and Rubin Gallery space, where much of the Never Built New York exhibit resides, didn't get upgraded.  It was previously lit by 300-watt quartz lamps and those big, old, and very hot shop lights had to work very hard to get lighting to the floor," she said.  "Because the Rubin Gallery space was key to the exhibit and we very much wanted to use it, we needed new lighting that would be beautiful, flexible, and uniform."
Following the installation of Amerlux's 48-watt SPEQ LED track heads, which feature a sleek, slim cylinder design with high beam control and use about 15 percent of the energy consumed by the previous 300-watt technology, the team couldn't be happier with their new lighting's look, feel, performance, and contribution to the whole exhibit experience.  "Our new Amerlux LED track lights deliver lighting that allows visitors to pay attention in an extremely complex visual environment," Harris said.  "Not too dark or too white, the lighting makes the space truly feel like a museum and helps create an environment for contemplation, allowing individuals to spend time looking at all of the detail presented in a comfortable manner.  Thanks to the black color of the walls, the works just pop off the wall—but the lighting is mellow enough that visitors can stay as long as they need to take the exhibit in."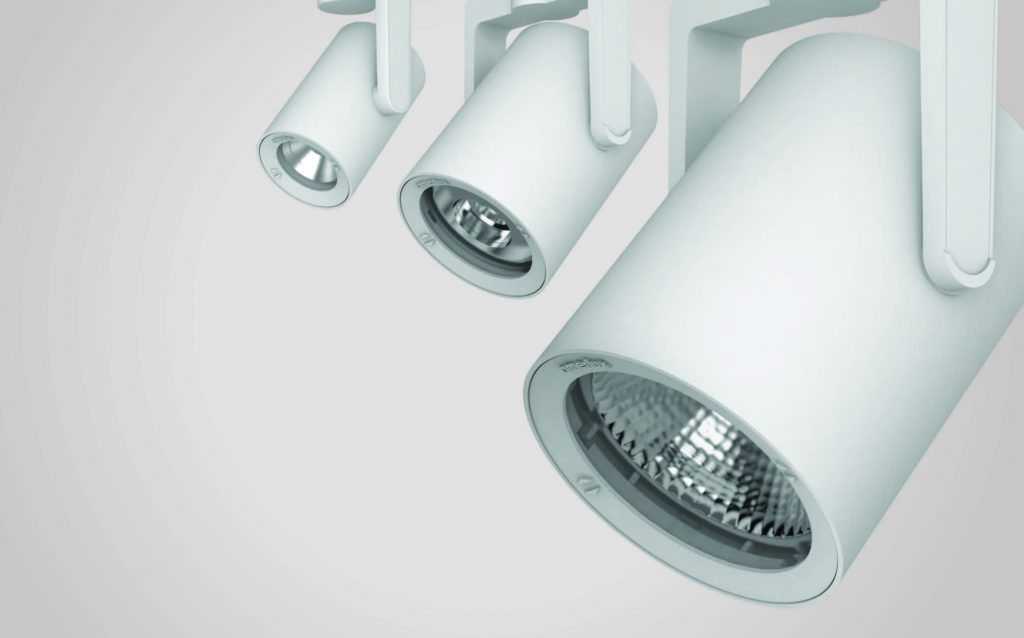 So Many Possibilities
It's an effect that other team members confirm.  "In celebration of this inspiring exhibit, it was important for us to work with the right quality and balance of lighting.  We wanted visitors to experience these never-before-seen drawings and models from a new perspective," said Bevin Savage Yamazaki, senior associate at Gensler, the global architecture firm that helped realize the exhibition and connect the Queens Museum with Amerlux.
With regard to the team's vision for the exhibit's lighting, "Amerlux has done the job so beautifully, bringing technology that delivers warm illumination, uses much less energy, and is easily controlled," Harris said.  "Visitors love the exhibit and we're so happy and excited to have partnered with all of our creators and manufacturers on this project."
A unique look at a cityscape that may forever remain behind-the-scenes, Never Built New York (which follows the "Never Built LA" exhibition in 2013) continues to fascinate its creators and guests alike.  "It's amazing to see what never happened in relation to what could happen in the future," Harris concluded.  "This exhibit offers a delicious opportunity to consider sites you know so well, how different they could have been, and how what never happened might have transformed the city.  It's a very accessible exhibit and stimulates us to consider so many possibilities."
Want more?