Why Regulations Are Making More States Turn to LEDs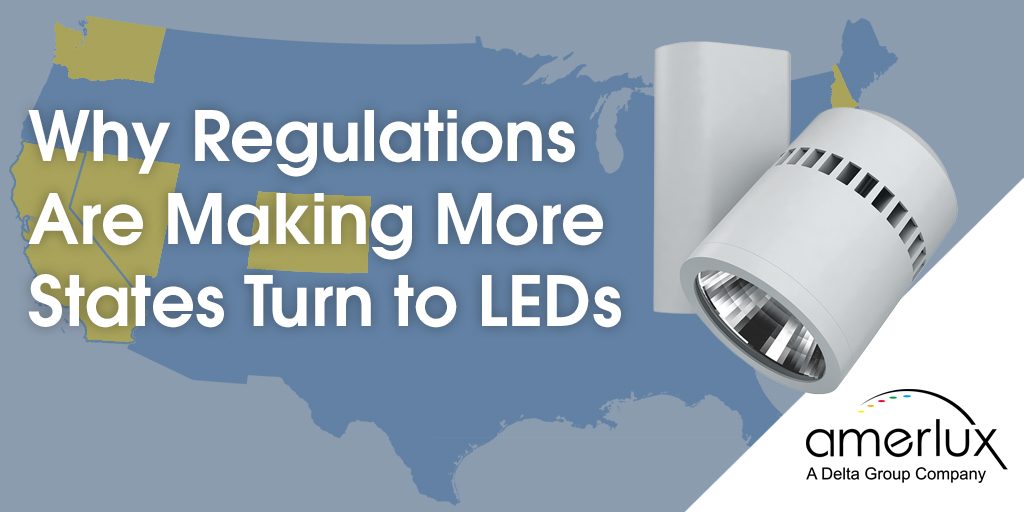 The adoption of LED lights has surged in recent years because of an assortment of unparalleled benefits.
They have a longer lifespan, use less energy, decrease energy and maintenance expenses, contain no mercury, offer better controls and comfort, and are significantly more environmentally friendly than they're legacy counterparts, including many types of incandescent and halogen bulbs.
Now, in a handful of states, there's a new reason to retrofit existing fixtures or install LED luminaires: regulation.
Effective as of Jan. 1, Vermont, Nevada, California and Colorado and Washington have enacted restrictions on what kind of light bulbs can be sold or made, depending on the state. Each requires a new standard of efficiency that light bulbs must meet.
What is the Energy Independence and Security Act (EISA)?
Each of these state's requirements largely mirrors those outlined in the Energy Independence and Security Act (EISA), a 2007 energy law that imposed increased efficiency standards for everyday light bulbs—called general service lamps (GSLs) in most legal terms—countrywide. A list of specialty bulbs including appliance lamps, colored lamps, sign service lamps, black lamps and marine lamps were excluded.
The law's first phase, between 2012 and 2014, required bulbs to reach a minimum efficacy of 60 lumens per watt. The second phase was scheduled for the turn of the calendar year in 2020 before the U.S. Department of Energy decided in 2019 that it would not move forward. The phase would have required a minimum efficacy of 45 lumens per watt—a benchmark that most incandescent and halogen bulbs do not meet.
Despite the federal government's decision last year, California, Vermont, Nevada, Colorado and Washington State moved forward with enacting standards similar to EISA's second phase at the start of this year.
LEDs leading the way in efficiency standards
Even before EISA's added efficiency standards inched closer to becoming law, the lighting market of general service bulbs was already changing. Purchases of more efficient types of luminaries have been increasing in years, especially LEDs.
LED manufacturers continue to inject limitless resources into their research and engineering, and continued innovation throughout the sector has made the technology more energy-efficient, cost-effective and longer-lasting.
The above states' newly enforced laws, plus utilities implementing more energy-efficiency programs, will only heighten LEDs desirability.
Consider this: According to the U.S. Energy Information Administration, a typical 60-watt incandescent lamp produces only 16 lumens of light output per watt. Their efficiency has increased only moderately since their commercial introduction more than a century ago. A comparable halogen lamp is just a tad more efficient, producing about 20 lumens per watt.
Efficiency improves dramatically with an equivalent compact fluorescent light (CFL), which generates about 67 lumens per watt.
This is better, but not the best.
Solid-state LED lamps provide, on average, an industry-best 83 lumens per watt. Several of the higher-efficient modern LED luminaries effortlessly surpass the 80- and even 100-lumen-per-watt mark, meaning they consume a fraction of the energy that old-school incandescent lights do. In fact, LEDS use up to 85 percent less energy than traditional, legacy bulbs and last longer —more than 30 times as long as comparable incandescent lamps.
By choosing LED products from best-in-class, design-and-manufacture lighting companies, architects, designers and facility managers in these states—and others, if those states begin contemplating or approving similar legislation, or if federal policy is later reinforced—can achieve mandated efficiency standards now and future-proof their lighting and automation systems in the years ahead.