Why Are More Entertainment Venues Using LEDs?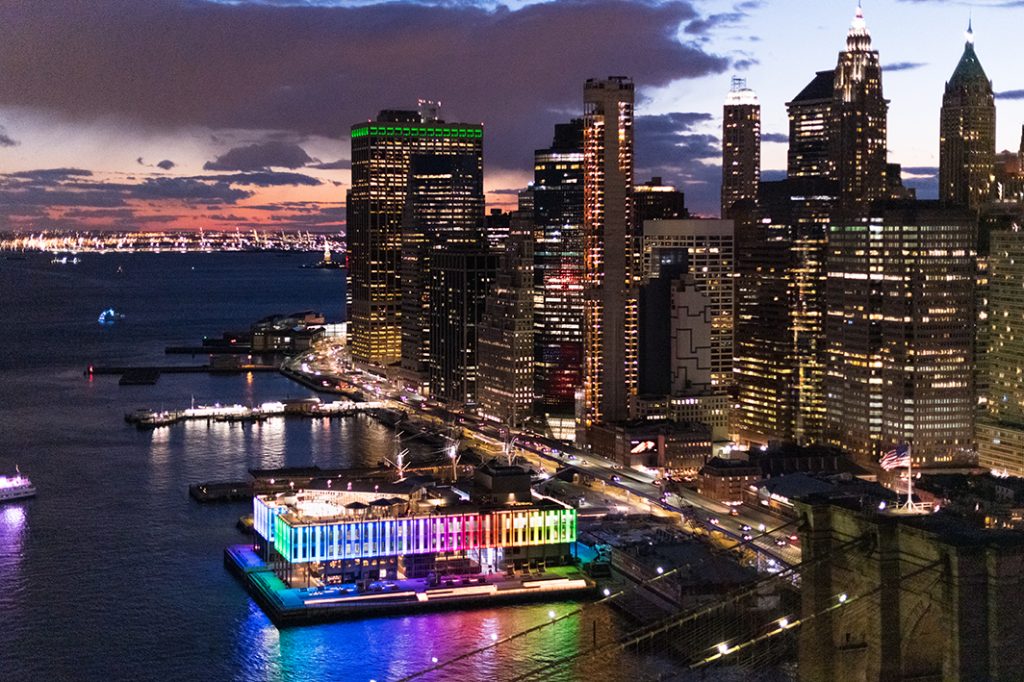 San Francisco's gleaming new arena, the Chase Center, features an array of posh luxury suites equipped with state-of-the-art LED lighting fixtures and capabilities.
Over on the East Coast, Pier 17, a renowned cultural and entertainment hotspot in New York City, built a new green room space to support open-air concerts. There, LED track lights and controls were installed to cast performers in the best light.
Both instances underline a fast-growing trend: Upscale entertainment venues—whether inside club seats, walkways or out on stage—are forgoing legacy lighting fixtures and opting for LEDs.
Why?
Given how each structure is a self-sustaining business, the answer is clear: LEDs look good—in person and on the bottom line. Here are the main ways LEDs are benefiting high-end entertainment venues.
Lower energy costs
From banks of floodlights and flashing video screens and signs, to large-scale cooking appliances, these sizeable entertainment facilities use electricity on an industrial scale. Switching to LEDs dramatically lowers these expenses.
For years, many of these buildings used HID fixtures to illuminate the general seating and performance floors. As of 2013, they were the most used overhead luminaires for such applications.
But these conventional light sources have their share of problems.
These lights also use large quantities of electricity and take a significant amount of time to warm up to full intensity, up to 20 minutes, the Rensselaer Polytechnic Institute says.
Remember the February 2013 Super Bowl in New Orleans, at the Superdome, when a power outage delayed play for more than 30 minutes midway through the game? Most of the interruption came from waiting for the lights to achieve full brightness following the outage, according to the U.S. Department of Energy (DOE).
LEDs, alternatively, achieve full brightness in 1.5 seconds, use significantly less energy—at least 75% less compared to incandescent lighting—and emit very little heat, cutting unnecessary cooling expenses.
Because of this much-longer warm-up time, venues oftentimes equip HID fixtures with shutters that do not turn the lights off but close off the aperture, blocking the light.  This process requires additional energy to be used and shortens the life of the lamp and driver.
Less maintenance and hassle
LEDs last a long time—a very, very long time, between 50,000 and 70,000 hours or even longer in most cases, easily outlasting legacy luminaries. Other lights, like HIDs, see color shifting and quality deterioration far sooner.
Such an operating lifespan delivers unparalleled maintenance savings. LED fixtures do not need replacing for several years. That reduces relamping expenses and the pricey, highly specialized labor needs, involving industrial lifts, materials and equipment.
LEDs, courtesy of their solid-state construction, are also durable. They depend on a chip inside an epoxy resin to produce light, rather than the fragile filaments or pressurized gas utilized by other luminaries, making them resistant to breakage and dependable in hot or cold temperatures.
Greater customization and control
The best quality LEDs have CRI ratings over 95 or a TM30-15 rating for full saturation of color. These ratings give venues a wide range of a-la-carte options for customizing their lights' color rendering, temperature and uniformity.
On the performance stage, with the press of a single button or a preset, a venue can adjust its fixtures' CRI output between set changes during a concert or quarters of a game. It can drape the floor with vibrant brand colors, put on a spellbinding light show for introductions and create visually captivating promotions and celebrations, drawing sponsorships.
LEDs give building operators the easy-to-modify tools they need to create a dynamic, theatrical lighting experience, which includes inside lounges, suites, even the locker rooms and backstage.
If a confrontational business meeting, like a contract negotiation, is taking place inside a suite, the surrounding lights can be tuned to a calmer, warmer preset. The same techniques can be used with locker rooms and backstage to help performers unwind. Before an event, tune those fixtures to a brighter, cooler light to get performers ready. In spots throughout the facility, you can accentuate prominent architectural features and artwork with customized accent and ambient light
These lighting capabilities allow the space to be used for more and different kinds of high-profile events, such as conferences, conventions and corporate events, boosting potential revenue streams and the building's overall value.
Data-focused communication systems
One last benefit: In addition to superior lighting quality and unrivaled customization and control capabilities, many of today's high-tech LEDs are IoT-enabled, making them tech's new "it" thing.
Paired with sensors, LEDs can morph into a fully integrated, high-speed communications platform, continuously diagnosing elements like energy use and hours of operation, monitoring costs and alerting operators as to when attention is required, and where.
These analytics—matched with LEDs' unsurpassed lifespan, durability, energy efficiency and superior lighting quality and color rendering—cast a dazzling light on these facilities and their organization's bottom line, shortening their investment payback period.