Top Streetlights: A Checklist for University Facility Managers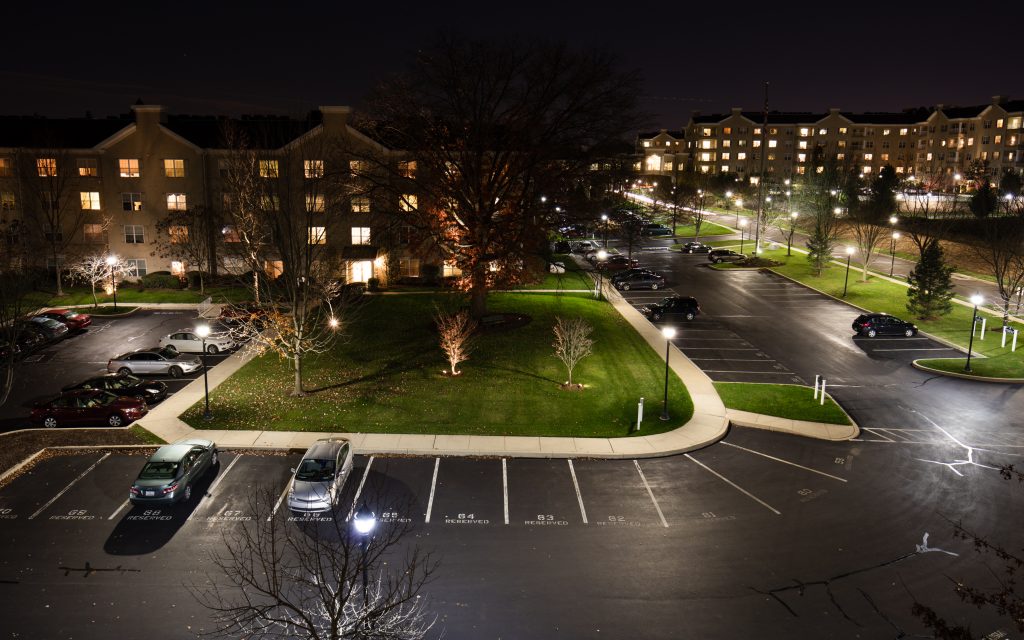 When it comes to campus safety, one of the easiest ways to quickly make a safer campus is through exterior lighting improvements.
People tend to feel unsafe on unevenly lit walkways and around dark corners. In fact, "walking on unlit pathways" was one of the top safety concerns listed by the 179,000 college students recently surveyed by CollegeStats.org. New lighting on campus is a quick fix that actually works.
More colleges and universities recognize that upgrading their lighting to LEDs, can improve campus safety, reduce energy costs, and reduce their carbon footprint. LED lighting technology is a win-win on every front and it is revolutionizing the lighting industry.
A Checklist for LED Street Lighting Upgrades
Here are the factors to consider when retrofitting pedestrian lighting on campus:
Safer campuses: More light on walkways and around academic buildings and residence halls makes for a safer environment on campus. Additionally, LED technology can significantly improve the quality of images captured through closed-circuit television systems (CCTV) and security cameras. Having better images makes law enforcement's job much easier when they are investigating incidents and makes for a more secure campus.
Significant energy savings: LED technology is extremely efficient and uses dramatically less power than conventional lighting. Energy bills can be slashed by as much as 90 percent with LED lighting. That difference can result in $100s of thousands in annual savings — a major boost to the operating budget.
Easy retrofitting: Maintain your current campus aesthetics by using Amerlux's Avista LED lighting in your existing light fixtures (luminaires). Designed for easy retrofitting, Avista LED light engines can be installed in just 15 minutes in most fixtures. Avista can be simply retrofitted into a wide variety of luminaires, including those by Holophane, Hadco, King, Louis Poulsen, Lumec, Pemco, Sternberg, Visco.
Long-term reliability: Avista lights can deliver years of maintenance-free operation, due to the LED technology and durable construction. The quality of the light (lumen output) in LEDs remains constant and consistent for 50,000 – 100,000 hours of use, versus 100 hours for outdated conventional lighting such as metal halide and high-pressure sodium. Additionally, Avista LEDs are IP66-rated to withstand water and dust intrusion, ensuring functional operation in cold, wet and dusty conditions and prolonging the life of the lighting engine. Install Avista LEDs on your campus today and your current students will be bringing their children back to campus for tours before you have to replace the lights, which is why university facility managers choose Amerlux.
Environmentally friendly: LEDs use a fraction of the energy that conventional lighting requires and frequently delivers more lumens for that power. Besides the savings this brings to your energy bills, it also helps the environment by wasting less power. Avista lighting has three different lighting distribution options (symmetric, asymmetric, and low-glare street optic) so you can customize the lamps output. This ensures the light goes where it is needed without waste and does not trespass outside its designated area — all factors that help with green certifications such as LEED. Besides using less energy, LEDs also lack the hazardous materials, such as mercury that fluorescent and HID lights contain, making them more environmentally-friendly all around. Avista lighting is an easy tool to help your institution enhance its sustainability and position it as a leader in green practices.
Get started right away: You can have Avista lights in your hands in as few as 10 days.
Campus security is not something to make light of. You can help your university be seen in the best light by upgrading to Amerlux Avista lights. See how.
Want more?