Best Retrofit: Why ESCOs Choose Amerlux's Avista
Upgrading street lights from outdated and energy hogging lighting systems is a great way to quickly transition a city to lower energy consumption levels. Since they use only a tiny fraction of the energy required by conventional lighting, LED lights are hands down the best option for reducing power usage. Enter Amerlux's Avista — a highly efficient LED light engine designed with easy retrofitting in mind.
Avista LEDs are simple-to-use light engines ideal for retrofitting traditional and post-top light fixtures (luminaires), as well as new construction applications. With a completely-sealed LED optical chamber, the highly-efficient Avista delivers cutting-edge optics and extraordinary output to meet the most demanding streetlighting needs. Avista's simple-to-install design features adjustable height levels and other customizations to ensure optimal application and maximum performance.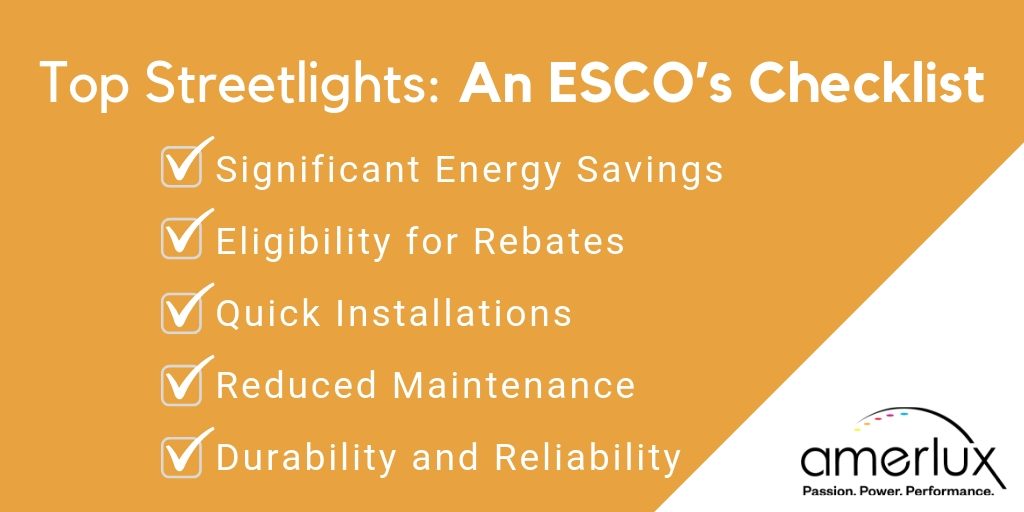 The versatility baked into Avista's design allows Avista to be a "skeleton key" of sorts because it can be used in a wide variety of fixtures, including those by Holophane, Hadco, King, Louis Poulsen, Lumec, Pemco, Sternberg and Visco. Most installations take 15 minutes or less.
Avista is made to accommodate some of the most challenging light fixtures (luminaires) around, including the vintage fixtures still in use in many historic areas and city centers today.
The cities of Portland, Oregon and Los Angeles, California, both recently found themselves stuck between trying to decrease their energy consumption and preserve the character of the cities' historic neighborhoods.
Using Amerlux's Avista, Portland decreased its energy consumption by 60%, while keeping its beautiful vintage luminaires in place all over the city. LA did even better, cutting energy costs by 75% in the historic downtown area.
In Portland, the "acorn" fixtures were the challenge: "Our poles and ornamental castings go back as much as 100 years and are attractive, but finding LEDs to adapt to them was difficult," said Lisa Elbert, P.E., Signals and Lighting Engineer with the City of Portland Bureau of Transportation. "Some manufacturers wanted to sell us a complete fixture with the pole, but Portland's castings are historic and we wanted to use them – we absolutely didn't want to replace them."
Amerlux customized Avista LEDs to Portland's exact needs, allowing the city to retain its original fixtures, while also significantly reducing energy costs. The installation process was so simple that city contractors did not even need tools to affix the new lighting engines, and they were quickly installing more than 80 a night.
In Los Angeles, the 1920s-era streetlights dotting the downtown area (including the Arts District and Historic Core) were a difficulty.
"Some of our bigger post-top and glass globe fixtures throughout the city and downtown couldn't use a standard screw-in lamp. We needed a more creative solution and this led us to Amerlux's Avista fixtures, which are working very well," said Norma Isahakian, assistant director for LA's Bureau of Street Lighting. "Our total LED program is saving up to 75 percent in energy consumption, which amounts to quite a bit of cost savings annually, and is meeting all of our lighting needs."
Besides the significant savings in energy usage, Avista LEDs also provide savings in reduced maintenance costs. Avista lights deliver 50,000 to 100,000 hours of maintenance-free operation. According to the U.S. Department of Energy, maintenance savings derived from installing LED lighting equates to roughly $50 annually per fixture, delivering tremendous financial advantages over the life of the lighting engine.
With its ability to fit in almost any existing light fixture and its easy installation, Avista lighting lets cities enjoy the benefits of modern lighting and while maintaining their history.
Avista by Amerlux can be delivered in just 10 days, so your city can start seeing energy savings immediately.