How Quick-Line Linear Lighting Saved Costs, Time for Rogue Brewery Office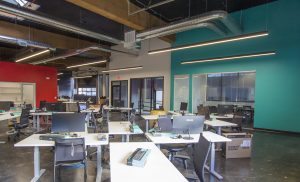 High quality, low cost, quick delivery. All three are wanted—needed—for every project. But when it comes to lighting, the trio is hard to find.
So, settle for two and count your blessings. At least, that's the way it used to be.
Dawn Doberenz, a certified lighting professional at Columbia Pacific Sales, knows this well. She has worked with electrical contractors and distributors in the northwest region of the U.S. for 35 years.
Most high-quality items tend to come with higher costs and longer delivery times. Both were predicaments her client bitterly faced when putting the finishing touches on a plan to appropriately illuminate a newly converted office space to support nearby Rogue Brewery in Portland, Oregon.
"When the project went out to bid, my contact who served as a general contractor called me to inquire about the prices for a few fixtures," Doberenz recalls. "Each one was too high in price for his budget, or the lead time was too long."
But she knew there was one option that could provide high quality, a quick delivery and value pricing in a single linear lighting product.
Enter Quick-Line Pendant 2″ by Amerlux—22 Quick-Line fixtures to be exact.
High-Speed Delivery
Outfitted with a high-performance lens and direct/indirect lighting distribution options, Quick-Line pendants offer value pricing and high performance, spec-grade quality lighting—right off the shelf.
"You just place the order, and it's out the door and off to your job site within a few business days," Doberenz says.
Often, lighting deliveries take several weeks. In the case of some custom designs, it can take months. Such long shipping times can wreak havoc on carefully planned construction timelines.
"But I knew that wasn't the case with Quick-Line, and that's what we needed," Doberenz says.
Quick-Line is packed and stocked as individual fixtures, but job packaging (bulk, job-specific packaging) is also available for less job site waste.
The product line's fast delivery was just one of the ways Quick-Line made life easier for Doberenz, her client and their install team. "There were many more," she says.
Competitive Price Points
Quick-Line is offered in standard sizes instead of custom options, dramatically reducing manufacturing costs.
The savings are passed on to customers.
The linear lighting solution has the same prominent level of engineering baked into its design as all other Amerlux products, ensuring you never sacrifice quality for cost.
And ordering Quick-Line couldn't be easier. It requires just three simple steps:
Count how many middle-of-run pieces you need.
Include appropriate amount of end caps required.
Choose the power supply and suspension kit options.
There are no custom sizing or made-to-measure headaches, and installers don't need to keep track of the start-of-run, middle-of-run and end-of-run pieces. All Quick-Line segments are middle-of-run pieces. "Just add end caps," Doberenz says. The end caps automatically adjust when lenses shrink, preventing any direct view of the LED die.
"The client loved Quick-Line. They were surprised it was something they hadn't used before. They loved its simplicity: how you order it, how you install it, how it looks," Doberenz says. "It's a solution that worked very well for them over the desks and other workspaces."
Continuous Straight Lines
Few things irritate Doberenz as much as uneven linear lighting.
"As lighting people, we look up, and we see these rows of fixtures that should be straight and they often aren't," Doberenz says. "It's annoying."
And it happens too often.
It's typical for long linear fixtures made of steel to bend where run sections join because the pins holding them in place can't bear the weight of the overall fixture. When this happens, contractors must go back and fix the fixtures before completing a project.
Alternatively, Quick-Line is constructed from extruded aluminum, not steel, guaranteeing architecturally straight lines of light every time.
"The project owner not only liked the way Quick-Line looked, but he liked the way they stayed straight and went together," Doberenz says.
The Easiest Linear Installation
Link it, latch it, cap it—and voila! Installing Quick-Line right out of the box is that simple.
That's on purpose, says Bill Plageman, Amerlux's vice president of marketing. "The sooner you finish a project, the sooner you can start the next," he says. "You shouldn't have to spend more time on a job site than necessary."
With Quick-Line, you never will.
"Another thing about regular linear fixtures is that, typically, when you get them out of the box, you have to take all kinds of components apart, then put them back together for installation," Doberenz says. "Not so with Quick-Line and its latching devices."
Amerlux ships Quick-Line fixtures with the lenses and LED boards installed, so there's no need for job- site assembly. Installers do not have to open Quick-Line for any part of the installation. Quick-Line pieces connect with simple latches, and alignment pins assure the runs stay straight.
It's perhaps Quick-Line's most impressive feature.
"The whole lighting solution just works," Doberenz says. "We have quoted and sold Quick-Line since it was introduced based on its quick turnaround and easy install. It fits well with our electrical contractor customers (the people that install it), so we offer it often when working directly with an installer."
She adds: "It wasn't the first time I recommended Quick-Line, and it won't be the last. "
Want to learn more?
To learn more about how Amerlux casts breweries in their best light, see: "How Amerlux Made the Timeless Old Forester Distillery Experience More Colorful."