Layering light: 4 real-world examples for architects
There are three basic kinds of lighting at work in a space: ambient (general) lighting, task lighting and accent lighting. The optimal way to illuminate a space depends on the room's function in the overall floor plan.
Before designing the lighting scheme, ask the client questions like "what will you use this room for?" and "how do you want to feel in this room?"
Once you've identified the purpose of the space, you can design the lighting around the clients' needs. Different purposes require different lighting strategies.
Whatever the room's purpose, the optimal lighting will most likely require several lights: task lighting for function, then additional lighting to bring up the ambient levels to code (or just to feel brighter) and then perhaps some accent lighting to add flavor to the space. These categories can overlap and sometimes the same fixture can deliver multiple kinds of light.
Here are four real-world ways architects and lighting designers have used LED solutions to create spaces that are both beautiful and useful: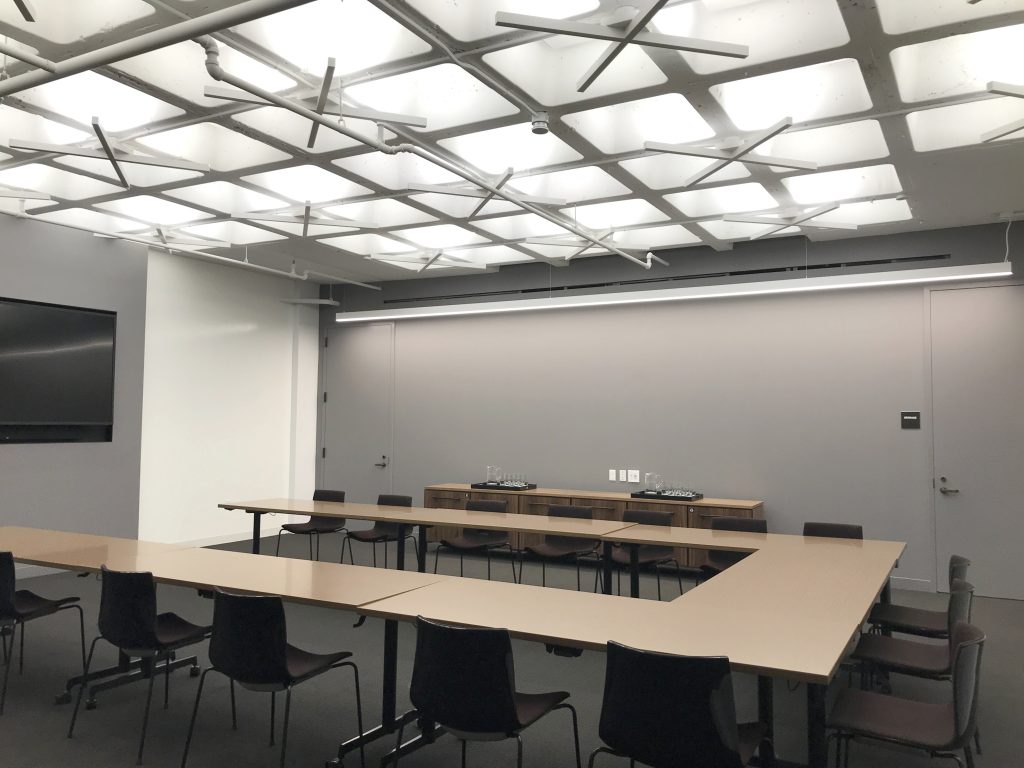 Photo © Lam Partners / Shannon Aubourg.
A real estate company wanted to revitalize a basement space into an entertainment and amenities suite. Comprising more than 10,000 square feet, the space included two conference rooms, golf simulator areas, lounge spaces, locker rooms and restrooms.
"The customer wanted the space to feel like a lounge," said Carlos Alonso-Niemeyer, principal at Reflex Lighting, Amerlux's manufacturer's rep for the northeast. "They wanted a place to take their clients and potential tenants to seal deals and celebrate new business, as well as have the space available to tenants to use for after-hours parties and gatherings."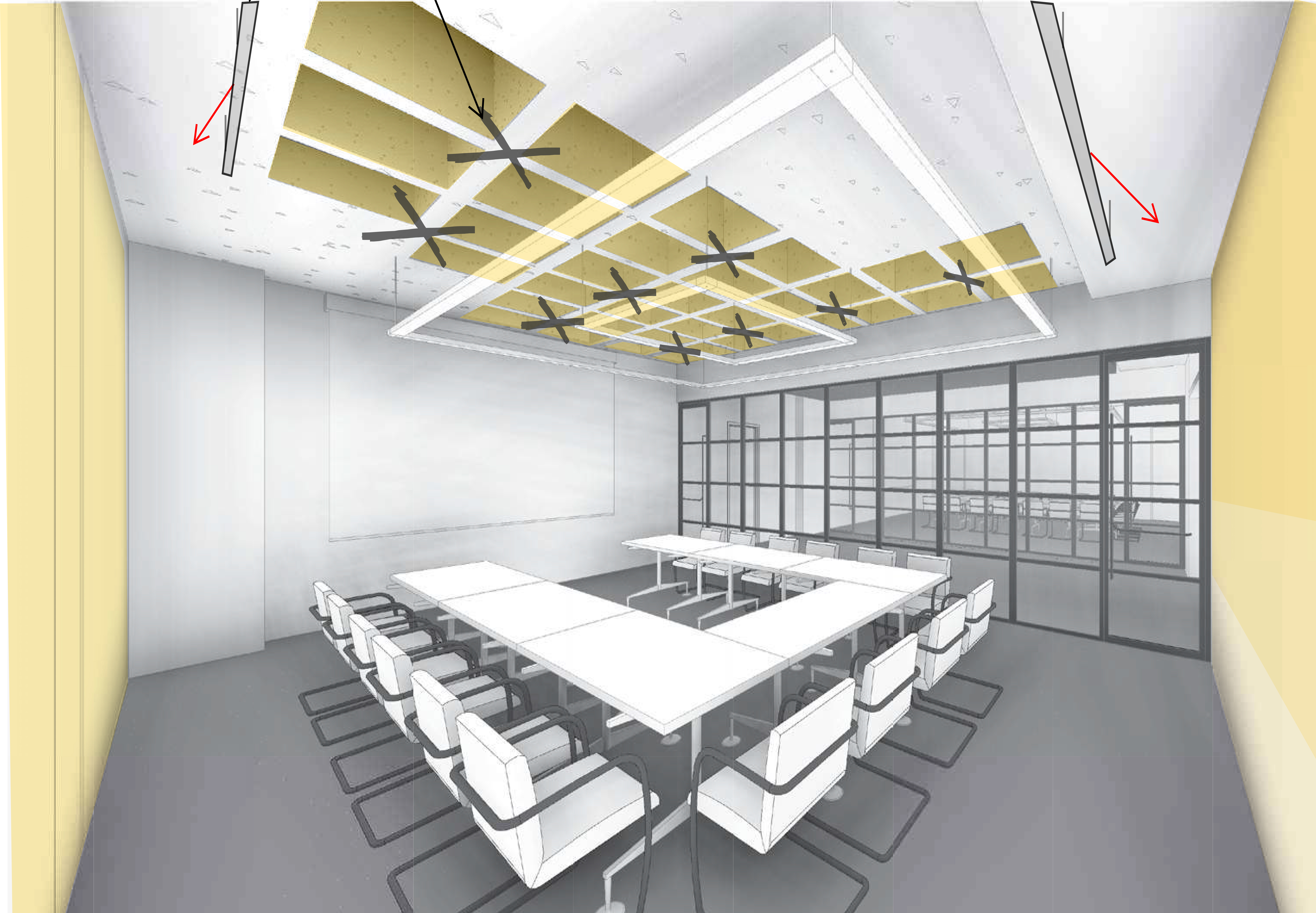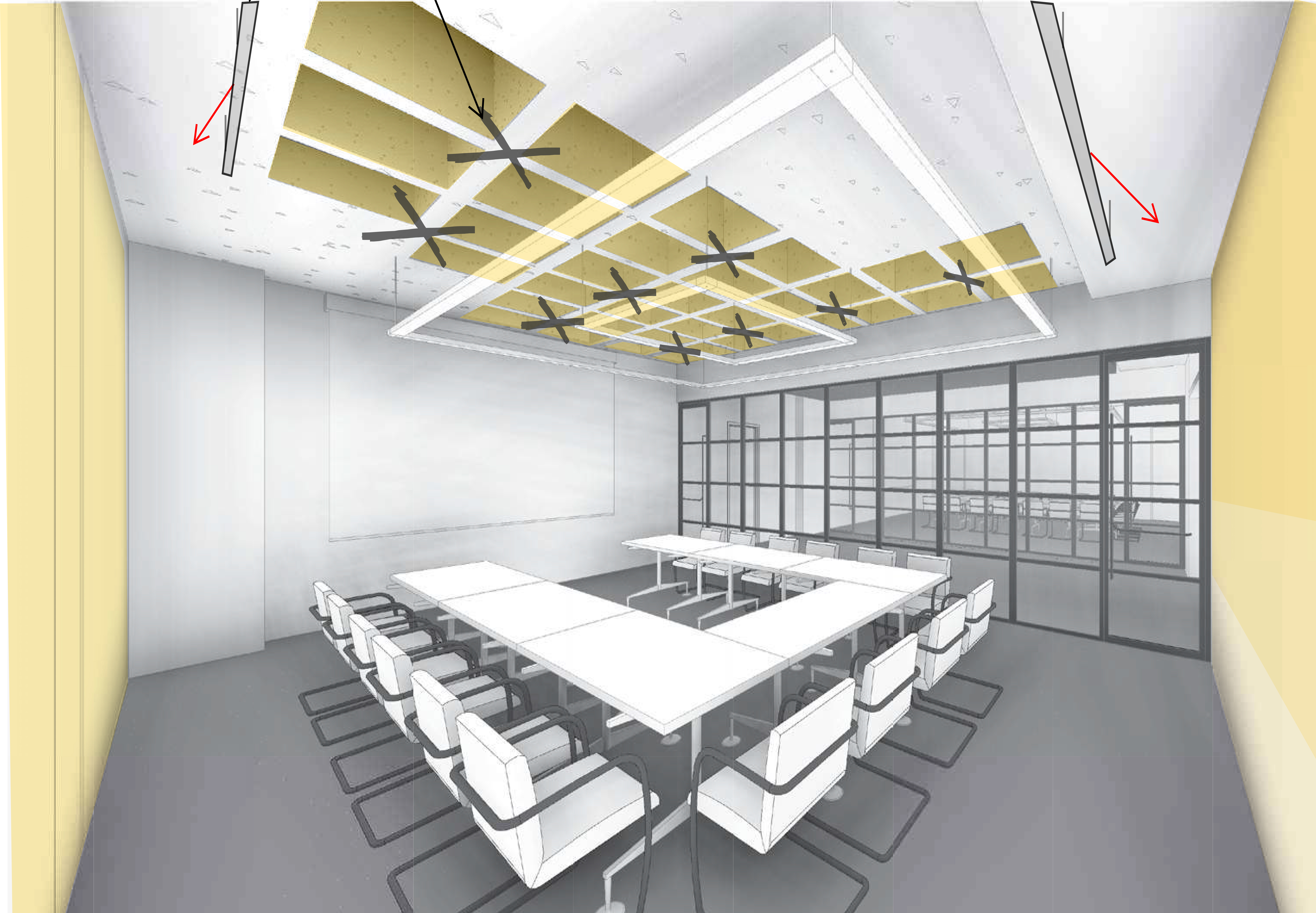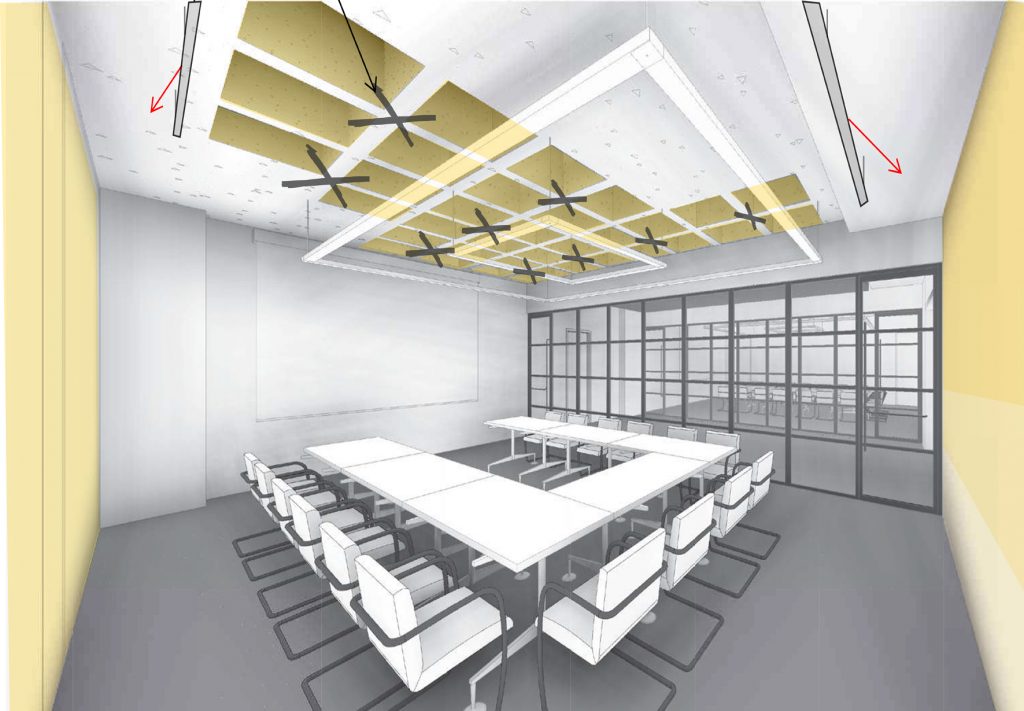 Lighting concept © Lam Partners / Lisa Wong.
The lighting designers at Lam Partners utilized three different Amerlux solutions to light the space:
Thirty custom Linea Mini 1.5″ Indirect LED fixtures splashed light across the ceiling, highlighting its unique features (accent lighting), as well as providing the main task lighting for the conference rooms and golf simulators.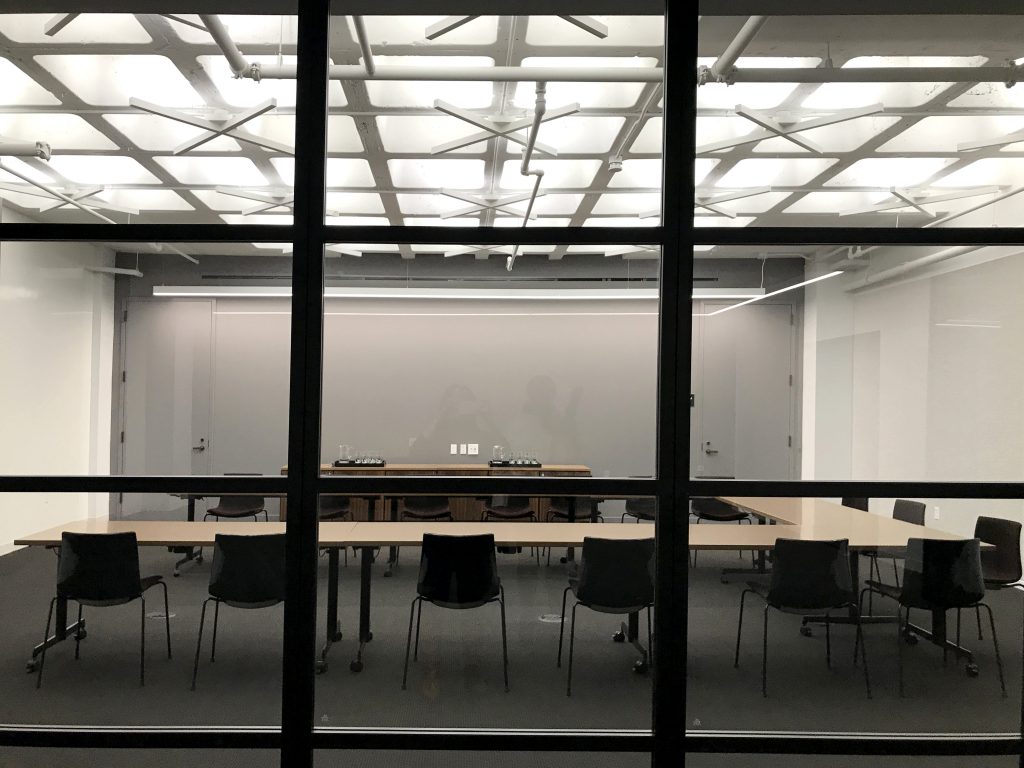 Photo © Lam Partners / Shannon Aubourg.
Direct linear LEDs—Linea 2.5″ Direct LEDs in the conference rooms and Grüv 2.5″ Recessed Linear LEDs in the golf simulators were installed to complement the indirect fixtures. These added the general light levels and washed the walls with soft light so the space didn't look like a cave.
With cinematic views of Central Park and Manhattan, the iconic General Motors Building is one of the few structures in Manhattan to occupy an entire city block. A financial firm, which occupied a whole floor, wanted to revamp its 39,000 square feet of offices to be a more creative and collaborative space.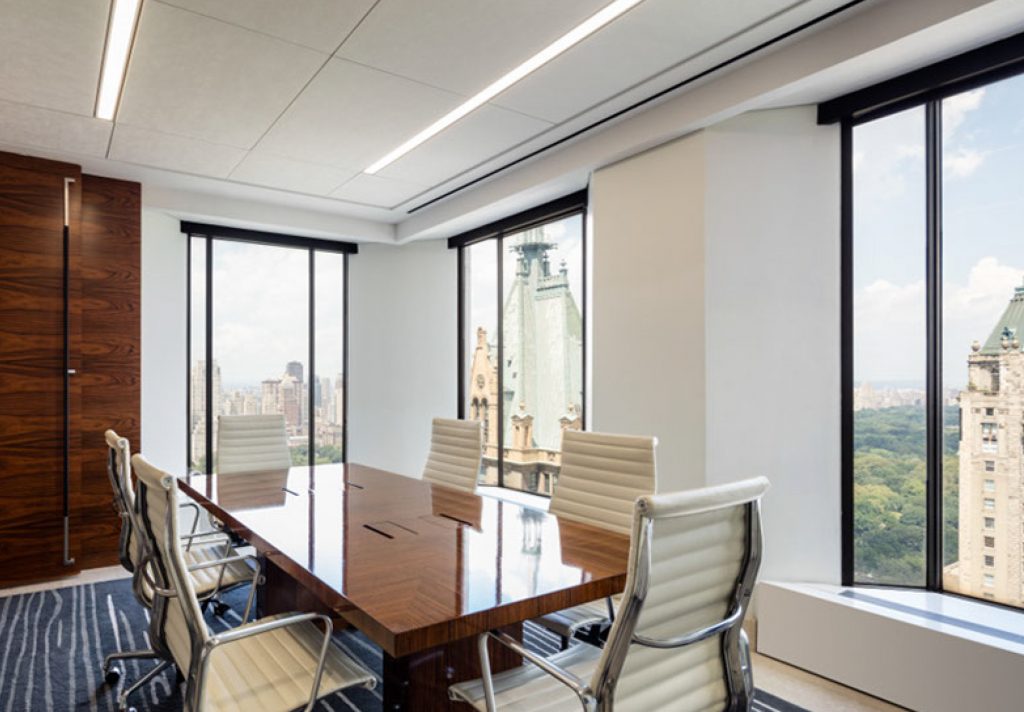 Photo by Magda Biernat.
"The client wanted the space to feel like a luxury condo or private club," said Quentin Thomas, president of lighting design firm Quentin Thomas Associates. "It needed to feel like home, so employees don't feel the urge to leave. It's an immersive space and you can walk into the serving area and make yourself a snack. There is a gas fireplace and fish tanks, so you're working and looking at these tropical fish."

Photo by Magda Biernat.
Thomas and his associates leveraged the building's large windows and the beautiful natural light they brought in to make a comfortable space. Complementing the natural light were two Amerlux solutions:
The heavy lifting was done by 200 four-foot Grüv 1.5″ Recessed Linear LED fixtures illuminating the offices, conference rooms and guiding users through the short transitional hallways between the spaces. The Grüv fixtures balanced out the sun's ambient light and provided task lighting.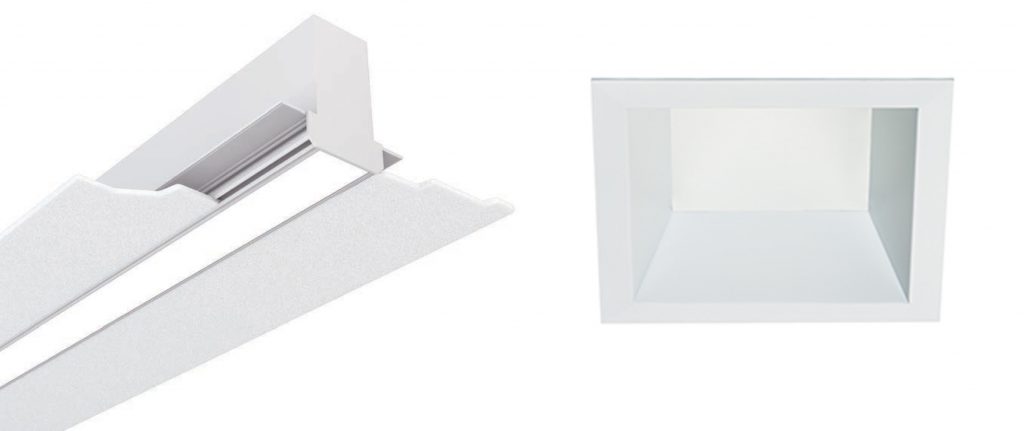 Amerlux's elegant Grüv 1.5″ Recessed Linear LED (left) and Hornet 3.5″ square lensed LED downlight (right).
In the hallways and restrooms, more than 160 Hornet HP 3.5″ square lensed downlight fixtures did double duty as ambient and task lighting.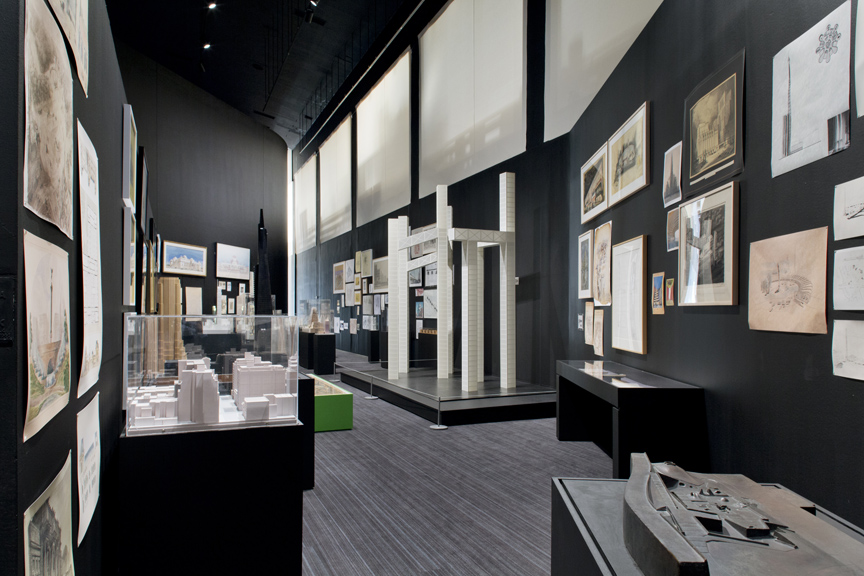 Photo courtesy of the Queens Museum
 The Queens Museum in New York City upgraded old halogen lamps in its Rubin Gallery—a narrow, black-walled space with 40-foot ceilings—with new LED track lighting. The upgrade coincided with an exhibit called "Never Built New York," which showcased designs for buildings and infrastructure projects in the city that were proposed but never executed.
"The Rubin Gallery is a long, narrow space, which happens to be the same shape as Manhattan," said Larissa Harris, a curator at the Queens Museum and the in-house coordinator for the exhibit. "Our designer decided to organize the objects geographically by location, from the Battery (in lower Manhattan) through uptown Manhattan, with the other boroughs represented to the north and east as needed."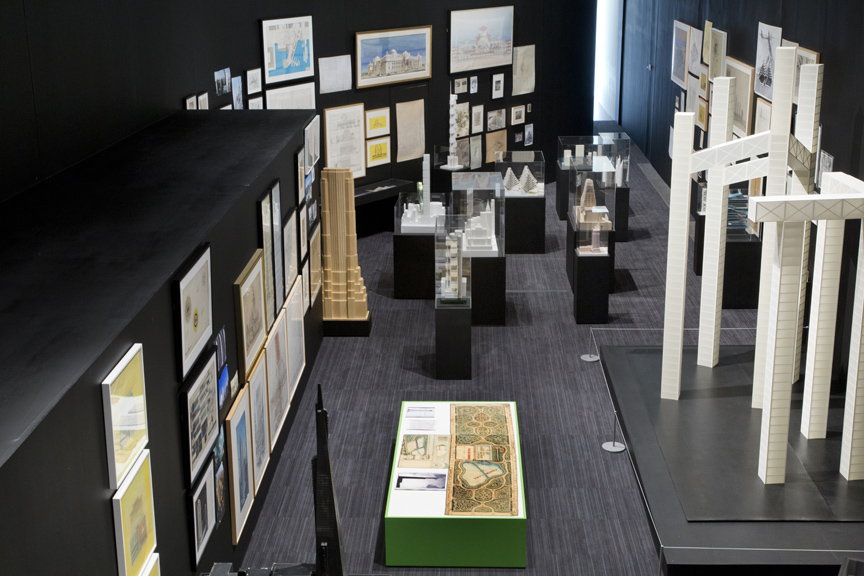 Photo courtesy of the Queens Museum
While leveraging the Rubin Gallery's unique shape made great sense for the exhibit, the space presented a number of technical challenges for the museum's staff to overcome: black walls, dark carpets, a barrel-vaulted ceiling and a narrow space.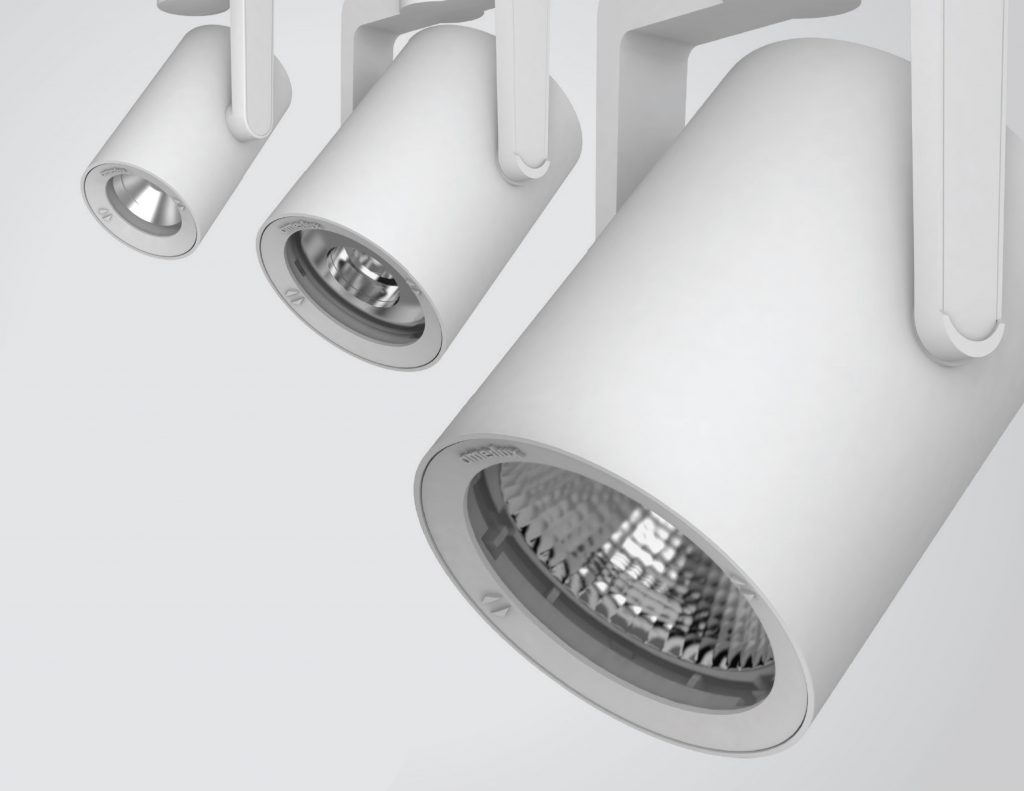 SPEQ LED track lighting by Amerlux
The Queens Museum leveraged Large SPEQ track lights from Amerlux to solve the problem. Easily adjusted, dimmed, and repositioned, each of the lights were set to provide varying amounts of light. In illuminating the displays, there was also enough spillover light to deliver adequate ambient light levels without additional light sources.
A Boston financial firm was upgrading one of its office suites and shifting to an open concept from the older model of closed off executive offices and high-walled cubicles. The plan was to bring executives and employees into closer collaboration and create a space that facilitated a variety of work styles.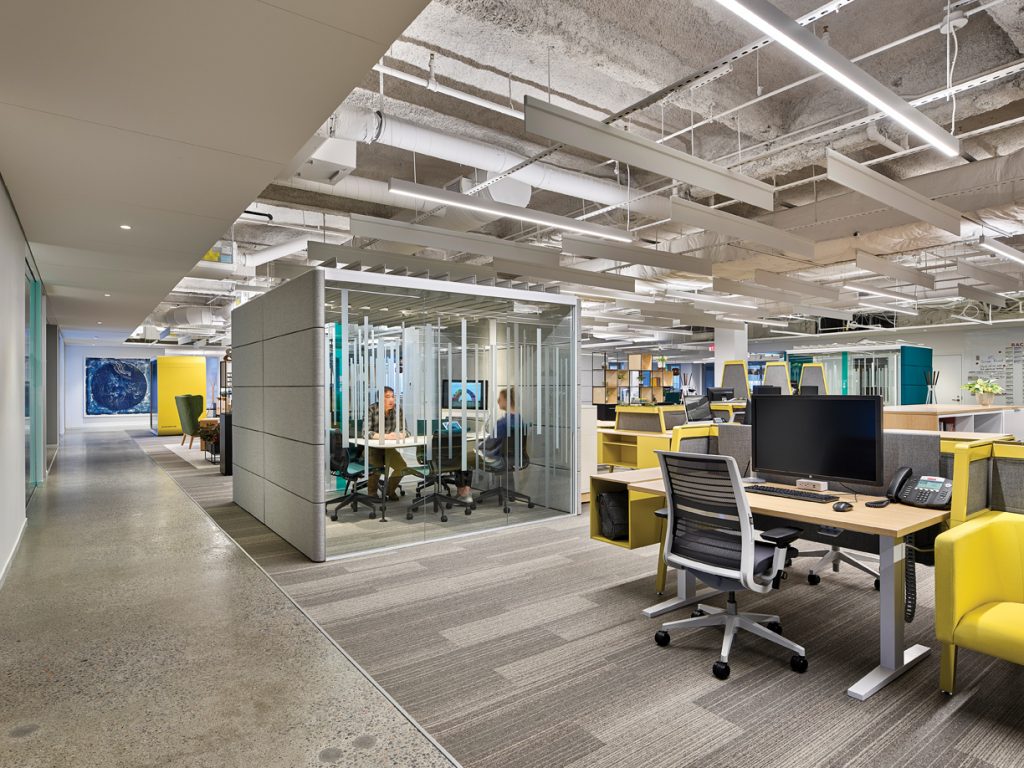 Photo © Jeffrey Totaro.
"This project is primarily open space," said Keith Yancey, principal at lighting design firm Lam Partners. "They created these little neighborhoods and environments with the furniture systems. There are places where people can work by themselves or with others. The space is flexible, so the lighting had to be flexible too in case the client needed to move things around later on."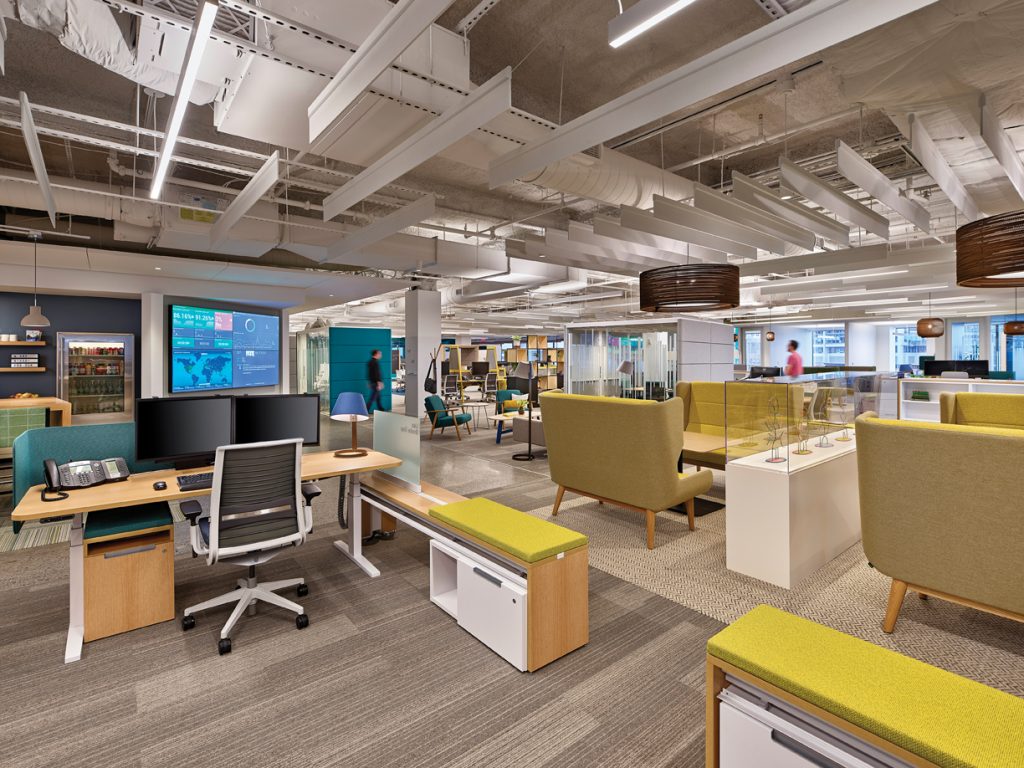 Photo © Jeffrey Totaro.
Building on furniture and minimalist partitions in the new space, Yancey and his design team used the lighting to differentiate the different zones within the space. Using the direct and direct/indirect versions of Amerlux's Linea Mini 1.5″ linear LED pendent solution, they built up the general light levels. Then, they added decorative fixtures as needed for accent lighting.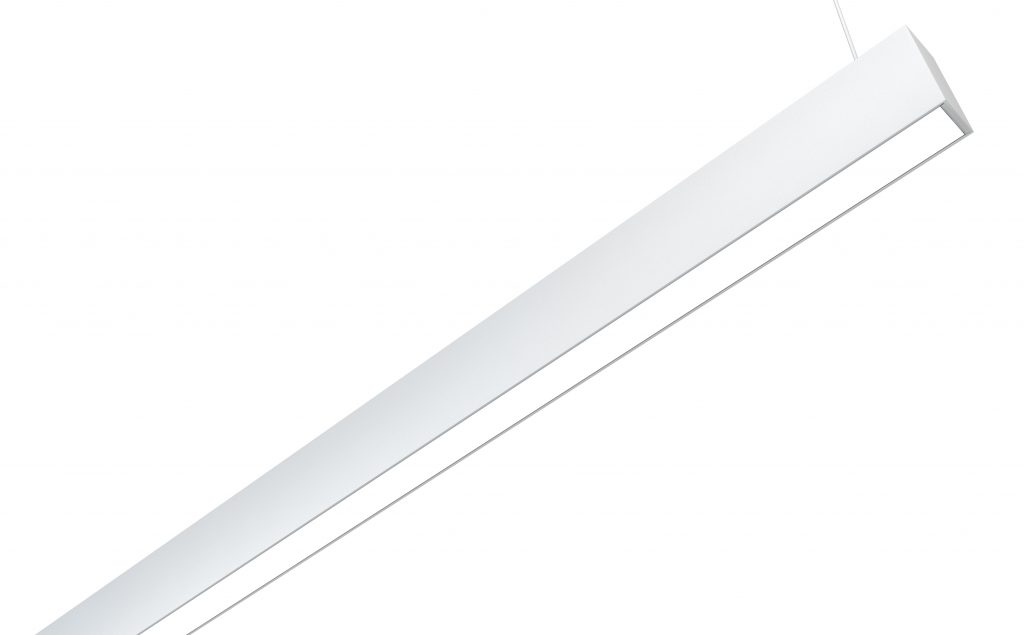 Amerlux's clean linear LED pendant solution, Linea Mini 1.5″ with direct and direct/indirection distributions.
"We provided ample ambient light to the whole space, so people could perform tasks anywhere. But just because it has the same ambient level, doesn't mean it's homogenous—it's a very diverse visual environment. We lit it almost like a showroom, with decorative fixtures here and there," said Yancey.
Lighting is a powerful tool for creating spaces that are beautiful, efficient, healthy and productive. Amerlux has been developing innovative lighting solutions to power high-performing buildings for decades. Their lights illuminate cities and offices all over the world. Learn more here.