Top Step Lights: Why Lighting Designers Choose Amerlux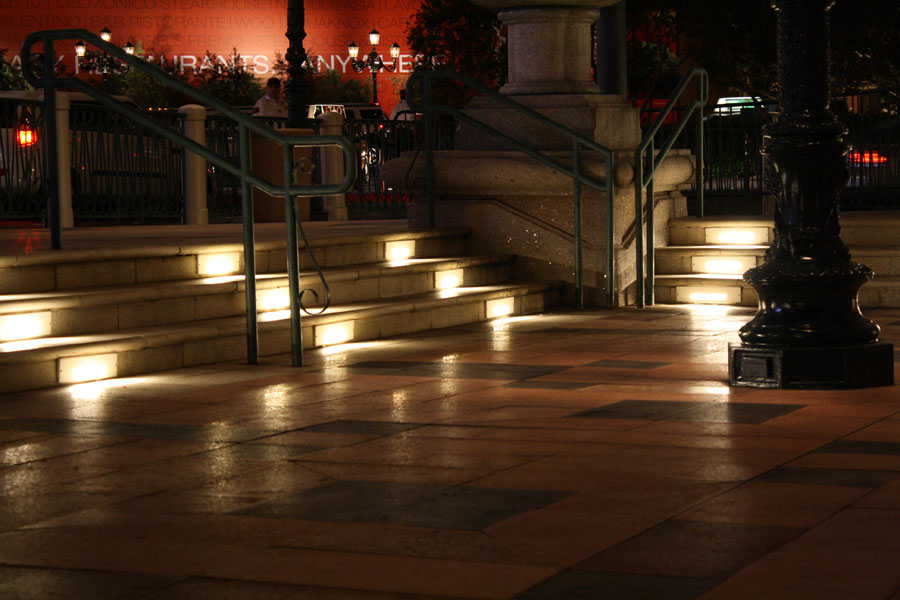 The presence of reliable step lighting can enhance the experience by illuminating the way forward, reducing the odds of slips, falls, and subsequent injuries. On any project, lighting designers must consider the potential legal liability from the end-user's perspective.
Consequently, it comes as no surprise that poor lighting, or the lack of orientation lighting altogether, can dramatically reduce one's depth perception and has been identified as a key culprit behind more than eight million cases of stair and path-related trips and falls treated annually in the U.S., according to the All Injury Program, a cooperative program between the National Center for Injury Prevention and Control, the Centers for Disease Control and Prevention, and the Consumer Product Safety Commission and shared in EHS Today, which is the magazine for environment health and safety leaders.
Falls and the injuries they cause spare no member of the population. Specifically:
Among children, a recent CBS News report revealed that each year, as many as 100,000 children younger than the age of 5—the equivalent of one every six minutes—require treatment at hospitals following a stair-related accident or fall.
Among elderly Americans, the Centers for Disease Control report that each year, one in every three individuals older than the age of 65 will experience a fall, at a collective cost of more than $31 billion annually to Medicare alone. With the Baby Boomer population coming of age and more than 10,000 Americans turning 65 each day—one American currently turns 65 every 10 seconds—the number of fall-related injuries and fatalities is expected to surge if preventive measures aren't taken. This is particularly true in light of that fact that a recent AARP study revealed that nearly 90 percent of seniors report that they want to stay in their own homes as they age, a dynamic known as "aging in place."
On the job, slips, trips, and falls related to staircase/step mishaps or the misreading of uneven surfaces inside or outside are among the nation's 10 most common worker's compensation claims, according to Trusted Choice Independent Insurance Agents.
In addition to helping individuals more safely navigate residential or commercial/industrial stairs and other dark or potentially hazardous areas—such as walkways outside of buildings and home or recreational spaces such as patios, pools, tennis courts, parks, and garden areas—optimal step and wall-based orientation lighting can also add design and curb appeal to outdoor landscaping, as well as help enhance security/deter crime.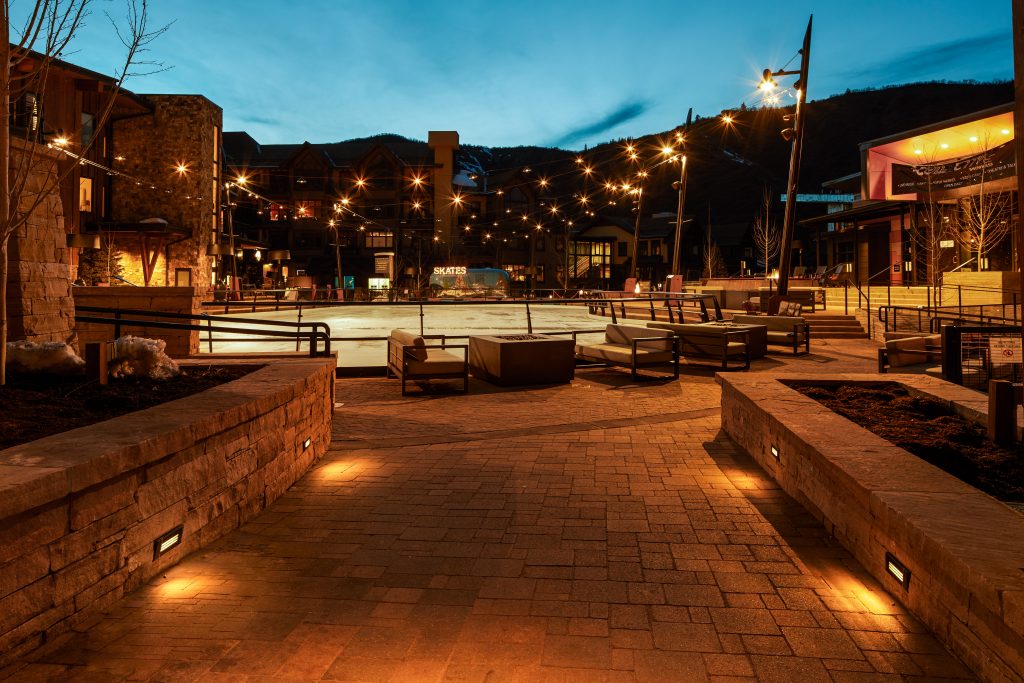 Amerlux's Passo step light was used by a Colorado ski village as a weather-proof solution which could provide wayfinding without throwing light pollution into the Rocky Mountain night skies. Read the case study here.
The LED Revolution in Step Lighting
Previously dominated by more conventional halogen, incandescent, fluorescent, and HID light sources in years past, step lighting has been revolutionized and enhanced by the emergence of LED technology during the last 10 years. Specifically, LEDs deliver the following benefits:
Energy Efficiency: Often consuming single-digit wattage, LED step and pathway lighting draws only a fraction of the power of its more conventional lighting counterparts, reducing energy bills by anywhere from a third to as much as 90 percent while enhancing sustainability.
Long Life: While conventional light sources require more frequent change-out and maintenance due to their more limited lifespan, the up-to-100,000 hours of rated life available on many LEDs ensure years—even decades!—of maintenance-free operation.
Consistency: While conventional light sources can suffer from significant lumen depreciation over time, LED technology maintains a significantly higher level of light output for much longer (per the industry's L70/LM-80 measures) and is not subject to performance issues, such as color shifting and hot spotting
Reliability: While conventional light sources may not always be able to withstand certain types of harsh environments, extreme weather conditions, or temperatures below or above specific thresholds, the properties of LEDs render them extremely durable and weather-resistant. In fact, LEDs tend to gain efficiency in colder temperatures, ensuring their reliable operation (and owners' peace of mind) in colder climates
Environmental Friendliness: Unlike fluorescent and HID sources, LEDs contain no mercury or other hazardous substances and run much cooler and more efficiently, emitting far less light in the form of heat relative to their predecessors.
Discreetness: Powerful yet flexible and low-profile, LED stair and wall/directional lights are unobtrusive and are available in a range of popular shapes and styles to match and/or enhance any interior or exterior design or décor.
Passo Step Lights Take Lighting, Landscape Design to the Next Level
Ideal for use in steps, staircases/stairwells, and in walls to light walkways and add ambiance to building facades, Amerlux's Passo LED step lights provide landscape architects, lighting designers, and facility managers with an aesthetic detail that not only enhances indoor and outdoor safety and security, but adds a touch of beauty as well. From commercial/industrial buildings to hospitals, schools, single residences/residential communities/multi-dwelling units, resort and hospitality destinations. Passo step lights enhance visibility and bring the critical elements of safety, security, and design flexibility to a range of indoor and outdoor applications, both new construction and retrofit.
Passo will keep you one step ahead, whether you're looking to increase visual acuity to avoid injury and related costs/liability, reduce energy and maintenance costs and concerns, elevate the aesthetics of your interior or exterior setting and contribute to greater sustainability. Among other benefits, Passo step lights are:
Engineered for Reliability: Weather-proof Passo step lights feature game-changing innovation, including an independently-sealed LED Optical Chamber (encompassing an LED array and heatsink enclosed in an IP66-rated sealed glass tube) that eliminates water infiltration, the #1 cause of product failure. Such innovation minimizes the risk of outages and the subsequent high-labor costs associated with burn-out or other maintenance.
Designed for Flexibility: Passo is available in a wide selection of sizes, faceplates, color temperatures, and light output levels to meet the needs of most any project. Specifically, Passo step lights come in louver, stainless steel louver, and tempered soft glow lens versions and in round, square, and rectangular shapes for new construction projects, and 8-inch and 12-inch rectangular shapes for retrofit projects. A choice of solid color composite, brushed stainless steel, or painted cast aluminum faceplates provide additional flexibility and design versatility that will meet the needs of even the most discerning lighting or landscape designers.
Light Output-Flexible: Passo luminaires are available in a choice of two light output levels to tailor the desired illuminance for the specific project and ensure the optimal visibility and aesthetic effect.
Connected and Compatible: Passo's standard 0-10V dimmable driver ensures greater integration with popular controls.
Easy to Install: Passo models designed for new construction projects feature an injection-molded PVC housing with integral machined brass anchor blocks that complement the sealed properties of the LED module and driver, ensuring added protection against corrosive environments. Constructed with installers in mind, Passo's retrofit models are specially designed to easily and quickly replace costly, high-maintenance step lights driven by conventional lighting technology, enabling users to enjoy the benefits of LED technology that much sooner.
At Your Door: Most Passo step lights can ship in 10 days or less from the time they're ordered to quickly advance any new construction or retrofit project. Existing customers with special requests about their orders can contact Amerlux's renowned concierge services.
Offering innovative and durable design, outstanding efficiency, long life, appealing aesthetics, and enhanced safety to support the market's broad range of step and directional lighting applications, Amerlux's family of Passo LED step lights represent a step in the right direction.
Still Want More?