How Lighting Designers Determine the Best Step Lights
When it comes to selecting the optimal step light for a commercial or residential project, a number of considerations prevail. Designed to illuminate the way forward or highlight an object in the path, identification of the appropriate step or directional lighting solution isn't only critical for helping to prevent slips, falls, and subsequent injuries, but it can also help enhance a property's aesthetic and architectural appeal.
Quentin Thomas, president of Douglaston, New York-based Quentin Thomas Associates, Inc. has amassed a wealth of experience in the art and science of step lighting. A seasoned lighting designer with more than 30 years in the field, he and his team have recommended lighting to clients in all segments—from hospitals, government facilities, hospitality outlets to museums—with a specialization in Class A office buildings and corporate headquarters throughout the world.
"These are typically extremely large, multi-building, multi-phase projects that extend over many years and involve multiple architects, landscape architects, and engineers," Thomas explained. Along with expertise in the market's range of lighting products and their applications, "we understand the scale and time frames of all of these types of projects and owners and developers respect our ability to recommend the appropriate lighting solutions and bridge all of the different players."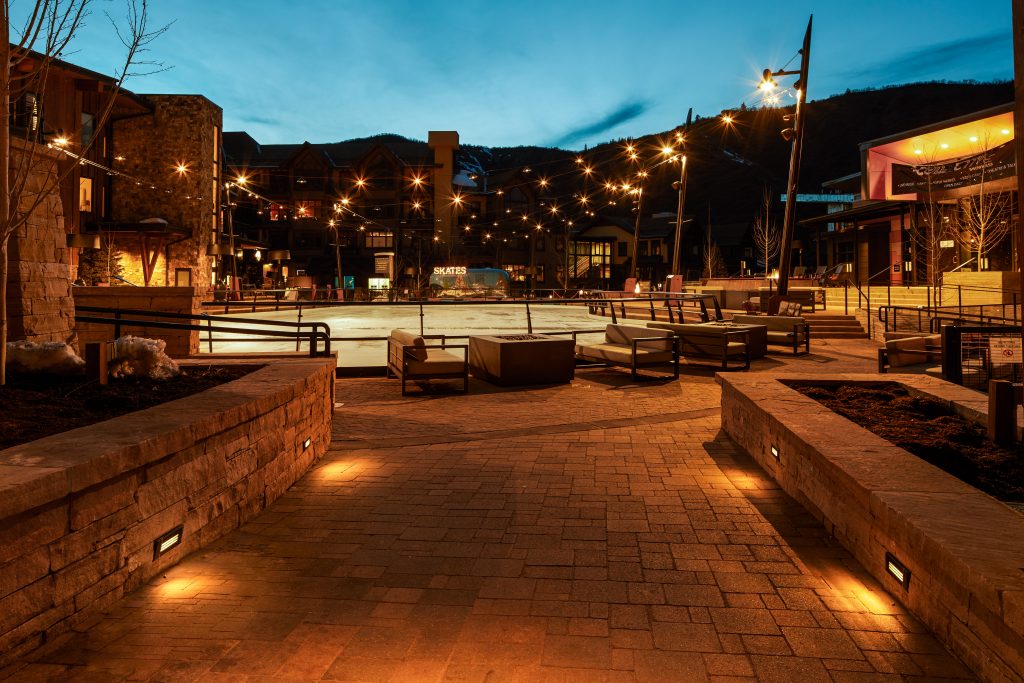 Amerlux's Passo step light was used by a Colorado ski village as a weather-proof solution which could provide wayfinding without throwing light pollution into the Rocky Mountain night skies. Read the case study here.
Thomas shares some of the most important considerations for lighting designers to keep in mind when selecting a step or directional light for the application:
Is the Facility Pursuing LEED Certification? Leadership in Energy and Environmental Design, also known as LEED, is a globally-recognized symbol of sustainability achievement administered through the U.S. Green Building Council (USGBC) and provides a framework for the creation of healthy, highly-efficient, and cost-saving green buildings. A popular objective for an increasing number of buildings today, "LEED certification has become such an important component for marketing and goodwill purposes and an estimated 80 percent of our current projects are either LEED-certified or are pursuing LEED certification," said Thomas, who added the pursuit of LEED certification can greatly influence the type of step or directional light selected. Interestingly, said Thomas, "the credit available for solutions meeting the LEED-Night Sky criteria is positive in the sense that it aims to reduce light pollution traveling up into the night sky but, at this time in its evolution, the credit is extremely restrictive and difficult to meet. For example, luminous tubes, globes with opal glass faces, and decorative lights with a glow will all be completely disallowed, so it might be easier for lighting designers not to go for that credit and to try to make up the credit elsewhere instead," he advised.
Let it Glow. "If the facility isn't necessarily pursuing LEED certification, a step light can be mounted in a vertical surface, can have a luminous face, and can be partially frosted or clear as long as it directs light downward to the walking surface," Thomas said. "As long as you pick the appropriate fixture for the application, it can have a glowing or sparkling characteristic."
Opt for LEDs. Thomas confirms that during the last few years, LED technology has evolved tremendously. With their high efficiency, sophisticated optical systems, and attractive price points, LEDs have become a go-to product for everything from downlighting to linear area lighting.
Consider Bollards. In exterior applications, some step lights can be recessed into walls or can be integrated into mini bollards, "which are very useful ways of delivering light and defining boundaries," Thomas advised. While taller bollards can sometimes negatively impact an architect's aesthetic vision, Thomas has found that architects and landscape designers are generally less resistant to shorter bollards—typically 30 inches in height—because they promote a sense of safety while being less intrusive. "In general," Thomas noted, "designers should determine whether the facility's step and directional lighting needs to be architecturally "neutral" or not. Some of the most successful manufacturer designs in the industry are the ones that are the most neutral and unobtrusive."
Consider Walkover and Continuous Step Lights. Thomas advises lighting designers to consider round, square, or rectangular walkover step lights, which are recessed flush into the surface. "These are like runway lights that define the edge of the path, and asymmetrical versions are also available to light signs or architectural objects," he said. Step lights that aren't individual but continuous— similar to a cove light at the ground level—have the desirable effect of making the objects they highlight seem to float. "You can use these outside on low benches set in a niche around the bench or following a wall at the floor level to accent objects, deliver light, and identify the path," Thomas said.
Be Aware of Code and Insurance Requirements. Code requirements dictate minimum light levels for building egresses and changes in grade such as stairs; "in that application, LED step lights integrated into a handrail are a fantastic solution," Thomas said. "Lighting designers should also consider what their client's insurance company requires in terms of how lighting is used to illuminate different parts of the interior and exterior of a facility at different times of day and night."
Consider Practical Elements. Finally, Thomas recommends that lighting designers understand the conditions that the lights will reside in – from extreme temperatures/climates to the presence of flood zones, salt in the air, and other elements that could cause lights to degrade or fail.
A Step in the Right Direction
Delivering the benefits of energy efficiency, long life/low maintenance, consistency, reliability/durability, environmental friendliness, and discreetness relative to their more conventional halogen, incandescent, fluorescent, and HID counterparts, LED technology has revolutionized the step lighting category. And Amerlux's Passo LED Step Lights take lighting and landscape design to the next level, providing landscape architects, lighting designers, and facility managers with an aesthetic detail that not only enhances indoor and outdoor safety and security but adds a touch of beauty as well.
Available in louver, stainless steel louver, and tempered soft glow lens versions and round, square, and rectangular shapes for new construction projects and in 8-inch and 12-inch rectangular shapes for retrofit projects, Passo LED Step Lights are designed for flexibility, while their independently-sealed LED Optical Chamber (encompassing an LED array and heatsink enclosed in an IP66-rated sealed glass tube) eliminates water infiltration, the #1 cause of product failure, and ensures that they're engineered for reliability.
Easy to install, Passo models designed for new construction projects feature an injection-molded PVC housing with integral machined brass anchor blocks that complement the sealed properties of the LED module and driver, ensuring added protection against corrosive environments.  Further incorporating a standard 0-10V dimmable driver for greater integration with today's most popular controls, Amerlux's family of Passo LED Step Lights represent a step in the right direction for lighting designers!
Want more?