CASE STUDY: Why Saks Fifth Avenue Demanded More Amerlux for Its Bal Harbour Makeover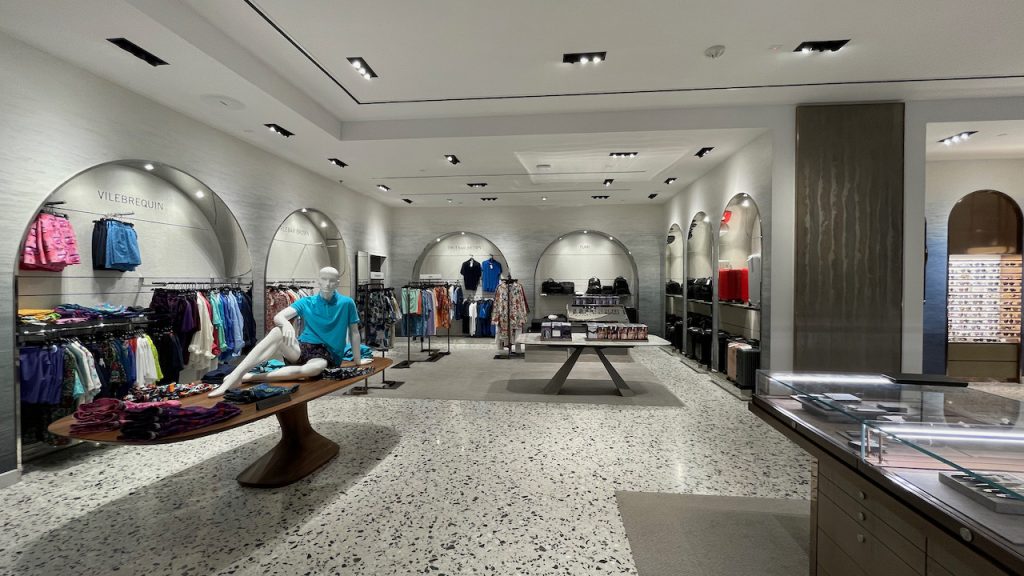 Saks Fifth Avenue, a destination for the finest quality in men's and women's fashion, is an ideal anchor tenant for the high-end Floridan shopper that wanders the storefronts at the Bal Harbour Shops in the North Miami Beach village.
From sparkling stilettos to floral-embroidered gowns, famous designers such as Christian Louboutin, Givenchy, Burberry, The Row and many more frequently showcase their latest work at this location.
But when the legacy lighting in various pockets of the 100,000-plus-square-foot retailer stopped showcasing these designers' award-winning collections in the best light, corporate store management decided a change was needed.
They turned to a familiar face: Amy Laughead-Riese, principal lighting designer of 37 Volts Light Studio in Cincinnati. A veteran designer with more than 20 years of retail lighting experience, she has run her consulting firm for more than 10 years and is a one-time corporate lighting designer at Macy's. "It's a unique background that helps me understand what lighting means from a retailer's perspective," she said. "It also helps me predict many of the challenges a project may have before it starts."
Laughead-Riese immediately saw two obvious challenges with this renovation.
One was budget. "Saks is a luxury brand, but they're also smart and thoughtful with how they choose to illuminate. They do it in a way that looks beautiful but maybe didn't cost as much as you would think," she said
The other was an existing lighting system that used technologies she hadn't specified in more than a decade, including halogen and compact fluorescent lights, metal halides and MR16 bulbs. "The project was about how do we bring the store up to LED standards and make it energy-efficient and beautiful."
However, there was one challenge she didn't foresee.
"Saks is a fan of Amerlux and had used them quite a bit before. They had many—hundreds—of these semi-recessed square Hornet multiples on hand from a prior project, and they asked that we use them in the redesign," Laughead-Riese recalled. "So, right out of the gate, we were thrown a curveball."
Good thing.
Small in size but big on performance, the Hornet High-Power (HP) retail lighting downlight delivers the dazzling output of a 20-watt ceramic metal halide with the controllability and crisp color of an MR16 halogen, simultaneously leaving aesthetically clean ceilings.
In all, 291 single-head, 197 double-head and 459 triple-head Hornet fixtures—that's 947 in all—as well as 40 Evoke® 4.75" downlights were used to remedy a variety of obstacles that surfaced throughout the project on each floor.
Minimal Costs, Ceiling Work in Shoe Department
The first hurdle surfaced in the shoe department, located on the 36,300-square-foot first floor. The scope of work called for replacing the department's old halogen and metal halide multiples lighting system.
One caveat: No one wanted to rip out the existing ceiling to accommodate the new contemporary retail lighting design.
"The challenge in that department was how can we utilize the existing lighting pattern but also update it to LEDs?" Laughead-Riese said. "The good news, much of that pattern had double-head halogen lights in it. We realized we could swap the Hornet double-head series one by one with very minimal ceiling work. This was one way we were able to update the lighting output and quality while keeping costs low."
Two Designs, One Fixture in Beauty Department
Unlike the shoe department, plans did call for replacing the ceiling throughout the beauty department. That's the good news.
But that presented another snag. "We have all these great single-head Hornet fixtures," Laughead-Riese recalled. "How do we work them into the modern design in a way that enhances the consumer shopping experience?"
The answer, the design team realized, was along the perimeter walls inside select hallways, restrooms and product display areas. "Use the singles and work in some triples," she said. "Our perimeter design became a pattern of singles and multiples."
It's a design that paid dividends in two ways. With the multiples, the outside heads were used as accent lights while the middle head was specified with a beam spread lens to widen the beam of the light from the inventory, so that they could be used as downlights for general illumination or wall washers.
"With the Hornet triple, we were able to do two different things with just one fixture," Laughead-Riese said.
Striking Look and Feel in Mens's Department
Perhaps no department was more impacted by the renovation than the men's department. Formerly on the first floor, the section was relocated to the 76,300-square-foot third floor, where Saks Avenue said it needed a fresh look and feel—with a couple of catches.
One, keep the series of fixtures consistent with those installed throughout the rest of the project. Using the same brand and models makes maintenance easier. Two, keep the lighting levels more consistent between the different floors "so that you're not walking into different experiences when you move from the shoe or beauty department to the men's," Laughead-Riese said.
Simple enough: Install more Hornet HP downlights, with one differentiation. "We chose the matte black interior for the housing of the multiples. Where everything on the first floor had a white finish, the third used a black finish. Using a black finish against a white ceiling gave the department a different feel and texture perceptually."
She added that it was a significant upgrade from how the same department had previously looked on the first floor.
"I wouldn't say it was necessarily dark, but it had a lot of visual chaos with how the ceiling and lighting design came together," Laughead-Riese said. "When the men's department moved to the third floor, they installed a new ceiling, which allowed us to craft an organized layout of single and triple multiples."
A "Thrilling" Result
After work commenced, Laughead-Riese said the string of improvements were immediately apparent. The lighting levels increased, and the merchandise looked its best. The store was fresh and invigorating, with sharp contrast.
The client, she said, felt like they had "a whole new store" with a "fresh merchandising plan."
"They were thrilled and very complimentary," Laughead-Riese's said, much thanks to her vision and the versatile Hornet downlight family, which gave the design team "all the good technical stuff we needed to make the lighting perform at its best."
It also gave them something else: flexibility and size.
"When there is a mannequin or a display table not located in the best orientation of the light—because merchandise is always moving around inside a store—the fixtures allowed us to get more lighting out of the box," she said. "We were able to get more adjustability to aim and highlight merchandise the way it needed to be highlighted."
"And, from a size perspective, the fixtures are on the smaller scale, which makes the ceiling feel nice and tidy, as opposed to the larger multiples that other manufacturers provide."
Another Amerlux retail lighting solution—40 of the Evoke 4.75″ downlights—was also used in treatment rooms to deliver general illumination with a wide-beam spread. "With Solite lens, the beam of light is so much softer," Laughead-Riese said. "With a dimmer control, treatment specialists now control the amount of light they need for services."
No wonder Saks Avenue is loyal to Amerlux.
"The outcome of this project shows why Saks has such a strong comfort level with Amerlux and why they were determined to use Amerlux again," Laughead-Riese said. "The store is brightly lit, but it still has some drama. Even if they hadn't required us to use Amerlux, we would have looked at the Amerlux catalog anyway."
Want to learn more?
To learn more about retail lighting manufacturer Amerlux and how the Hornet downlights casts luxury brand merchandise in its best-selling light, read: "Kleinfeld Bridal Owners 'Say Yes' To Amerlux in Best Light."