Amerlux's Curvano Puts the 'Arch' in First-Class Architectural Lighting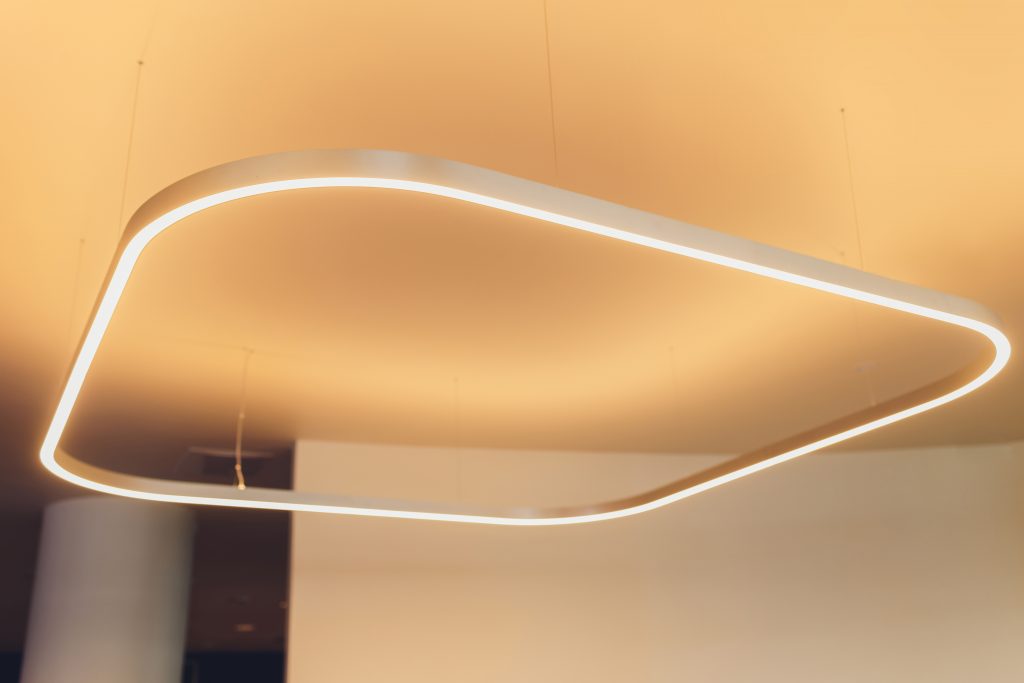 Dazzling, versatile LED linear lighting—as if drawn with a pen—is here

OAKLAND, N.J. – November 10, 2020 – Amerlux, an award-winning design-and-manufacture lighting company, launched today a groundbreaking set of LED linear lighting solutions that gift wraps creative freedom so architects and designers can let their ceiling lighting design flow with the grace and bends of a scenic river—in standard and custom-request offering.
Curvano offers a 2.5″ aperture in recessed and pendant mount as well as direct and direct/indirect with five curved-diameter corner options and three circular selections. Paired with its superior color-rendering capabilities up to 4000K and 90 CRI, this latest addition to Amerlux's linear slot offering provides the autonomy to add stunning dimension and comfortable, flexible illumination to any interior architectural design.
"We encourage architects and designers to close their eyes, grab some paper and start drawing their next dynamic, head-turning lighting designs," said Bill Plageman, Amerlux's VP of Marketing and Product Development. "What designs are you drawing? Silky, rounded corners? Sleek radius circles? Curvy serpentines? With Curvano, the shapes and figures are infinite, limited by only your imagination."
Architects and lighting designers appreciate Curvano because they can visually see their design laid out on their desk and immediately place an order without needing any engineering drawings to confirm the desired shape. An architecturally styled linear with the performance of a specification-grade luminaire, Curvano offers a uniformly lit designer lens and an end cap light block shield to prevent light leakage, which occurs when the lens shrinks and creates a gap between the end cap and lens.
Design-build firms love Curvano because are there not any delays when it comes to designing, ordering and installing. They can create and order a layout design on the same day courtesy of a free scaled model kit that's approximately one-twelfth the fixture size and allows designers to see Curvano's limitless, well-rounded options for retail, commercial and hospitality applications. Easy to order, easy to install and easy to maintain, Curvano ensures work is done on time and on budget.
Equipped with magnetic LED reflector trays within its curved sections, maintenance with Curvano is also as easy as creating imaginative, refreshing new patterns.
Immersive Innovation Throughout the Year
Curvano is not the only innovative LED product line Amerlux has launched in 2020.
For instance, Amerlux this summer launched a pioneering set of recessed linear downlights that allow designers and architects to make a bold, look-at-me statement in any ceiling application or design.
Cubebits offers a 1.5″ aperture profile in 3-cell, 9-cell or 12-cell units that add stunning visual interest to the space below with a single illumination beam. Cubebits is compatible with grid, flange and wood millwork ceilings. It comes in a black and white specular finished louver that allows for quiet, relaxed yet exceptional lighting output for any retail, hospitality or commercial environment.
Long-lasting and versatile, it also comes standard with dimming capabilities with spot, flood and wide flood-beam distributions, a range of color temperatures (2700K to 4000K), and 90 CRI.
Other examples of recent innovation from Amerlux include:
Quick-Line 2″, which offers high-performing, spec-grade-quality LED pendant lighting right off the shelf, shipped to job sites in as little as five days. Streamlined and flexible, this latest addition to the Quick-Line family offers a 2″aperture for a wider distribution of light and performs with unparalleled value and efficiency—courtesy of its smooth link-it, latch-it, cap-it installation and patent, industry-best block shields.
Rook 350 Wall Mount solutions, which come in different shapes (i.e. cylinder and square) and allow the fixture to be mounted as a direct or indirect luminaire using a provided kit. The direct/indirect fixtures can be ordered with different beam spreads—narrow on bottom, flop on top or vice versa—and varying wattages with open and lensed units. With a 3.5″ aperture, the Rook 350 adds visual interest to wall or columns in nearly any application.
For more information about the company's lighting solutions, call Amerlux at 973.850.4342.
###
About Amerlux
Amerlux creates bold lighting solutions that add warmth and brilliance to the world. The design-and-manufacture company builds long-term relationships with architects, facility managers and lighting designers by taking every complex problem personally. Its award-winning portfolio includes innovative interior and exterior lighting products that deliver striking aesthetics and rich performance through advanced engineering. Amerlux is a wholly owned subsidiary of Delta Electronics. For more information, please visit Amerlux.com or call 973.850.4342.