How Contractors Reduce Costly Call-Backs
Electrical contractors are extremely busy these days, as more organizations rush to upgrade their lighting to take advantage of tax credits before they expire.
Because the clock is ticking, contractors don't have time for lighting fixtures that are difficult to install or skimp on quality. Their customers demand high-performing, energy-efficient and reliable illumination that enhances safety, as well as aesthetics.
Getting it right the first time means fewer costly call-backs for contractors, which can tarnish their reputation and dramatically reduce repeat business that generates the bulk of profits.
When contractors want steadfast step lights that work whether it rains or shines, they choose Amerlux's break-through Passo step lights.
Contractors understand that all lights aren't created equal.  For the best long-term solution, they opt for quality products from trusted manufacturers.  As a leader in application-driven lighting innovation for more than 30 years, Amerlux's Passo step lights deliver high-performing, reliable, energy-efficient, as well as comfortable illumination to stairs, pathways and building exteriors.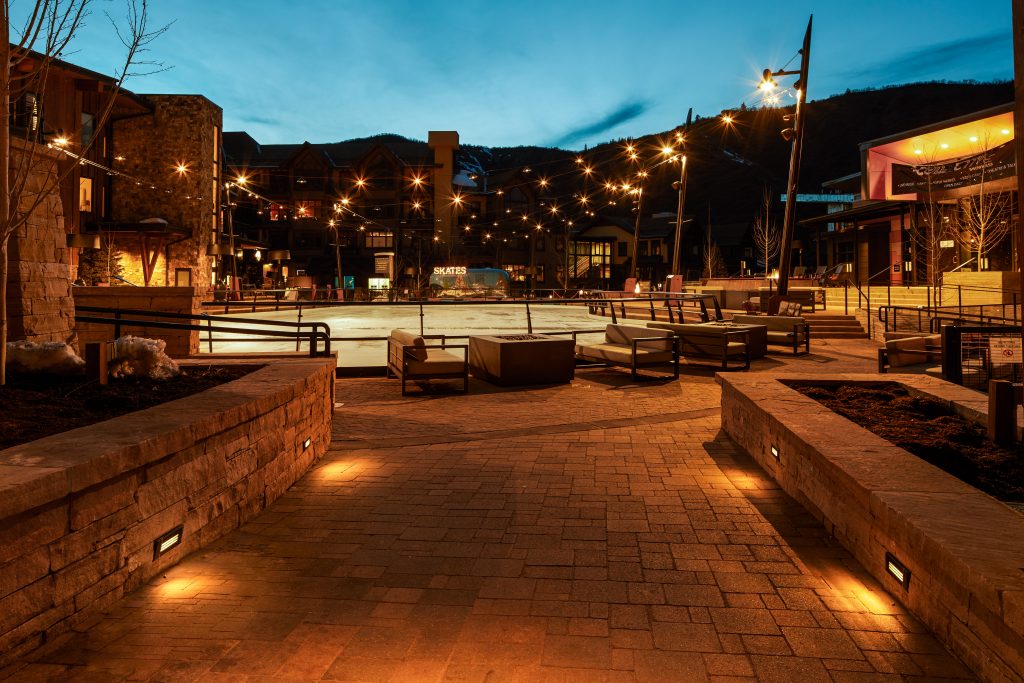 Above: Amerlux's Passo step light was used by a ski village as a solution which could provide wayfinding without throwing light pollution into the Rocky Mountain night skies. Read the case study here.
"We understand the complications of installing step lights and have successfully addressed those with our Passo family of step and wall lights," said Bill Plageman, Amerlux's vice president of marketing.
Here's how Amerlux has specifically addressed several concerns from contractors:
Ease of Installation: Constructed with installers in mind, Passo's retrofit models are specially designed to easily and quickly replace costly, high-maintenance step lights driven by conventional lighting technology. Passo models designed for new construction projects feature an injection-molded PVC housing with integral machined brass anchor blocks that complement the sealed properties of the LED module and driver, ensuring added protection against corrosive environments.  Whether a retrofit or new construction application, Amerlux's Passo step lights provide contractors with a hassle-free installation experience.
Engineering for Reliability: Weather-proof Passo step lights feature game-changing innovation, including an independently sealed LED optical chamber (encompassing an LED array and heatsink enclosed in an IP66-rated sealed glass tube) that eliminates water infiltration, the No. 1 cause of product failure. Such innovation minimizes the risk of outages and the subsequent high labor costs associated with maintenance.  The bottom line?  No dissatisfied customers or costly call-backs for contractors.
Flexible Design: Passo is available in a wide selection of sizes, faceplates, color temperatures and light output levels to meet the needs of most any project. Specifically, Passo step lights come in louver, stainless steel louver, and tempered soft glow lens versions and in round, square, and rectangular shapes for new construction projects, as well as 8-inch and 12-inch rectangular shapes for retrofit projects.  A choice of solid color composite, brushed stainless steel, or painted cast aluminum faceplates provides additional flexibility and design versatility that will satisfy even the most discerning customer.
Flexible Light Output: Passo luminaires offer added versatility thanks to their availability in a choice of two light output levels, enabling contractors to tailor the desired illuminance to the specific project and ensure the optimal visibility and aesthetic effect.
Connectivity and Compatibility: Passo's standard 0-10V dimmable driver ensures greater integration with the market's most popular controls, minimizing complexity and product compatibility issues for contractors.
Service with a Smile: Amerlux knows that long wait times and delivery issues can cost contractors time and money….and sometimes even the job! Most Passo step lights can ship in 10 days or less from the time they're ordered to quickly advance any new construction or retrofit project; contractors or customers with special requests can also avail themselves of Amerlux's renowned concierge services.
For more information, sign up for news about Amerlux's family of Passo step and wall lights.
Want more?