Got the Look? Why Clothing Retailers Choose Amerlux
Lighting sets the stage in retail, so the merchandise can shine.
Clothing retailers know that good lighting is essential to sales.  In fact, the right lighting makes colors pop and textures come alive, enticing customers to buy.
To accomplish this feat, retailers need lights with outstanding color quality, lights that can work in a variety of store layouts and look nice but do not draw attention to themselves and away from the clothing. That is why the leading clothing retailers choose Amerlux to light their stores. Amerlux products like SPEQ, a modern-styled and highly efficient LED track lighting solution, tick off all the items on a retailer's wishlist.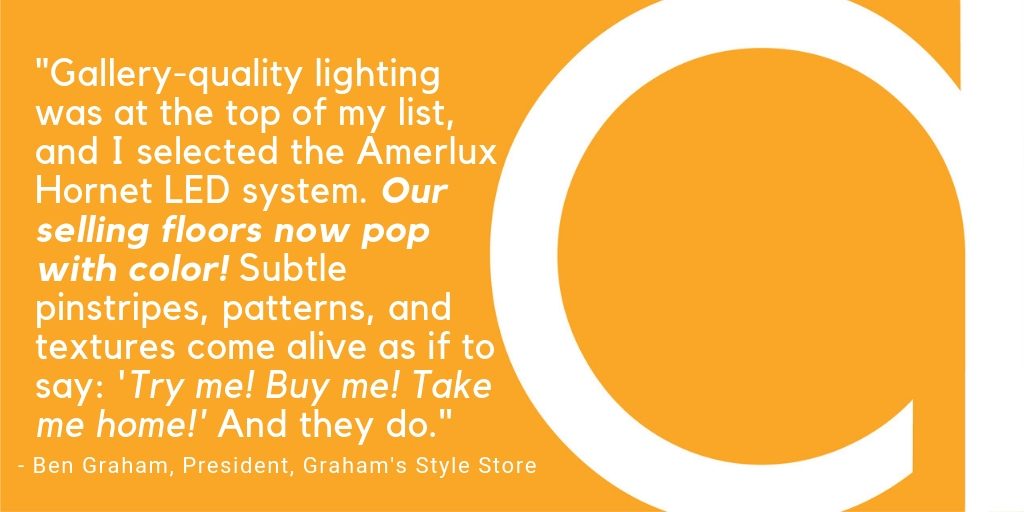 Here's why clothing retailers trust Amerlux to light their stores:
Perfect color: Retailers need lights with superb color quality that makes the clothing colors really pop. SPEQ's Class A full gamut chip delivers full color saturation with beautiful highlights, perfect lowlights and crisper whites. SPEQ comes in correlated color temperatures (CCTs) of 2200k, 2700k, 3000k, 3500k and 4000K with 82 CRI or 90+ CRI, so whether you are lighting a warm coffee shop, a leading lingerie brand, or one of the world's most famous computer companies, these lights attract customers with their alluring and lustrous color rendering.
Amazing longevity: Amerlux's LEDs deliver 70,000 hours of perfect and consistent performance, while halogen lamps significantly deteriorate after only 2,000 hours. Fluorescent lamps are not much better at 7,000-15,000 hours. SPEQ LEDs will be burning bright for years to come, while other outdated lights' performance declines quickly and then burns out altogether.
Rapid ROI from maintenance: Since SPEQ LEDs enjoy such a remarkably long lifespan, they offer immediate maintenance savings. This is especially important for high ceiling applications, where lifts and scaffoldings are not needed for years with SPEQ.
Smooth styling: SPEQ lights feature clean accents and a minimal aesthetic appearance. The elegant design does not draw attention to itself, instead putting the spotlight on the merchandise.
No room is too challenging to light: SPEQ performs optimally from a few feet away to 40 feet above the display and anywhere in between. When the Queens Museum in New York City needed to light a black-walled gallery from 40 feet up, they used SPEQ lighting to get the job done.
Superb glare control: Glare can be a big problem for some LEDs, but SPEQ track lights offer high-end beam controls and have an array of custom-beam modifiers (e.g. louvers, snoots) to further assist in reducing glare and ensuring the light goes where it is needed.
Exceptional dimming control: SPEQ LEDs are capable of low-level dimming without any flickering, allowing for a wide range of lighting options. SPEQ dims with TRIAC and ELV dimmers and SPEQ is equipped with an integrated LED chip to maximize performance at any lighting level. The light temperature can remain constant at any dimming level, or if equipped with Amerlux's Dim-To-Warm chip, can warm as the fixture is dimmed
Extremely flexible lighting options: Three distinct, cylindrical-shaped SPEQ models are available, the Small 15-watt light that can deliver 1,310 lumens, the Medium 26-watt light that delivers 2,056 lumens and the Large 48-watt light that delivers 3,977 lumens. There is also a variety of mounting options, including one-, two-, and three-circuit systems, busway and canopy.
Delivered in 10 days or less: Amerlux can ship SPEQ lights in 10 days or less from the time they are ordered to quickly advance any new construction or retrofit project.
Excellent warranty: SPEQ lights come with a five-year warranty.