Amerlux Unveils 'Fresh Color' At Wakefern's Private Event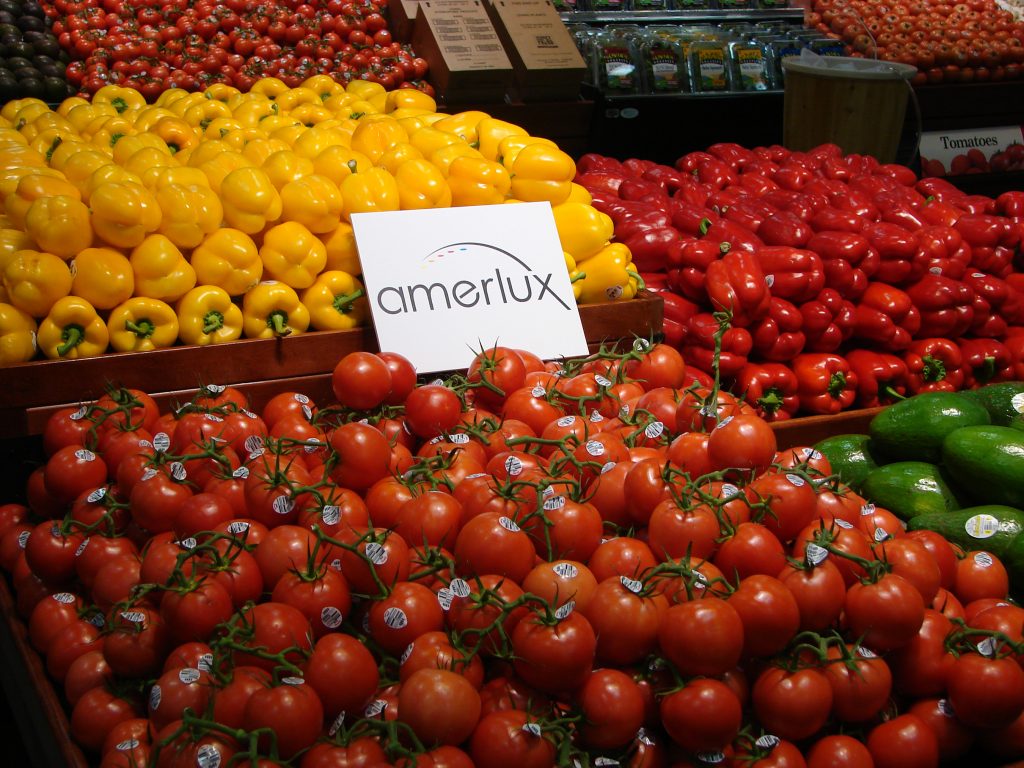 Amerlux, an award-winning design-and-manufacture lighting company, announced today it will deliver a private demonstration to Wakefern Food Corp about its game-changing supermarket solution that will make sales of high-margin perishables more appetizing for grocers.
The LED maker will showcase the Fresh Color chip—which is incorporated into the company's premium SPEQ track lights—during the "Wakefern Perishables 2018" members-only event, which opens today through October 4 at the New Jersey Convention and Exposition Center in Edison. Wakefern is the country's largest retailer-owned supermarket cooperative.
The Fresh Color chip accentuates the natural color of fresh foods, which has become a crucial lure to keep consumers shopping in the store, as they transform into high-end, retail boutiques. To create the desired effect of high-contrast lighting, which puts more light on targeted items, accent lighting also needs to be leveraged as a wayfinding tool, directing consumers to high-margin products, such as meat, seafood, produce and flowers.
"Since we began as a supermarket lighting company, we are proud of our long-standing relationship with Wakefern," said Amerlux CEO and President Chuck Campagna. "In fact, we have re-lit several ShopRite stores three to four times over the years as fast as our Research & Development teams produce cutting-edge products. Our innovative LED supermarket product projects more light and emits less heat than traditional lighting to help keep everything fresh longer."
Wakefern is the eighth largest supermarket chain in the United States, based on 2017 retail sales of $16.3 billion, according to Kantar Consulting. Founded in 1946, the cooperative includes 50 members who today independently own and operate 350 supermarkets under the ShopRite, The Fresh Grocer, Price Rite and Dearborn Market banners in nine states from Massachusetts to Virginia.
U.S. Grocers Poised for Fresh Frenzy
Fresh perishable categories are driving nearly 49 percent of all dollar growth across the "fast-moving consumer goods" brick-and-mortar landscape in the United States, totaling $177 billion last year, according to a recent Consumer Report from Nielsen.
As supermarkets turn to high-contrast lighting to combat online sales from non-traditional rivals, Amerlux finds itself firmly positioned with a competitive advantage because its brand has been built through the years around grocer and retail lighting.
Ever since Amerlux launched its first line of products in the 1980s—signature ED-17 metal halide lamps housed in custom track heads for use in the perimeter aisles of supermarkets—the company has demonstrated a passion for walking in its customers' shoes and developing solutions to address their specific needs.  In the case of the specialized supermarket track light, Amerlux designed a replacement to the PAR 30 and PAR 38 halogen lamps, which dominated the grocery segment at the time. Amerlux's solution was long-lasting affordable, offered 3000K halogen-like color, and didn't project heat, so it didn't dry out ice or produce, which was critical to managers in produce aisles or other refrigerated areas of the store.
Amerlux further expanded beyond the grocery segment through the 1990s, bringing its solution-oriented approach to the high-end retail arena.  Determined to solve the color and heat issues retailers and lighting designers were experiencing with then-dominant halogen MR-16 technology, Amerlux worked with the industry's top lamp manufacturers to deliver the best products using high-quality ceramic metal halide, which offered great color, improved beam projection, and no heat. Presenting its solution to architects and lighting designers, the company quickly secured business from a broad range of large, well-known retailers nationwide, which it accomplished by listening to the market rather than developing the product first.
Fresh Color Chips Fits Perfectly in SPEQ Track Lights
Amerlux's SPEQ track lights produces a controlled, powerful and clean beam of light, which can be found in various high-end retailers and art galleries. (When the Queens Museum, for example, wanted to create a memorable experience for its recent "Never Built New York" exhibit, Amerlux exceeded expectations with SPEQ.)
SPEQ's beam spreads range from a very narrow spot of 8 degrees to wide flood narrow spot to wide flood and everything in between. Delivering more than 46,800 CBCP, the SPEQ family of track accents aren't afraid of heights. Available with a snoot that perfectly matches the fixture to provide excellent glare control, SPEQ maintains clean fixture lines.
Its snoot perfectly matches the fixture to provide excellent glare control, while maintaining clean fixture lines. The product offers other options, such as hexcell louver, Solite beam softening lens, linear spread lens and cross blade.
The fixture keeps its classic design with an integral driver, which is not visible, featuring low-level dimming and full 2.5 kV surge protection to ensure high-quality performance, unlike lamp drivers.
With a color rending index (CRI) rating from 82 to 90-plus, SPEQ gives the user a variety of options to help deliver the right light to bring out the natural color of any item.
 For more information about the company's Amerlux's SPEQ solution with the Fresh Color chip, visit Amerlux.com or call 973.850.4342.