Amerlux's New Website Delivers Functionality Light Years Ahead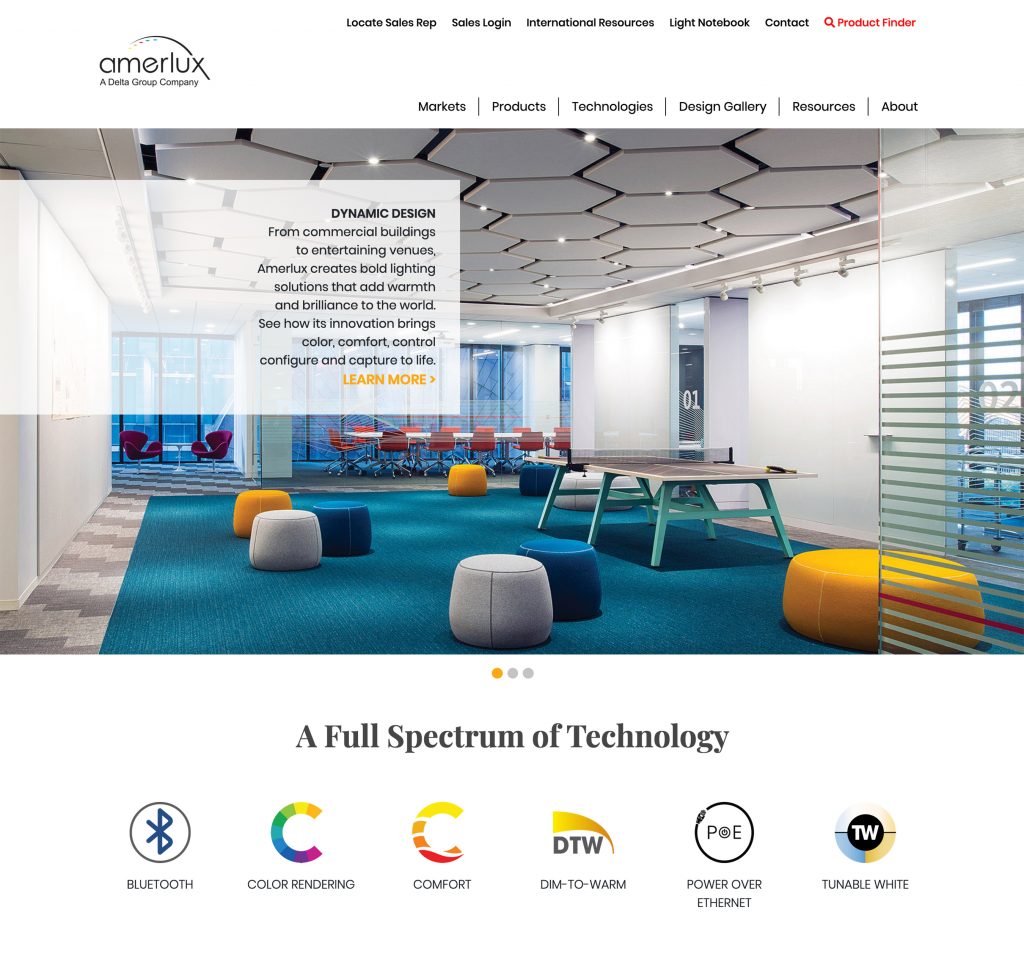 Online Tool Helps Architects, Designers Save Angst
OAKLAND, N.J. – Feb. 11, 2020 – Amerlux, an award-winning design-and-manufacture lighting company, announced today that it has launched an innovative website that will make project design light-years faster for architects and lighting designers.
Amerlux has turned its new website into an invaluable tool that will save time, money and angst.
"We want to help more architects and lighting designers build their projects faster with high-quality products," said Bill Plageman, Amerlux's VP of Marketing and Product Development, about the company's new website. "We followed the same blueprint that we use for developing a new product: First, we listen to what the marketplace wants, and then we give it to them."
Consider how Amerlux's new online "tool" addresses their stakeholders' most agonizing pain points:
How do I find the right product? Amerlux's new Product Finder essentially eliminates the need for a search box. Visitors can simply click on various click-down menus, which display a range of variations. Once you click on each category, ranging from features to color to applications, hit search. Viola! The specific products appear on your screen.
How can I quickly organize all the specifications for my products? Amerlux's new Light Notebook helps visitors create a project online where they can save spec sheets so they can easily review all of them together in one place.
Where can I see Amerlux's solutions at work? Amerlux's new Design Gallery captures its solutions in dramatic fashion. Visitors also can find case studies to learn about problems solved under the Products page.
How can I learn about the new aspects of lighting? Amerlux's Resources page delivers educational guides and blogs, company news and a show schedule for upcoming events.
How can I earn continuing education credits? Amerlux's Education page allows visitors to click on its eLumenNation Webinar series, so you can earn AIA/CE credits and learn about upcoming, live presentations.
Product Finder Also Searches By Brand
Visitors also can find solutions by name from the Product Finder.
Here's one product to keep in mind: Aerus.
Amerlux practically stole the show last year at LightFair 2019 when it launched Aerus, which provides unparalleled comfort and aesthetics in several ways:
Anidolic Optics: Since the actual light source isn't easy to see, Aerus delivers an indirect/direct (75%/25%) lighting distribution in an efficient and comfortable manner.
No Visual Power Feed: Aerus uses low-voltage aircraft cable that supports and supplies power to the fixture.
Closer Ceiling Mounts: Aerus mounts 12 inches below the ceiling, compared to standard mounting for indirect/direct pendants of 18 inches to 24 inches, without creating a "hot spot." It delivers the minimum Illuminating Engineering Society of North America (IES) recommendation of illuminance at 30 inches AFF with only 7 Watts/foot or it can deliver more at 10 Watts/foot.
Wider Spacing: While delivering even, soft illumination above and between fixtures, Aerus can be mounted up to 12 feet on center. Aerus delivers the IES-recommended foot-candle on desk.
Citing Aerus, BUILDINGS.com quickly called its nearly glare-free illumination the event's top trend. As the cure for poor office lighting, Aerus also delivers pleasing indirect lighting for commercial and institutional settings.
All specifications and demonstrations involving the game-changing, AERUS solution are available today. AERUS is planned to ship, beginning April 1.
For more information about the company's lighting solutions, call Amerlux at 973.850.4342.
###
About Amerlux
Amerlux creates bold lighting solutions that add warmth and brilliance to the world. The design-and-manufacture company builds long-term relationships with architects, facility managers and lighting designers by taking every complex problem personally. Its award-winning portfolio includes innovative interior and exterior lighting products that deliver striking aesthetics and rich performance through advanced engineering. Amerlux is a wholly owned subsidiary of Delta Electronics. For more information, please visit Amerlux.com or call 973.850.4342.