Amerlux Harnesses Sun's Natural Color in LED Pendant With 100 CRI
Color Perfection Shines Bright at LightFair 2019
Amerlux, an award-winning design-and-manufacture lighting company, announced today it will unveil the industry's first 100 CRI LED during a special demonstration at LightFair 2019 in Philadelphia, which runs from May 20-23.
Amerlux's new Rook 3.5″ Square Pendant will showcase the 100 CRI chip, which is the first LED to achieve a 100 CRI rating that renders color (warm or cool tones) to their most natural. As a result, natural color and skin tones have never looked so good.
Amerlux will showcase the new square lighting solution at LightFair 2019 (Booth #5837). Demonstrations will be held during the conference across the street at Le Meridien Philadelphia, located at 1421 Arch Street.
"At Amerlux, lighting isn't something you see; it's something that you feel," said Amerlux CEO and President Chuck Campagna. "Our new square Rook LED fixture with 100 CRI creates an unforgettable experience that translates the deepest colors and crispest whites into emotion. Through innovation, we moved the ability to render colors in their highest natural state indoors."
Amerlux's new Rook, which is a versatile solution for open ceilings as a surface-mount pendant or a pendant with a remote driver, offers color, comfort, control and configuration:
The striking Rook 3.5″ Square Pendant is warm and welcoming, yet square and modern. Ideal for retail and commercial ambient/task lighting, the fixture offers a range of color temperatures (i.e. 2200K, 2700K, 3000K, 3500K and 4000K). It also delivers 83 CRI and 90+ CRI with full gamut LED chips available.
The Rook 3.5″ Square Pendant is offered in 11W, 14W, 16W, 18W and 21W options. The lumen output includes 1,305 lm and 1,732 lm, while CBCP spans from 4,763 to 12,503.
Beam spread options include spot (15 degrees), narrow flood (22 degrees), medium flood (25 degrees), flood (28 degrees), wide flood (45 degrees), very wide flood (60 degrees) and linear spread (60 degrees x 10 degrees) for the fixture's SD version. In addition, a Satin Ice Lens, which provides maximum source concealment and wide distribution with a visually "hotter" aperture (75 degree spread), is available; a Solite Lens offers maximum efficacy and a visually quieter aperture with 30-degree, 50-degree and 65- degree beam spread options.
Dimming options include TRIAC, ELV (120V/277V) and Lutron Hi-lume H Series/Eco System (120V/277V).
Amerlux Presents LightFair 2019 Lineup
Besides Rook with 100 CRI, Amerlux will showcase its new 2019 product lineup at LightFair:
Slots and Dots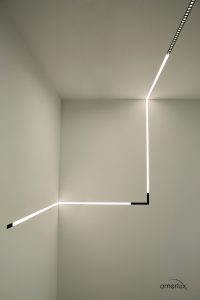 Amerlux's Slots and Dots is an easily configurable track light system that creates visual ambience for hospitality and retail environments. It offers clean, compact styling, which ensures it looks good in any environment. The one-inch-wide track features magnetic attachments, so light sources can be easily snapped in and out as needed. With this track system, it's a cinch to change the lighting in a room between events.
Available light attachments include accent track heads, a pendant accent and four different linear options, with lensed sources for ambient light and high-performance optics for direct light. The track comes in 12-foot, 4-foot and 2-foot lengths, which join together for clean lines of light or a variety of whimsical compositions.
Etch
Co-developed with world-renown architecture firm Gensler Associates, the new Etch ceiling panels present a clean aesthetic with evenly lit, premium LEDs, bathing open spaces with smooth, ambient light. The new lighting solutions delivers a sense of architectural style to an area, unlike traditional drop-ins that have the look and feel of commodity-grade products.
Standard, unadorned 2'x2′ Etch panels deliver a skylight. Each 2'x2′ regressed flat panel is offered in 23W, 31W or 39W with lumen outputs up to 4350. Etch is also available with an opaque beam element located off-center within the fixture, which creates bold patterns that transverse the entire ceiling. In addition, the beam element delivers accent or task lighting with the back panel fully lit or dimmed.
PoE-Ready Products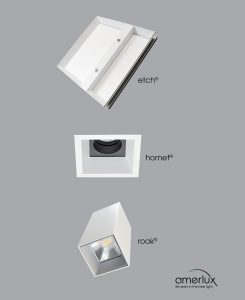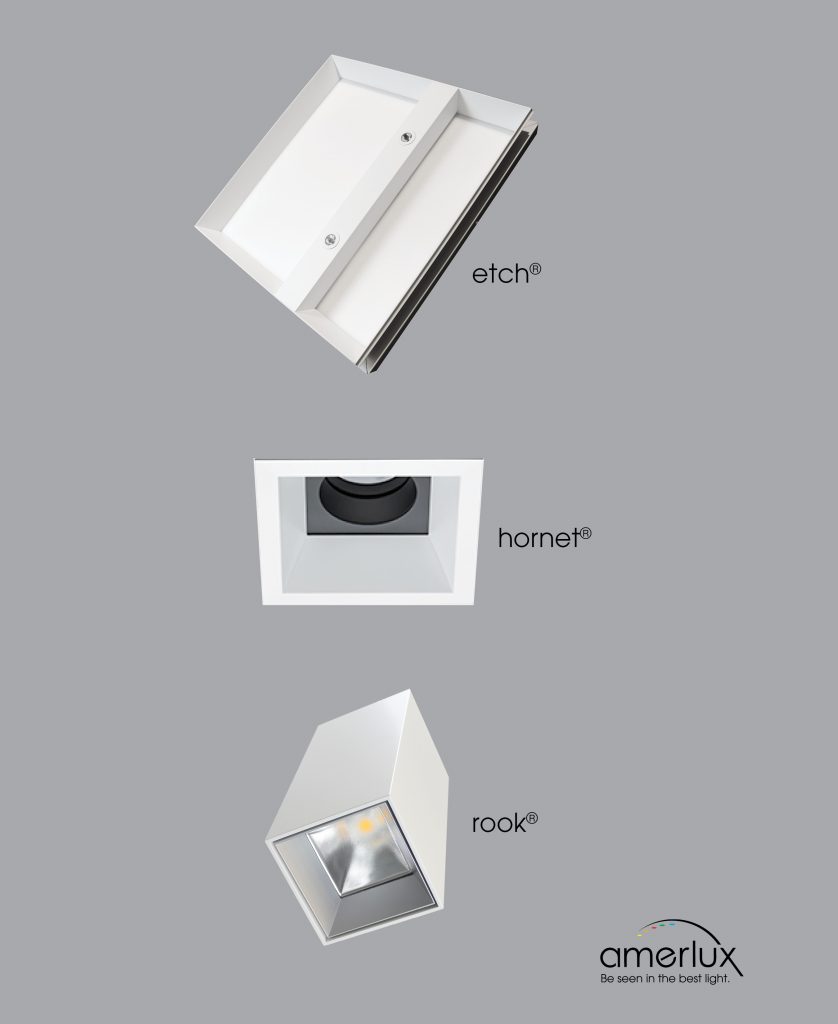 Amerlux will demonstrate its first generation of Power-over-Ethernet (PoE) lighting solutions that will fundamentally change the way the industry thinks about configuration and controls. With this new technology, power will run through the same Category 5 enhanced cabling (CAT5e) as data, turning lighting into an IT matter.
At LightFair 2019, Amerlux will feature three products that are part of the first wave of PoE: Rook, Etch and Hornet HP downlights.
Hornet HP downlights are a family of 3.5″ aperture LED lights that provide beautiful and quiet lighting for a variety of applications, including retail and commercial spaces, hotels and apartment towers. With the Dim-To-Warm feature, the lights shift to lower kelvin temperatures (333K to 1800K) as you dim the lights, emulating the familiar effect in incandescent light bulbs. Dimming options include TRIAC, ELV, Lutron and DALI.
Trims available include Downlight, Adjustable Accent, Pinhole and Lensed Shower trims, giving designers the ability to complete any design scheme.
Beam distribution options include very narrow flood (VNF), medium flood (MFL), flood (FL) and wide flood (WF).
Hornet HP downlights offer a 20 ga. galvanized steel frame, die-cast optical housing, trim and heatsink. It delivers outstanding color quality (95+ CRI), making it ideal for retail and other applications where color is essential.
For more information about the company, call Amerlux at 973.850.4342.