5 Reasons Why Supermarket Lighting Evolves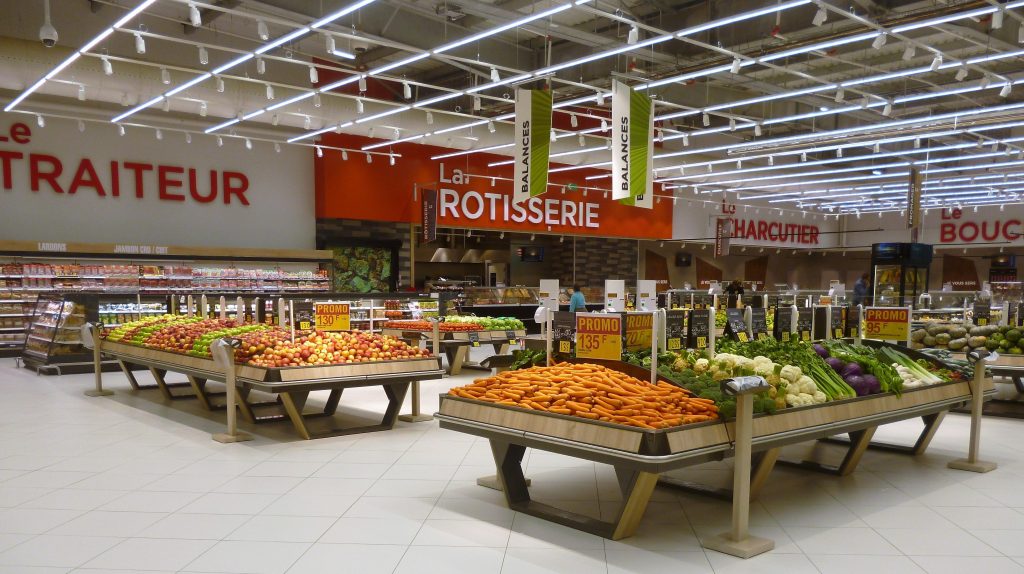 Traditional brick-and-mortar supermarkets are reconfiguring their store layouts and lighting designs as part of their new strategy to retain customers, attract new ones and remain relevant in the rapidly changing grocery retail channel.
As online competition and dollar stores capture more dry-goods business, supermarkets are shifting their focus away from shrinking center aisles to their perimeters where they can feature more fresh foods.
Here are five reasons why supermarket lighting is changing:
Fresh is Best
When grocery stores offer more produce, dairy, meats, hot and cold pre-made meals and organic products in their easily-shoppable perimeter departments, shoppers rate them better. To showcase the freshness of these products in their best light, many supermarkets are upgrading their lighting systems.
Profitable Performance
Great departments, no matter their store location, won't perform profitably unless they are lit properly. To complement ever-changing store layout designs to keep the shopping experience memorable and fresh, supermarkets need lighting solutions that are easy and fast to install, flexible and preferably without added labor costs.
In this new dynamic age of grocery shopping, supermarkets need the ability to easily change the location of the light source without the help of an electrician. In addition, they need lighting solutions that provide multiple kinds of lighting distribution, such as aisle distribution, focused open-case distribution, general ambience distribution and accent lighting, to create heightened attention for high-margin products and to maximize the merchandising of available space.
Flexible Configurations
A trunking system is an innovative solution that allows stores to easily change their lighting to highlight special displays and sales items.
LED linear trunking systems are energy-efficient, high-performing and low-maintenance alternatives to traditional linear fluorescent lighting systems. Their sleek, clean design offers a sophisticated look and allows for interconnecting the linear LED fixtures into rows of any desired length.
The flexible configurations can be scaled for both retrofit and expansion projects.
Multiple Patterns of Distribution
Trunking systems also offer multiple light distribution patterns that can be created with precision lens systems via a simple snap-on mechanism.
Supermarkets need narrow beam angles to illuminate product displays and high rack spaces, wide beam patterns to illuminate aisles, asymmetric light distribution for racks and shelves and asymmetrical light distribution to highlight products on shelf surfaces, on end cap and other displays.
Money- and Labor-Saving
Linear trunking systems are simple to install, which minimizes upfront installation costs and proves for easy future upgrades. They feature tool-free assembly with pre-built components and modules. The pre-wired trunking rails can be surface-mounted and recessed or suspended with corresponding mounting hardware such as with rods, chains or cords.
In many ways, linear trunking systems can help supermarkets maintain their market share among increasing competition within the retail grocery chain while also elevating the shopping experience.
It's a boost to the bottom line when customers see better-looking merchandise in its best light.