CASE STUDY: How Amerlux Casts Pittsburgh's Restored Hazelwood Roundhouse in a New Light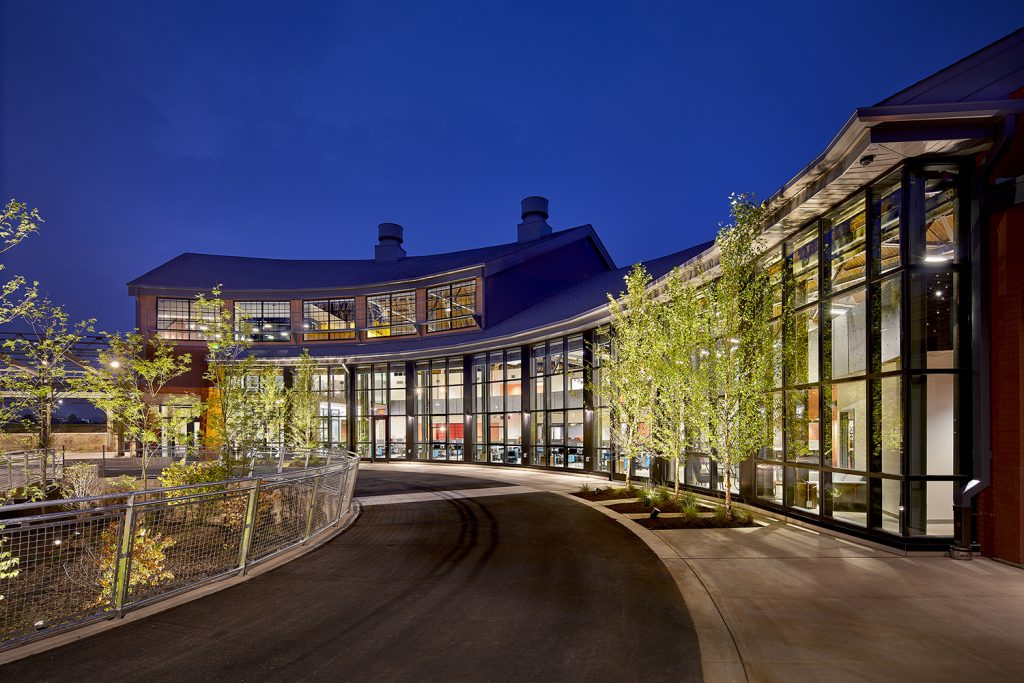 The historic, 10-bay railway roundhouse and turntable at Hazelwood Green, part of Pittsburgh's Greater Hazelwood neighborhood, had seen better days.
Initially built by the Monongahela Connecting Railroad in 1887, the 178-acre multi-facility campus along the Monongahela River was located next to a steel mill and worked to service and redirect train engines carrying locally made steelmaking materials to the rest of the world. A prominent local daily newspaper, the Pittsburgh Tribune-Review, called the area "a sprawling steelmaking complex."
But those days had long passed, said Anne Chen, principal architect at GBBN, an architecture and design firm with five offices worldwide, including one in Pittsburgh.
The decrepit roundhouse was one of only three buildings remaining at the former LTV Steel Works site. Inside, the 25,000-square-foot roundhouse reportedly had deep pits in its concrete floor and outgrown weeds and standing water across its slab, with the underside of the timber roof decking blackened by soot.
"It largely sat vacant for a couple of decades," Chen said. "It wasn't inhabitable or adequate for human occupancy anymore."
That has all changed now.
The new-look roundhouse, fresh off a two-year, $12 million renovation that was several more in the planning, is now a contemporary, job-generating technology hub that attracts entrepreneurs and collaborative co-working spaces under the best light. As the Tribune noted, the complex is "again driving a new spirit of entrepreneurship" and fast becoming a local epicenter of global economic development.
Chen, whose award-winning firm redesigned the structure's interior and exteriors quarters, says the roundhouse now features soaring, double-height space with a partial second floor. It also peppers striking architectural features that pay tribute to its railroad, steelmaking and industrial heritage. Historic wood, brick and steel play a prominent look, while original elements including the turntable, crane, track rails and an attached shed structure persist.
None of these, Chen says, are easy to design around. "The roundhouse was built for industry, not aesthetics."
Nor are they easy to light, especially the roundhouse's café, the perimeters of the boardroom and event space that seats 200-plus occupants and held a business pitch competition for startup firms as its opening event.
"We needed enhanced wall-washing to illuminate important surfaces in the event space and adequate lighting to properly illuminate presentation spaces, counter prep areas and conference room tabletops," Chen said. "More than anything else, we needed performance."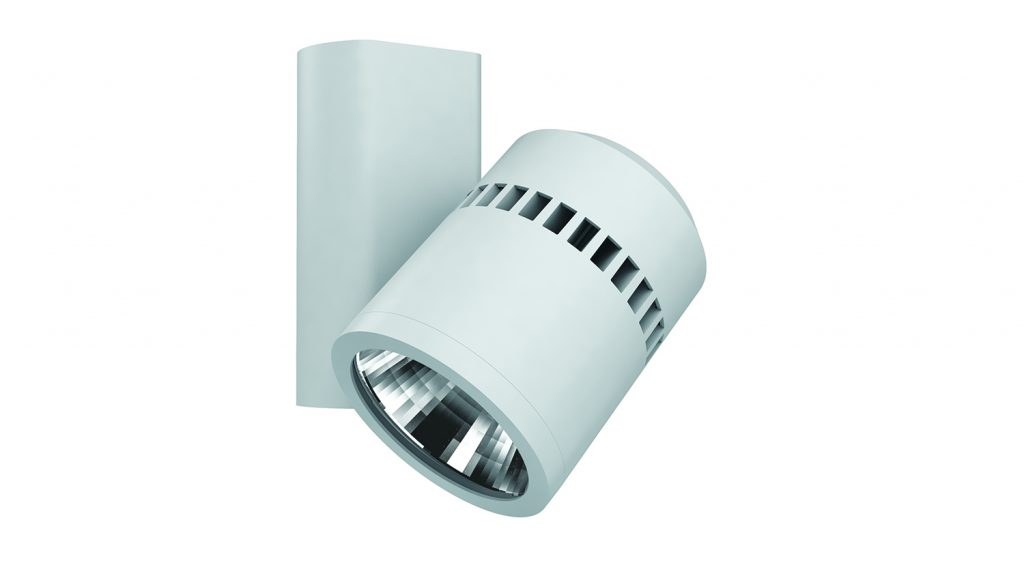 As it turned out, she said, her design team needed Cylindrix III (C3), an vertical, award-winning LED track light system that gift wraps a unique combination of optical and thermal performance, aesthetics and visual comfort in an accent.
Featuring a deeply recessed single light source for enhanced visual comfort and control, Cylindrix offers interchangeable reflector optics, an integrated heat sink and various control accessories such as snoots, cross blades and louvers.
"We select fixtures for very specific reasons, and this one was very much about performance," Chen said. "(Cylindrix) is a very adaptable fixture that provides many different options, both with the track head as well as the track itself."
Similarly, she added, the fixture does something else the design team needed: It draws your attention down to the applications it's illuminating, not to the light source itself.
"There are many ways lighting is used in a design. In some cases, it's all about the fixture itself because you need a decorative fixture, but this was not one of those instances," Chen said. "This was about finding a very particular fixture that looked good but didn't need to be the center of attention. The quality of light it gave off was the feature and how it enhanced what it was illuminating, whether that was a space, a speaker or specific area of the space or wall."
"This is a low-profile, nice-looking fixture that performs exceptionally well and has a lot of options associated with it," she added. "Throughout the project, several fixtures were substituted, but this was not one of them. We selected this specific fixture from the beginning, and we were happy it made through the project. For an architect, that's a big deal."
So are the events that have followed: headline-making project accolades in various news outlets and design magazines, a pending LEED Gold certification, even a prestigious honor from Retrofit magazine, which ranked GBBN first-place in its annual Metamorphosis Awards for adaptive reuse.
"This project is a catalyst for further development in the area later down the road," Chen said. "It's also about providing a space where people will want to go to work and generate the sort of support that will lure other businesses to invest in the area—and I think it does just that."
Want to learn more?
To learn more about the Cylindrix III (C3) and its various applications, read: "How Amerlux Made the Timeless Old Forester Distillery Experience More Colorful."