8 Amazing Ways This Linear Lighting Duo Can Save Your Commercial Project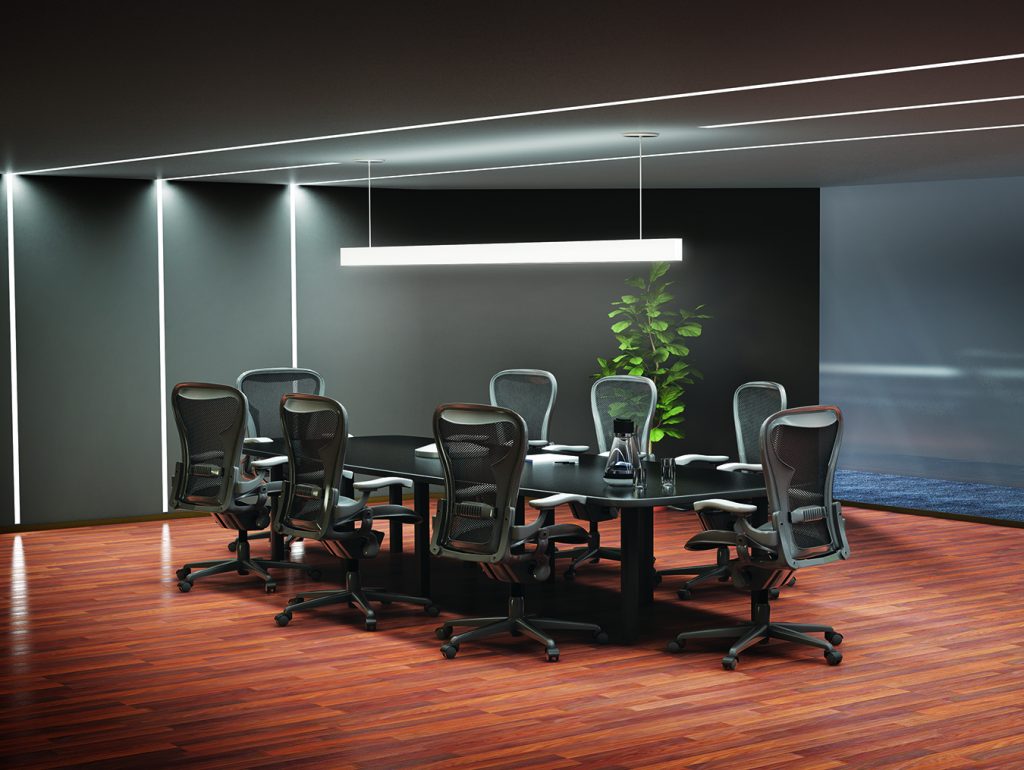 Few setbacks can disrupt the flow of a project like lengthy delays and added costs. Both, regrettably, are frequent side-effects of customized lighting solutions.
Made-to-measure solutions predictably take longer to manufacture than standard products because each component must be made to an exact specification to accommodate the project adequately. This keeps architects and lighting designers on the job far longer than needed and away from new business. It also increases costs.
But what if you could use high-quality standard products made from top-quality materials and industry-leading engineering to ensure elegant styling on time and budget for any commercial project?
No waiting several weeks—or longer—for delivery. No custom price tags.
You can with a groundbreaking, aperture-matching family of recessed and pendant-mounted luminaires made exclusively by Amerlux.
Available in standard sizes and custom lengths down to 1/8″, the Linea and Grüv LED linear product lines share much in common. One is exceptional quality. High efficiency and matching aperture sizes are two more examples.
The last few are especially crucial: Both maintain discreet styling, excellent performance and clean lines in walls, ceilings or suspended in open ceiling designs, providing the end-user with a complete package.
Amerlux's Linea and Grüv family of matching aperture LED linears pair seamlessly together to give you more fantastic design linear lighting flexibility and greater creative freedom. Together, they save you time, expenses and unneeded custom ceiling work, among other advantages.
Here are the top eight ways this dynamic, budget-saving duo will make you look like a superhero during your next LED commercial lighting project.
High-End Aesthetics and Materials
Linea and Grüv deliver robust illumination while offering clean, understated aesthetics and design continuity from discreet linear profiles that match the apertures for clean lines transiting from recessed to linear pendant lines.
The system combines a unique combination of unobtrusive light sourcing with various mounting capabilities, superior performance, high-quality extruded materials and best-in-class LED technology and drivers.
A broad array of accessories and more than 200 durable powder coat painted finishes are available to complement any design scheme.
Flexible Wall-to-Ceiling Design Options
Sharing equal components and small apertures, the complete product family beautifully transitions patterns from walls to ceiling, then to open-ceiling applications, with equally superior levels of aesthetics and performance.
The linear luminaires interact from multiple mounting applications with a continuous line of aperture-matching linear light ideal for offices, conferences rooms, classrooms and various other institutional and commercial interiors.
Together, Linea and Grüv provide a clean and modern look to a space—running walls, crosses ceilings and going anywhere your design will take you.
Perfect for Direct Lighting, Indirect Lighting—or Both
The luminaires can be cable mounted to provide beautiful, comfortable general lighting for open-ceiling applications, over desks or a conference table, with or without a louver.
They can also be used as architectural linear lines or in patterns such as squares or rectangles for decorative lighting above reception counters.
Superior Lighting Quality
Delivering a pleasing light with superior beam control, Linea and Grüv are available from 3-watt to 10-watt per foot and offer high output with up to 650 lumens per foot. Each also provides a significant efficacy at 73 lumens per watt.
Warm and cool lighting temperatures—from 2700K to the industry standard of 3500K and up to 4000K—are offered, as is a full range of dimming capabilities. The system is also dim-to-warm compatible, so the light warms as it dims, just as an incandescent light does.
Compatible with any lighting control on the market, the luminaires provide optimal glare control, enhanced light diffusion and more significant sightline reduction.
Custom and Standard Lengths Available
Linea and Grüv come in the following standard lengths—4-foot, 6-foot or 8-foot—as well as made to measure down to 1.8″.
Available with flanged or trimless styles, the luminaires can be recessed in ceilings or walls while performing at high levels in gypsum board, Armstrong TechZone™, USG Logix™, slot and T-grid ceilings, or J-mold for all configurations.
Super-Fast, Project-Saving Delivery
Standard lengths of Linea and Grüv ship in 10 days or fewer from when they are ordered, quickly advancing new construction or retrofit projects. Similarly, made-to-measure products are available in four to six weeks.
Speedy ROI
The Grüv 1.5″ and Linea 1.5″—as well as their 2.5″ colleagues—provide pinpoint precise lighting with superior energy and maintenance savings, all of which ensure rapid ROI.
The system's lifespan is so extensive that its lumen output does not start to depreciate until after 50,000 hours of use, which far exceeds the 100 hours that legacy fluorescent lamps traditionally provide. A five-year warranty is included.
Easy Installation
Luminaires can be individual or continuous row-mounted using a drawer latching system that provides easy and precise joining of units for straight runs, wall runs for longer runs with J channels, or in T- or L-shaped patterns.
Want to Learn More?
To learn more about Amerlux's array of LED linear lighting solutions can solve your greatest design challenges, read: "Top 5 Design Snafus with Linear Lighting."