How Indirect Linear Lighting Cast a New Boston Tea Shop Under Its Best Light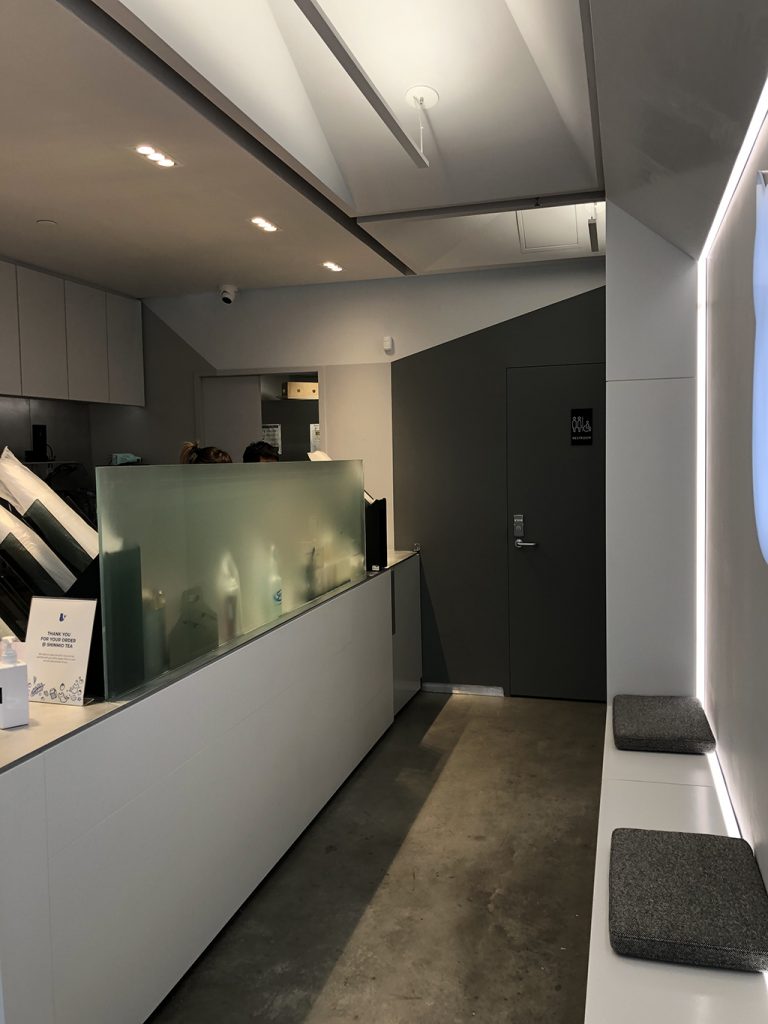 When Carlos Alonso-Niemeyer, principal at Reflex Lighting in Boston, opened an email sent earlier that day, he could not help but smile and forward the memo to friends and colleagues.
The email was from Myoungkeun Kim, director at Fish Lab Design, a city architectural design-build firm specializing in residential, commercial and institutional projects. And the memo included some excellent news: Shinmio Tea House, a new tea retail shop in Boston that Kim had asked Alonso-Niemeyer for help, was open for business.
And wow, did it dazzle.
"Now, it is impossible to think of the space without those pendant lights!" the email read. "Thank you!"
Hey, it was our pleasure—and Amerlux's too—thought Alonso-Niemeyer, a 30-year industry ace.
"The owners were trying to explore the opportunity that linear indirect lighting presented, and they were very pleased with the results," he said. "It was a terrific shoutout for us and to Amerlux when I was told how spectacular the lights looked."
Why? Because those bragged-about pendant lights—the Linea 1.5" Mini indirect—were designed and specified by the award-winning, Oakland, New Jersey-based LED lighting manufacturer.
"Amerlux has long been known for being a great brand for retail applications," Alonso-Niemeyer says. "They're always very versatile."
He knew this well firsthand. So did Kim. A few years earlier, the two had collaborated on designing Kohi Coffee Co., a 1,300-square-foot espresso bar in Brighton, Massachusetts, that features teas, pastries, a small breakfast menu and lunch fare, plus its namesake coffee brew.
"We sat down, and I helped him to choose lighting options for that job, and we ended up using all Amerlux products," Alonso-Niemeyer recalls. "The client was delighted. The lighting, the specifications—it all just worked out very well."
While Kohi Coffee shared similarities with upstart Shinmio Tea House—both are classic café fare applications with a contemporary but inviting atmosphere, served one cup at a time—they also had their differences. "Or challenges," as Alonso-Niemeyer put it.
For starters, Shinmio Tea House was only 450 square feet, and the retailer's owners, always hands-on, had a limited budget. "They wanted the space to look clean and modern, all with the best lighting they could afford," Alonso-Niemeyer says.
Their brand also utilizes, in Alonso-Niemeyer's words, "very cool" color correlated temperatures, which matched their distinctive logo and brand colors, unique tasting experience and refreshingly delicious beverages, all of which are as handsome and "instagrammable" as the interior itself.
"Because of these characteristics, they wanted to omit a sense of freshness and modernism," he said. "The client and owners wanted their design to be very clean and simple."
The solution—again—was turning to Amerlux, particularly their Linea Mini 1.5" indirect fixtures. Streamlined and flexible, these architectural LED pendants, like the rest of the product family, gave the design team the freedom to create a truly dynamic, sleek-looking space that delivered the precisely right amount of lighting with the best energy and maintenance savings for rapid ROI.
"This Linea Mini is a very small profile product with superior distribution and mounts very simply without being too bulky," Alonso-Niemeyer said.
These characteristics were especially advantageous when another "big, big challenge" presented itself: How to light a coved ceiling wrapped around and in-between water pipes, HVAC and other related infrastructure.
"The architect said they did not want to put in drop ceilings, which would have made the space look like a box and very flat. Instead, they wanted to give it some geometric interest, but to do that, they needed to install large coffers," Alonso-Niemeyer said. "This presented the problem: How do we best light these coffers in a way that minimizes the number of products used and the coves become the main lighting for the space?"
In all, three white finished Amerlux Linea Mini 1.5" fixtures—all indirect linear pendants with batwing distribution and 0-to-10v dimming capabilities—were used.
"The goal was to put in fixtures that were very small and did not take up much space, and the Linea Mini was perfect for this because of its size, the very small profile of the project and its unmatched optical distribution," Alonso-Niemeyer said. "It was the only product we considered because it perfectly matched the application. The Linea Mini has a width of 1.5 inches, and it has a very small profile, less than an inch. It is a very minimal type of product. There are very few products that can do what that product can do."
Sometimes, he added, less really is more when it comes to lighting solutions.
"It was a very simple solution," he said. "And sometimes, simplicity is the most difficult thing to achieve. The Linea Mini made it much easier to accomplish this kind of design, and the reviews from everyone are fantastic."
Want to Learn More?
To learn more about the benefits architects should consider when choosing the right linear lighting option, read: "Top Linear Lighting: A Checklist for Architects."