Top Linear Lighting: A Checklist for Architects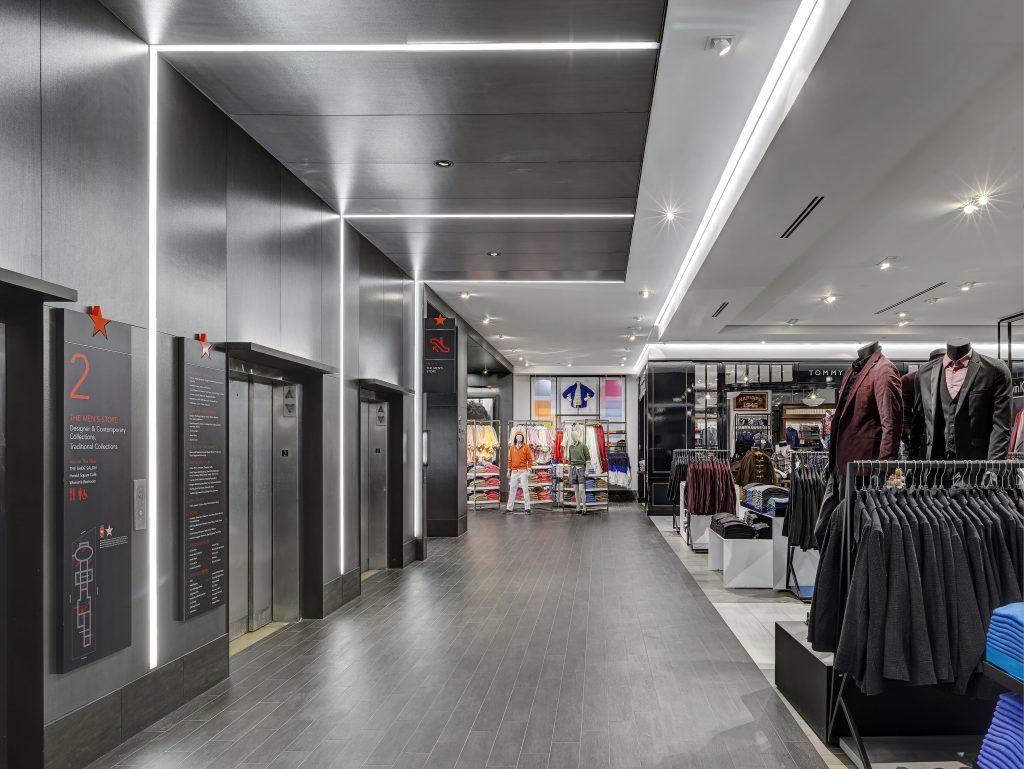 Customized lighting solutions make for beautifully lit commercial spaces, but they also tend to bring a host of inconveniences to projects, like construction delays and increased costs.
Made-to-measure lighting takes longer to manufacture than standard products. There is no economy of scale for the manufacturer as each component must be made to the exact specifications of a given project—which also necessarily raises prices. It is easy for a custom lighting solution to take several weeks or more to be delivered, not to mention the design and revision time required for the perfect fit, making construction delays nearly inevitable.
Delays keep architects on projects longer and away from new business. The solution for architects is to use high-quality standard products with top-tier materials and elegant styling.
Design and lighting manufacturer Amerlux has developed a solution to this problem for design-builders: The Grüv family of LED lighting. A recessed linear lighting solution sold in standard sizes off-the-shelf and in custom lengths, Grüv maintains clean lines, discreet styling and excellent performance, providing the end user with a complete package.
Architects Consider Several Factors
Here are the benefits architects consider when choosing the right linear lighting option:
High-end aesthetics and materials: Grüv's very narrow aperture provides market-leading illumination, clean understated styling and design continuity from a discreet linear profile. It offers unobtrusive light sourcing, flexible mounting capabilities, high-quality extruded materials, superior LED technology and drivers.
Excellent light quality: Grüv 1.5″ LED offers the industry's first LED fixture designed for use with a louver for optimal glare control and light diffusion. The result is a pleasing light with superior beam control. The LED light also has full-dimming capabilities and is dim-to-warm compatible so the light will warm up as it is dimmed, just as an incandescent light does.
Wall-to-wall designs made effortless: For a made-to-measure look that avoids the headaches and time sink for the architect of designing custom lighting, the Standard Plus bracket is the answer. Including a field-customizable bracket that fills the extra space between the ends of a fixture and the walls, the innovative frame is a revolutionary approach for the industry to smooth out the potholes inherent to custom design. No longer does a little measuring error or an out-of-square wall have to muddle up the lighting design. Instead, the ingenious bracket solves the problem and contributes to the upscale aesthetics of a project.
Flexible design options: Grüv 1.5″ LED climbs walls, crosses ceilings and goes everywhere your design requires, providing a clean and modern look to a space.
Compatible with other products: The aperture sizes of the whole Grüv family perfectly match those of the Linea family of linear pendant lighting, allowing the two products to be seamlessly married for greater design flexibility and freedom.
Custom and standard lengths: Grüv 1.5″ LED lighting is available in standard lengths of 4-feet, 8-feet, and 12-feet as well as made-to-measure. The luminaires can be individual or continuous row-mounted, using a drawer-latching system that provides easy and precise joining of units for straight runs, wall runs for longer runs with J channels, and in T- or L-shaped patterns.
Rapid ROI: Grüv 1.5″ LED is extremely energy efficient and is compatible with any controls on the market today to help further reduce lighting and energy costs. Additionally, when standard lengths of Grüv are paired with the Standard Plus wall-to-wall bracket, the light fixtures can deliver savings of up to 35 percent compared to made-to-measure luminaires.
Simple to install: The Grüv family of recessed slot fixtures is engineered to easily install. Standard lengths clip together with a drawer latching system for longer runs and the Standard Plus bracket makes wall-to-wall solutions extremely simple.
Quick delivery: Made-to-measure Grüv products are available in four to six weeks and standard lengths of Grüv can ship in 10 days or less from time they are ordered to quickly advance any new construction or retrofit project.